A Florissant mayoral race matching the city's police chief against its first black councilman and a Hillsboro comeback bid by a mayor who resigned under fire just a year ago are among the offerings on Tuesday's election ballots across the metro area.
Voters also will pick mayors in St. Charles and various other municipalities large and small, fill spots on city governing bodies and school boards and weigh a long list of proposed tax increases, bond issues and other propositions.
Arguably affecting the most people would be a new sewer fee sought by the Metropolitan St. Louis Sewer District, which covers St. Louis and most of St. Louis County.
The new charge, which MSD says would amount to an extra $2.25 a month or less on most residential property owners' sewer bills, would be based on the square footage of rooftops, driveways and parking lots. The revenue would be used to manage stormwater and flooding.
Meanwhile, voters countywide will consider a proposition to split the county counselor's office into three divisions to independently provide legal representation for the county's legislative, executive and judicial branches.
It's part of the ongoing political tug of war between County Executive Steve Stenger and the County Council, which put the measure on the ballot over Stenger's objections.
Council members have complained that the counselor's office, which reports to Stenger, doesn't adequately represent the council in its disputes with the executive.
Voters last August rejected a different charter change that would have allowed the council to hire its own outside lawyers in such situations.
In St. Louis, voters will choose an aldermanic president, a post elected citywide. Incumbent Lewis Reed, who narrowly won a hard-fought Democratic primary this month, faces Green Party nominee Jerome Bauer, his only general-election opponent on Tuesday. Only two contested ward aldermanic races are on the city ballot.
Florissant
Running for mayor in Florissant — St. Louis County's largest city with about 52,000 people — are Tim Lowery, the police chief since 2013, and Councilman Robert Parson Jr.
Lowery, 54, hopes to continue along the career path of his late father, Robert Lowery, Florissant's chief for 22 years and mayor for 10. "It's just my love for the city; I feel I have a lot to offer," he said.
He promises to work to attract more businesses and young families and push to make the city's part-time economic development director full time.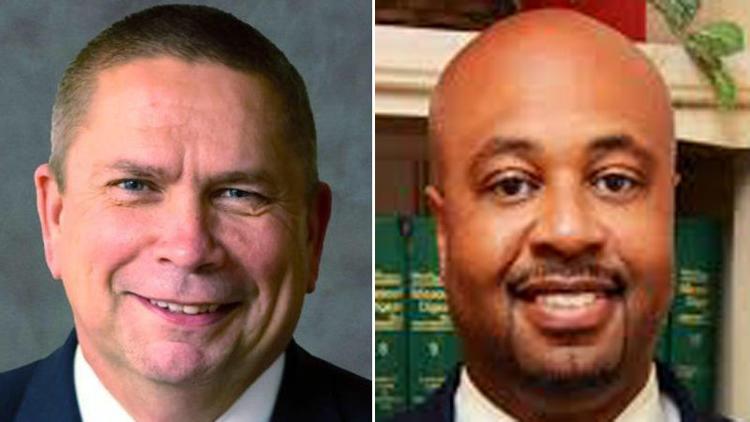 He said he and his father didn't always see eye to eye. For example, he said, he has been more into new police technology and allows his employees more input in decision-making.
Parson, 48, says his council experience and occupation as a lawyer "is more conducive to being an elected official" than Lowery's law enforcement background.
He added that "a lot of people do not want to have the same families over and over again" running the city but said he was not making a major point of that in his campaign.
Parson, who would be the city's first African-American mayor, said he'd work to improve local schools as a way of encouraging families to move to Florissant.
He also said he'd seek more diversity in the city government workforce as Florissant's black population continues to grow. Lowery doesn't disagree and says he tried hard to recruit more black police officers although the number remains below what he'd like to see. He says the city now has nine African-American officers, up from five or so when he became chief.
Lowery has a huge campaign finance advantage, with the latest reports showing he'd raised more than $115,000. Parson's total was less than $9,000. Incumbent Tom Schneider didn't seek another term and backs Lowery.
Florissant's municipal candidates are listed on the ballot without party labels, as are those in most area cities.
Hillsboro
In Hillsboro, the mayor trying to regain his old post is Dennis Bradley, who quit in February 2018 just before a Board of Aldermen meeting at which his impeachment was to be considered.
The ouster effort was launched after Bradley was arrested after allegedly picking a fight with a Jefferson County sheriff's deputy.
"I want to vindicate myself because my credibility was damaged," said Bradley, 66, a Chrysler Corp. retiree who continues to fight charges of assault and resisting arrest in the case. The alleged county ordinance violations are pending in Jefferson County Municipal Court.
Bradley asserts that aldermen really wanted to oust him because of his efforts to root out what he says is "corruption" in the community of about 2,800.
Also in the race are Marcy Wokurka, 41, a child care center operator and newcomer to local politics, and write-in candidate Buddy Russell, 67, a retired welder who has served on city committees.
The winner will succeed Joe Phillips, an alderman chosen by the board last year to fill in as mayor after Bradley's resignation.
Phillips had planned to also run for mayor in Tuesday's election. But he resigned and withdrew from the race amid a flap spurred by results of a sheriff's department investigation of the city police department.
Among other things, the probe found leadership problems, subpar training and crime documentation and rape kits stored in a moldy refrigerator.
Phillips said he quit as mayor after he was criticized on social media and elsewhere for considering disbanding the city department in the wake of the report and instead contracting with the sheriff for law enforcement services.
Another alderman is now the acting mayor; the board ended up keeping the city police and hiring a new chief.
That's Steve Meinberg, a former top-level official in the sheriff's department.
Russell, the write-in candidate, says he's running because he "got tired of seeing my hometown being bashed like this with all the trash that's been going on" the past two years.
"I want to bring respect back to the city," he said. He complains that Bradley is intimidating and "totally classless" and "has a vendetta" for the aldermen. Bradley, meanwhile, alleges that Russell is "a plant" for board members who oppose him.
Wokurka, in an interview, didn't attack either opponent, and Russell and Bradley each offered no criticism of her. "My strength is I have no agenda," she said, adding that her background in business would benefit the city.
St. Charles
Sally Faith, a former state legislator running for her third term as mayor, is opposed by Dan Borgmeyer, who retired from his marketing agency to enter the race.
Borgmeyer, 72, argues that St. Charles is falling behind its neighbors to the west such as St. Peters and O'Fallon in attracting new economic development and says he would be more aggressive in that regard.
"I've lost faith in Sally," he says, acknowledging that he supported her last re-election effort in 2015. "Our economic outreach has been dismal the last eight years."
He says the city needs to step up its efforts to draw new industrial and distribution complexes.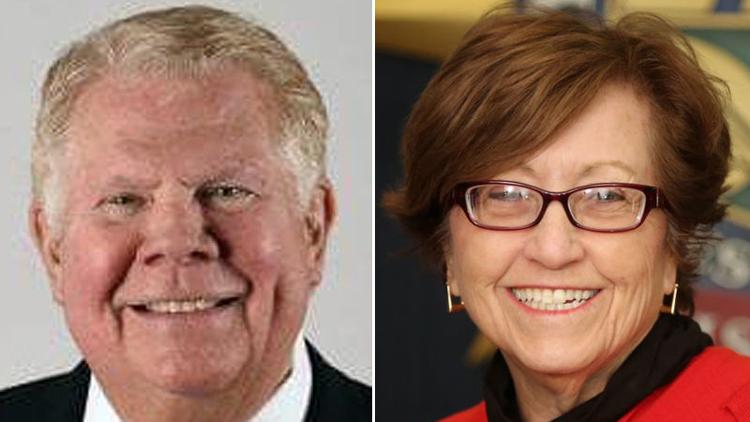 Faith, 73, insists that the city is on the right track economically. Among other things, she points to the continued growth of the Streets of St. Charles mixed-use development on her watch, the opening of a retail center across from Lindenwood University and the expected expansion of the St. Charles Convention Center.
She also recently announced plans to seek new proposals for a long-planned development next to the Missouri River just south of Interstate 70. And she cites the revamping of the I-70 interchange at Fifth Street and other road projects.
"There's an excitement in the city, there's a momentum," she said.
Borgmeyer also has criticized Faith for pushing for a 40-foot-high St. Charles I-70 welcome sign that city staffers initially estimated could cost $1 million and commissioning a historical painting for the City Hall lobby.
Faith insisted that the proposed sign is needed but said she supported the City Council's efforts to reduce its scope and price tag. She said private donors reimbursed the city for the $45,000 cost of the painting, which is part of the city's 250th anniversary observance.
Recent reports showed Borgmeyer has spent about $43,000 in the race and Faith about $35,000.
Search the voters guide by address to see what will be on your ballot.