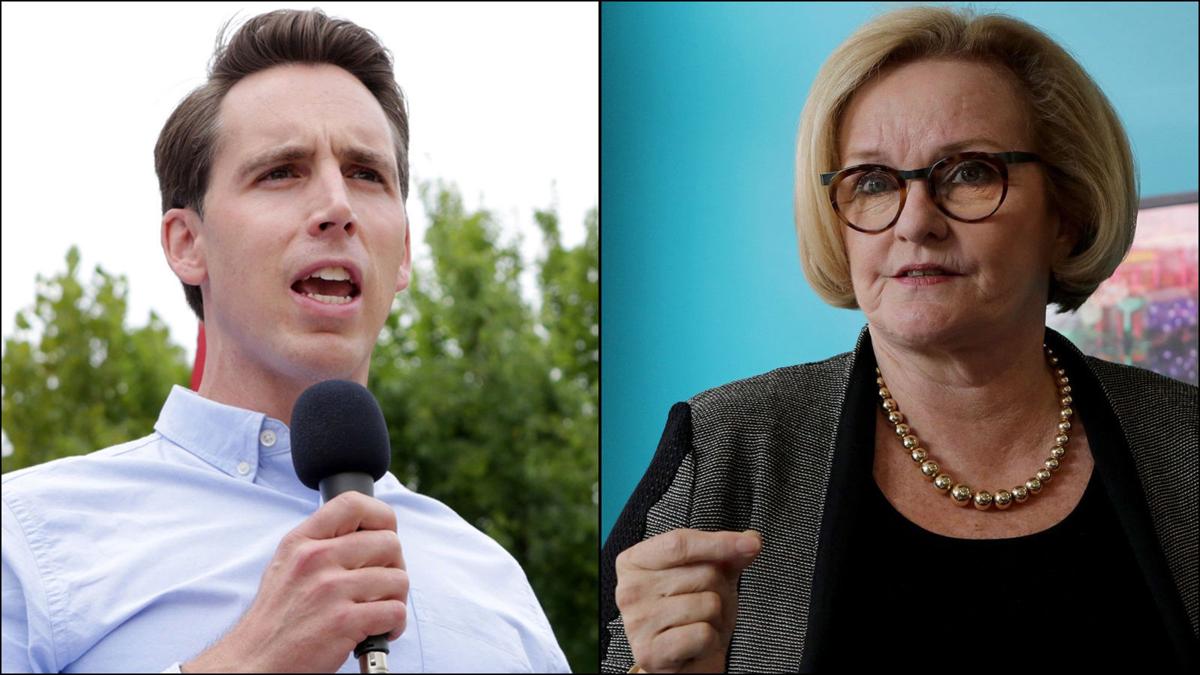 UPDATED with Hawley's third-quarter fundraising, adds fundraising results from other local candidates.
WASHINGTON • Sen. Claire McCaskill has outraised Republican challenger Josh Hawley by almost 4 to 1 in their nationally watched U.S. Senate campaign, but Hawley entered October with a money-in-the-bank edge.
Reports to the Federal Election Committee from the two campaigns show that as of Oct. 1, McCaskill, D-Mo., had raised roughly $27.3 million to Hawley's $7.4 million.
But Hawley began October with more than $3.5 million in the bank to McCaskill's slightly less than $3.2 million.
McCaskill, a Democrat, raised roughly $8.5 million from July through September alone, and she spent about $11.2 million from July 19 through Sept. 30, according to her reports to the FEC.
Hawley raised roughly $2.8 million from July 1 through September, but he spent just under $2 million in that stretch from July 18 to Sept. 30, meaning McCaskill outspent him by more than 5 to 1 over that period.
But despite that disparity, recent polls have shown that McCaskill remains locked in a very close race with Hawley as the cash-on-hand amounts tipped to the Republican entering the campaign's final full month, according to FEC reports.
McCaskill's campaign did not immediately respond to a request for comment about the cash-on-hand figures But Hawley's press secretary, Kelli Ford, compared McCaskill to the Democrats' 2016 presidential candidate, who outspent President Donald Trump by almost 2 to 1.
"Money doesn't buy you love," Ford said. "Just ask Hillary Clinton."
McCaskill's take far outpaces the $16.2 million spent by Republican Sen. Roy Blunt and the $12.6 million spent by Blunt's challenger, former Secretary of State Jason Kander, in Missouri's 2016 campaign.
Independent Craig O'Dear's Oct. 1 report showed he had raised $607,000, with more than a third of it either donations or loans from the candidate himself. He had about $66,000 in his campaign coffers as of Oct. 1. Libertarian and Green Party candidates, Japeth Campbell and Jo Crain, respectively, had not filed third-quarter reports as of Monday.
Federal campaign finance reports from other St. Louis area congressional candidates have also started to come into the FEC:
Clay easily defeated community activist and pastor Cori Bush in a primary in August. No other third-quarter financial reports had been filed by other candidates in this race as of Monday.
• Another heavily favored incumbent, Republican Blaine Luetkemeyer of St. Elizabeth, reported having $2.9 million in his campaign accounts as of Oct. 1. He's spent roughly $836,000 as of Oct. 1, including about $70,000 in donations to other Republican House candidates' campaigns around the country, and a $30,000 donation to the National Republican Congressional Committee.
Luetkemeyer's Nov. 6 opponents, Democrat Katy Geppert and Libertarian Donald Stolle, had not yet reported third-quarter results to the FEC website as of Monday. On July 18, Geppert reported having less than $5,000 in her campaign accounts.