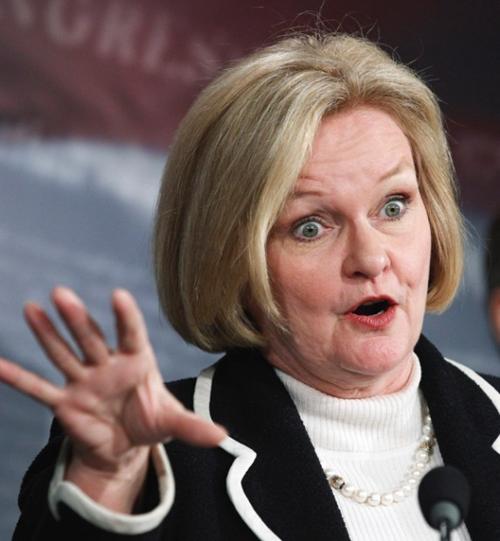 U.S. Sen. Claire McCaskill's airplane has caused her more political turbulence, as she acknowledged she may owe more than $287,000 in back taxes on the private aircraft.
McCaskill has already written an $88,000 personal check to the U.S. Treasury Department to reimburse money from her Senate office account used to fly the plane around Missouri, including one flight that was political in nature.
On Monday, she arranged a conference call with reporters to announce that her personal liability may be even greater. McCaskill said she had sent a check to the St. Louis County Department of Revenue for $287,273 to cover four years' worth of personal property taxes, plus interest and penalties.
"This was a mistake," McCaskill said. "It should have been reported in Missouri. It should have been paid in Missouri."
She also said she had persuaded her husband, a wealthy developer, to 'sell the damn plane."
McCaskill has handed the GOP, already emboldened by a strong showing in the November elections, fresh fodder for attack in 2012, when the Democrat from Kirkwood will be up for re-election. The former state auditor has sought to establish herself as an ethics cop in the Senate, having previously proposed a crackdown on congressional travel.
The Missouri Republican Party took out a full-page ad Monday in the Springfield, Mo., newspaper, featuring a letter from the party chairman, David Cole. In the ad, he pressed McCaskill for more details on the airplane.
"We hope that you will hold yourself to the same accountability and transparency standards that you demand of others," Cole wrote.
Two Republicans have already signed up to face McCaskill in November 2012: St. Louis Hills lawyer Ed Martin, who lost a bid for Congress last year, and former state Treasurer Sarah Steelman.
After McCaskill disclosed the unpaid taxes on Monday, the National Republican Senatorial Committee, the arm of the GOP charged with winning a Senate majority, also took McCaskill to task.
"This is the third time in less than two weeks that she's had to change her story about her private plane," said the committee's executive director, Rob Jesmer. "Now, millionaire Claire McCaskill wants to simply write yet another big check and hope people won't ask any more questions."
Senators have wide discretion to use their office budgets for travel, including chartered airfare, which can routinely costs tens of thousands of dollars a year for senators who represent large states.
The Washington news website Politico reported this month that McCaskill had been using her personal aircraft for official Senate business, and then used tax dollars to reimburse the airplane holding company for fuel and other costs.
McCaskill refunded the money paid by taxpayers to the aircraft holding company, which includes McCaskill and her husband as partners. McCaskill said she was concerned about perception, but insisted that no regulations were breached and that using her own plane may have actually been less expensive for taxpayers.
Later, though, another Politico report showed that one of the flights that McCaskill sought reimbursement for was strictly political in nature — a 2007 trip to the annual Democratic gathering in Hannibal, Mo.
McCaskill acknowledged feeling "embarrassed" that she used taxpayer money for a campaign trip — verboten in Senate rules — but said she was glad the money had already been repaid.
But the recent realization that she failed to pay the personal property taxes on the plane, McCaskill said, has made her 'sick to my stomach for four days."
The plane is a single-engine, turbo-prop Pilatus, according to Federal Aviation Records.
McCaskill had stored a previous plane at the Downtown St. Louis Airport in Cahokia. When she purchased her current plane in 2006, she moved it to Spirit of St. Louis airport in Chesterfield. Moving the plane to Missouri, however, meant that she had to pay personal property taxes on the aircraft, which is not a requirement in Illinois.
Neither McCaskill nor any of her aides, though, registered the plane with the county collector's office, meaning the office had no record of it from which to bill her. McCaskill said the check she sent Monday to the collector's office in Clayton included taxes for 2007 through 2010, as well as interest and other potential fees.
"Somebody made a mistake," McCaskill said. "And I made a mistake by not checking to make sure somebody didn't make a mistake."
The news that the state's senior U.S. senator would be sending a six-figure check came as a surprise Monday to county officials. Revenue Director Eugene Leung said his office had not sent McCaskill a bill and had no basis for determining how much is owed because the office doesn't know how much the plane is worth.
"They never bothered to declare it," Leung said. "That's the reason we have no account set up for it."
Paying taxes on an airplane is not much different than paying taxes on a boat or automobile. Taxpayers declare the aircraft as an asset and are a sent a bill based on an assessed value. Yet short of dispatching scouts to airplane hangars, Leung said, the county has no way of knowing whether aviators are properly declaring their planes.
"We rely on self-reporting," Leung said.
Leung's office said it needed more details to determine the tax rate for McCaskill's plane; but she does face penalties of up to 18 percent of the tax bill for each year of delinquency, he said.
McCaskill herself didn't know whether $287,000 was more than she owed. "If in fact we have overpaid, that is fine," she said.
The reason McCaskill can afford to write such large checks, and a private airplane, is her marriage in 2002 to Joe Shepard, who has made a fortune in the affordable-housing industry. The Center for Responsive Politics puts McCaskill's net worth at $15 million to $27 million.
On Monday, McCaskill said she was ready to put the plane on the market.
"It's just been more trouble than it's worth," she said.
Asked how she'd travel in the future, McCaskill said she'd drive more. And when she has to fly, she will do so modestly.
"My goal is to buy a ticket that has a boarding pass," McCaskill said, "in coach."