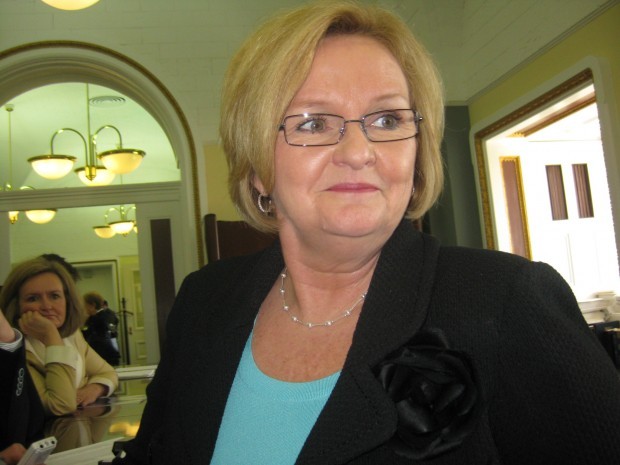 ST. LOUIS • U.S. Sen. Claire McCaskill will repay more than $88,000 in taxpayer money spent to fly her family's private plane around the state over the last four years, according to a report Wednesday in Politico.
The news website reports that McCaskill — who has proposed greater scrutiny for Congressional travel — has spent nearly $76,000 of her office funds to charter a plane owned by a holding company registered to her husband.
McCaskill's office says she did not profit from the flights, which, a spokesperson says, followed Senate rules and were less expensive than other travel alternatives.
Even so, the Democrat from Kirkwood is paying back all the money associated with the flights — in the form of a personal check to the U.S. Treasury Department — out of concerns about perception.
The money includes the cost of flying, as well as about $12,000 for pilot fees.
"Sen. McCaskill is interested in three things when it comes to using a charter plane to travel in Missouri: doing it as cheaply as possible, following the letter of the law, and doing it as rarely as possible," said press secretary Maria Speiser. "However, despite all of this being the case, she understands that the optics of the bigger picture may not seem as cut and dry, so she's more than happy to address that concern as well."
In her statement, Speiser says McCaskill "has averaged a fraction of the cost of chartered air travel in Missouri compared" to former U.S. Sen. Kit Bond, who spent more than $400,000 on air travel in the same period.
The money for travel came from McCaskill's office account, which senators have wide discretion to use on charter flights and other expenses. It is not unusual for senators — especially those from expansive states — to spend tens of thousands a year on charter flights.
Politico reports that, since taking office in 2007, McCaskill has taken nearly 90 flights on a twin-prop Piper owned by Sunset Cove Associates, a Missouri limited liability corporation registered to her husband Joe Shepard, who has made a fortune as an affordable housing developer.
McCaskill says the $76,000 paid to take her plane out was the total her office spent on chartered planes, and covered only the cost of fuels and other fees.
Most of the flights were around Missouri. The most expensive, reports Politico, was an $8,000 two-day, cross-state trek from St. Louis to Kansas City, with stops in Kirksville, Branson and Harrisonville.
Politico also cites a $1,182 May 2008 trip from Washington to St. Louis. That flight, which McCaskill shared with Bond, was to inspect tornado damage in Neosho, Mo.
It is not necessarily unusual for politicians to fly their own planes, and expense the fees. Missouri Secretary of State Robin Carnahan — an instrument-rated pilot — flew her own plane last year while running for U.S. Senate, billing her campaign for the cost of a co-pilot and a maintenance fund.  
McCaskill has been among the Senate's fiercest opponents of lavish Congressional travel — she has proposed requiring detailed reports and justifications for government-paid foreign travel by members of Congress.
Her crackdown on free flights, however, only serves to make her own flying habits a more attractive target for Republicans. 
After the Politico story went online, the state GOP wasted no time blasting a "Hypocrisy alert!"
"Time after time, Missourians have watched as Claire McCaskill says one thing and does the opposite," Lloyd Smith, executive director of the state GOP, said in a statement. "She condemned extravagant taxpayer-funded travel by members of Congress — then she billed taxpayers for her own travel on her husband's private plane."