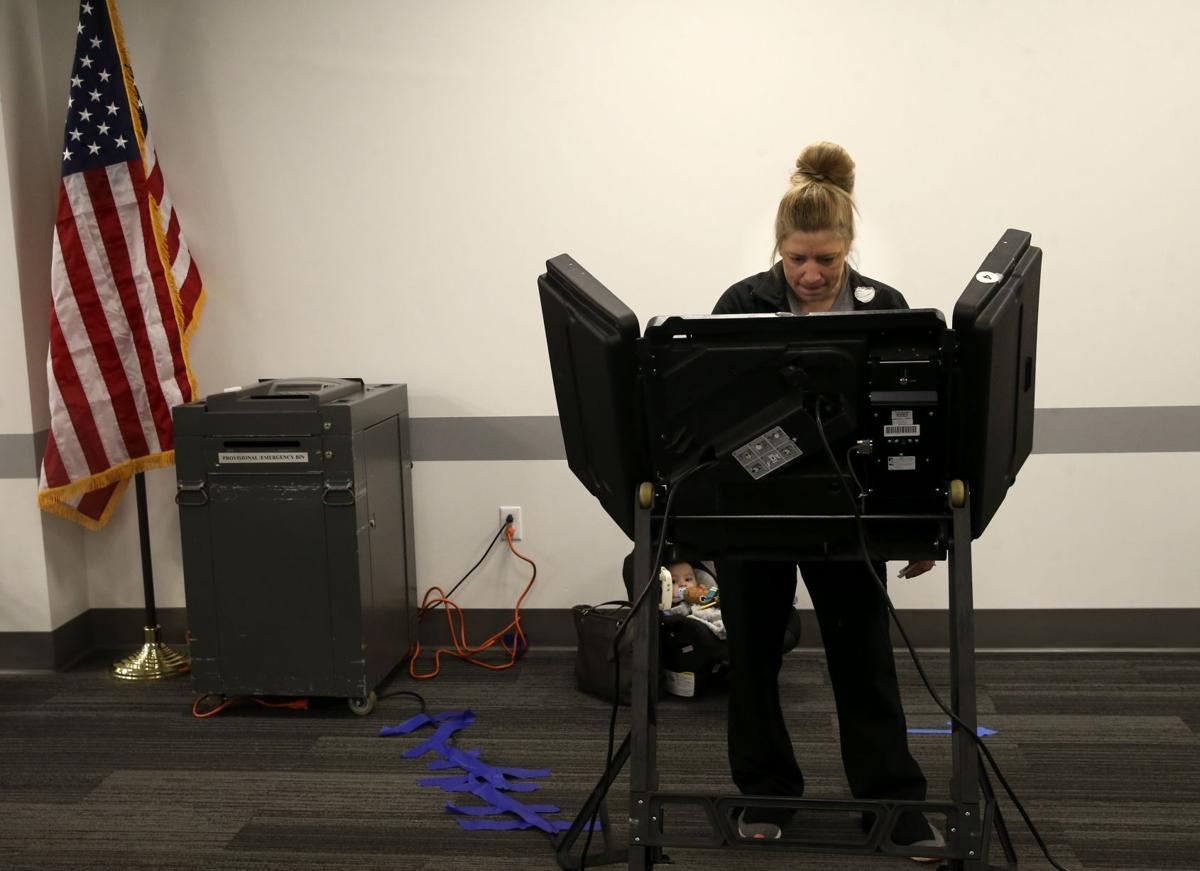 JEFFERSON CITY — After months of debate over the future of health care in Missouri, intraparty clashes for the right to run in November and torrents of mailers, voters will finally weigh in when they cast their ballots in Tuesday's primary.
For Missouri Democrats, the tug-of-war over the party's nomination for attorney general will finally come to a close, with Elad Gross or Rich Finneran emerging to face Attorney General Eric Schmitt, a Republican, in November.
And, voters statewide will decide whether to expand Medicaid, the government-run health care program that 37 other states and the District of Columbia have already broadened to cover low-income adults.
Meanwhile, Gov. Mike Parson, a Republican elevated to the state's top post after the downfall of former Gov. Eric Greitens, is seeking to run up wide margins on Tuesday as a slate of lesser-known GOP candidates nip at his heels.
The unelected governor faces former candidate for auditor Saundra McDowell, state Rep. Jim Neely, R-Cameron, and Raleigh Ritter of Seneca, in the primary.
State Auditor Nicole Galloway, a Democrat hoping to unseat Parson in November, is also looking to best lower-profile opponents next week, including Jimmie Matthews, Antoin Johnson and Robin John Daniel Van Quaethem of St. Louis, and Eric Morrison of Kansas City.
Medicaid expansion
After years of rejection by state lawmakers, voters will get the chance to bypass the Legislature and expand Medicaid to more than 200,000 Missourians.
If approved, residents between the ages of 19 and 64 with an income level at or below 138% of the federal poverty level would have access to the program. Supporters say the change would provide health care to Missourians who earn less than $18,000 annually.
The effort to get it on the ballot and convince voters to cast a "yes" vote has been funded primarily by the Missouri Hospital Association and other health care organizations.
According to the latest filing with the Missouri Ethics Commission, the political action committee financing the referendum has raised more than $10 million.
The North Fund, a Washington-based nonprofit that doesn't have to reveal its donors, sent $2.7 million to Missourians for Healthcare, the pro-Medicaid expansion campaign, since last year. Another Washington dark-money group, The Fairness Project, spent more than $450,000 on the campaign, state records show.
Opponents, including Parson, state Treasurer Scott Fitzpatrick, Lt. Gov. Mike Kehoe and a host of Republicans in the Legislature, have raised about $405,000.
One source of income has been a corporation linked to former Missouri Republican Party chairman Todd Graves, while the other is Republican megadonor Rex Sinquefield of St. Louis.
In the closing days of the campaign, proponents of Medicaid expansion blasted a xenophobic mailer by opponents that said expanded Medicaid would lead to "illegal immigrants flooding Missouri hospitals."
The ad shows a face mask with a Mexican flag emblazoned on it.
Travis Brown, who is helping coordinate the No on 2 in August campaign, defended the ad by saying "expanding Obamacare has led to a lot of concerns ..."
He said the "bottom line" was that the state couldn't afford the bills that would come, which would jeopardize "current social services programs" the state already provides.
A March analysis by the Kaiser Family Foundation found a number of positive effects from expansion, including state budget savings, revenue gains and economic growth.
Brown, founder of the firm Pelopidas, which has contributed to the anti-Medicaid expansion campaign, has worked on other issues, including the privatization of St. Louis Lambert International Airport and a failed ballot initiative in 2018 legalizing medical marijuana. (Voters did approve a competing medical marijuana initiative that year.)
Jack Cardetti, spokesman for Missourians for Healthcare, said, "Opponents of Medicaid expansion have long played fast and loose with the facts, but this disgusting, untrue attack is a new low, even for Travis Brown."
Steele Shippy, spokesman for Parson's campaign, did not respond to a question about whether the governor condoned the xenophobic mailer.
Cardetti said he was "optimistic" voters would approve the measure on Tuesday, saying the campaign had built a coalition that included support from the right-leaning Missouri Chamber of Commerce as well as the Missouri Catholic Conference.
"Over the last few days of the campaign here," Cardetti said, "obviously what we're concentrating on is activating those coalition members to make sure they're not only speaking to their own membership, but to Missourians in every corner of the state."
A St. Louis University/YouGov poll of 450 likely voters from June 23 to July 1 found 49% support for expansion.
Twenty-one percent of Republicans supported the plan, 41% of independents voiced support, and 86% of Democrats supported it.
The mixed support indicates Tuesday's vote will be closer than other recent ballot initiatives seeking to override the Legislature's positions.
More than 67% of voters in 2018 doused a right-to-work law. More than 65% of voters supported allowing medical marijuana that year.
Attorney general's race
Finneran, 36, a former federal prosecutor in St. Louis, and Gross, 32, a former assistant attorney general, were spending the final full week on the campaign trail on get out the vote efforts.
Finneran said he was the first in the attorney general's race to place ads on television.
"We are excited about the momentum we have going into the primary election," he said.
Asked what distinguishes himself from Gross, Finneran said, "We believe that we are the campaign that is best positioned to defeat Eric Schmitt in the general election.
"We believe that my experience as a federal prosecutor, spending nearly seven years in the U.S. Attorneys office handling large-scale white collar fraud cases, provides the best possible contrast to the unelected politician who is currently serving as the attorney general."
Finneran, through July 23, had raised $286,000 for his campaign and had about $68,000 on hand as he entered the last full week of the primary season.
Gross, meanwhile, had raised $198,000 for his bid and entered the final week with $38,000 on hand.
He has also filed a lawsuit against Parson's office, accusing the governor's office of illegally charging him processing fees before it turned over a cache of documents.
Cole County Circuit Judge Patricia Joyce dismissed Gross' lawsuit against Parson last year, but an appeals court sent the case back to a lower court in May for further consideration, a partial victory for Gross.
Asked what distinguished him from Finneran, Gross said he had pushed an anti-corruption platform and had also worked on civil rights issues, suing on behalf of former inmates at St. Louis' medium security jail known as the workhouse.
"I was the only one who stood up to all this dark-money corruption in Missouri," he said. "I was the one that took a whole lot of these workhouse cases to court."
"I really, really think that we need someone who has fought for transparency in our government, who is a lot more experienced in civil rights practice, and that's what I'm bringing to the table," Gross said.
Gross, since announcing his bid in late 2018, said he had been "running all over the state for quite some time," saying his campaign had held hundreds of events.
"It's a very grassroots effort," Gross said.
He said the way to defeat Schmitt is "with a huge volunteer base in Missouri, and that's something that we've been able to build."
Kurt Erickson of the Post-Dispatch contributed to this report.
Get Election 2020 & Politics updates in your inbox!
Keep up on the latest in national and local politics as Election 2020 comes into focus.