PACIFIC • Dorl Thornton's house on Walnut Street is on the far western edge of St. Louis County. His dad and father-in-law built the little brick ranch. He and his family have lived in it for 55 years. And he likes it just fine.
But in two years, his home could be removed from city boundaries.
"I think it's a boondoggle," Thornton, 84, said recently. "That's what I think."
Municipalities across the region are examining the details of the St. Louis city-county consolidation proposal that has roiled the region, and many officials now worry that they could lose control of parts of their communities that make them what they are — from senior-citizen utility bill forgiveness to home-repair grants to housing development.
But the proposal's impact on 7,000-resident Pacific may be the most dramatic: About 2 square miles along this river city's eastern edge are in St. Louis County. The rest, about 4 square miles, sits in Franklin County, just to the west. Merger advocacy group Better Together's plan strips the St. Louis County land out of Pacific, and makes it part of the proposed metropolitan city.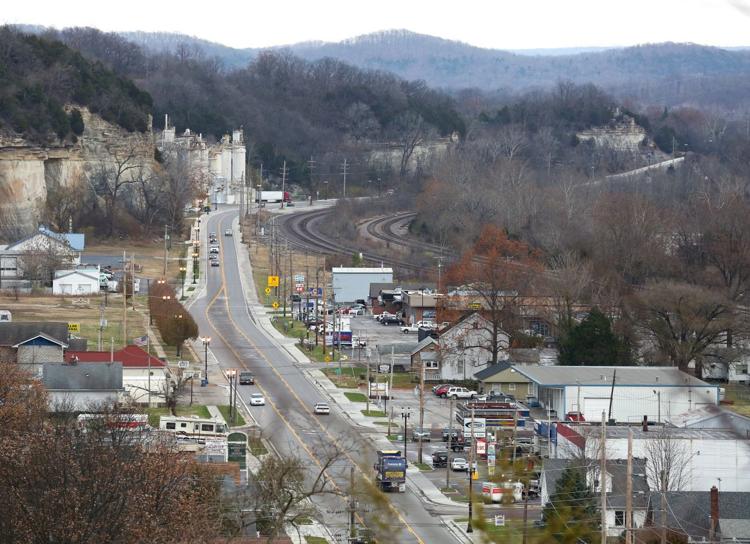 "What does St. Louis care about us out here?" asked Thornton, sitting in a worn rocker, his great-grandchildren passing in and out of the room as he talked. "We do all right."
Pacific is growing east, along historic Route 66, further into St. Louis County. National utility contractor ADB Companies just built its headquarters there. The U.S. Silica sand mine is looking to expand. The city has refurbished a park on the bluff overlooking 66. It even owns an old roadhouse, Red Cedar Inn, that it plans to redevelop — perhaps into a microbrewery — with hopes it will anchor development around planned hiking and biking trails along the Meramec River here.
If it all goes well, Pacific will transform, said Mayor Steve Myers, into a tourist destination.
But if the city instead loses its St. Louis County land, it also loses its authority to develop.
"And never once have they contacted us. Not one phone call!" Myers said recently. "That's not the way a democracy works. To me, it's stealing."
Preserving parks and pools
Better Together announced in January its plan to gather more than 160,000 signatures and place on the November 2020 statewide ballot a measure to merge St. Louis and St. Louis County.
The initiative, if passed, would combine under one metro city the police departments, court systems, roadways, regional planning and zoning, and economic development arms of the city, county and the 88 county municipalities. The municipalities would become new political subdivisions, called "municipal districts," with power over some services, such as parks and trash collection, but with otherwise severely restricted authority. School and fire districts would remain largely untouched.
The proposal has sparked fierce debate across the region. Business associations have committed to giving "time, energy and resources" toward the effort. Municipal officials, including the Municipal League of Metro St. Louis, have vehemently opposed the plan. They say they were not allowed to participate in its drafting. They call the statewide vote undemocratic. And they say its propositions strip them of the very essence of their towns.
Ferguson is worried about its network of parks. Chesterfield isn't sure if it would be able to replace its aging community pool. Bridgeton doesn't think it could continue refunding utility taxes to seniors. Richmond Heights doesn't know how it would pay the $2.5 million a year to run its recreation center, which is more than three-quarters funded by sales taxes. Wildwood has even formed a "preservation commission" to identify, prioritize and protect "Wildwood's key assets."
Fred Berger, chairman of the board for the 170-home Village of Westwood, wonders what will happen to the 1-acre lots and bucolic streets of his country-club neighborhood just west of Frontenac. Recently, Westwood leaders turned down development of higher density housing on the village edges after polling residents and finding that only half supported the plan.
"We really want to act for the people, and do what they want," Berger said.
Border town
One paragraph in Better Together's 24-page amendment, largely unnoticed by the public, specifically affects Pacific.
The section says that cities "not wholly within the territory of the metropolitan city" are unaffected by the proposal — except for one key point. "Territory located within the metropolitan city," the paragraph reads, "shall be detached and annexed to the metropolitan city upon the effective date of this section."
Chris Pieper, a lawyer for the St. Louis law firm Blitz, Bardgett & Deutsch and a primary author of the amendment, explained that the proposal would detach the land, but wouldn't strip Pacific of its tax revenue there. It instead would order the new metropolitan city to pay Pacific the dollars it would have received from that territory if the reorganization hadn't happened, even if that revenue rose over time. Moreover, the metro city would keep paying Pacific until the Missouri Legislature changed the law.
Pacific provides water and sewer services in its portion of St. Louis County. It would continue to be paid for such services by those homes and businesses, even after such a merger.
But Pacific would lose control over the land and its development, Pieper acknowledged.
That doesn't mean Pacific loses all influence, Pieper said in an email. "If such developments were regionally beneficial," he wrote, then area governments — Pacific, the trails agency Great Rivers Greenway and the metro city — could work together to develop the land.
But Myers, Pacific's mayor, doesn't see that happening.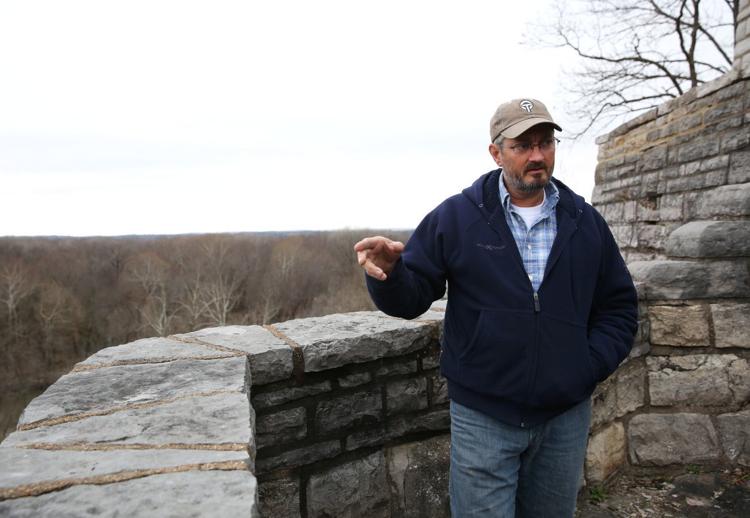 Myers, a billboard installer by trade, made apple butter in an old copper kettle and sold it to raise money to buy private land for greenways and parks. He helped clean 155 cubic yards of garbage off the Meramec's banks. He urged Great Rivers Greenway to buy land along the river. He found ways to build public access to the water.
He worked with St. Louis County to buy the old Jensen Point Park, built by the Civilian Conservation Corps in the 1930s, to clear out the honeysuckle, clean up the stairs and rebuild the railings.
"This," Myers said, pointing at the limestone bluff, "would no longer be Pacific."
And if it's no longer Pacific, he continued, well, it's not that he'll stop caring about it.
But he'll probably focus on the other side of town. On what is still his.
Read the Post-Dispatch coverage of the Better Together plan to reunite St. Louis City and County.