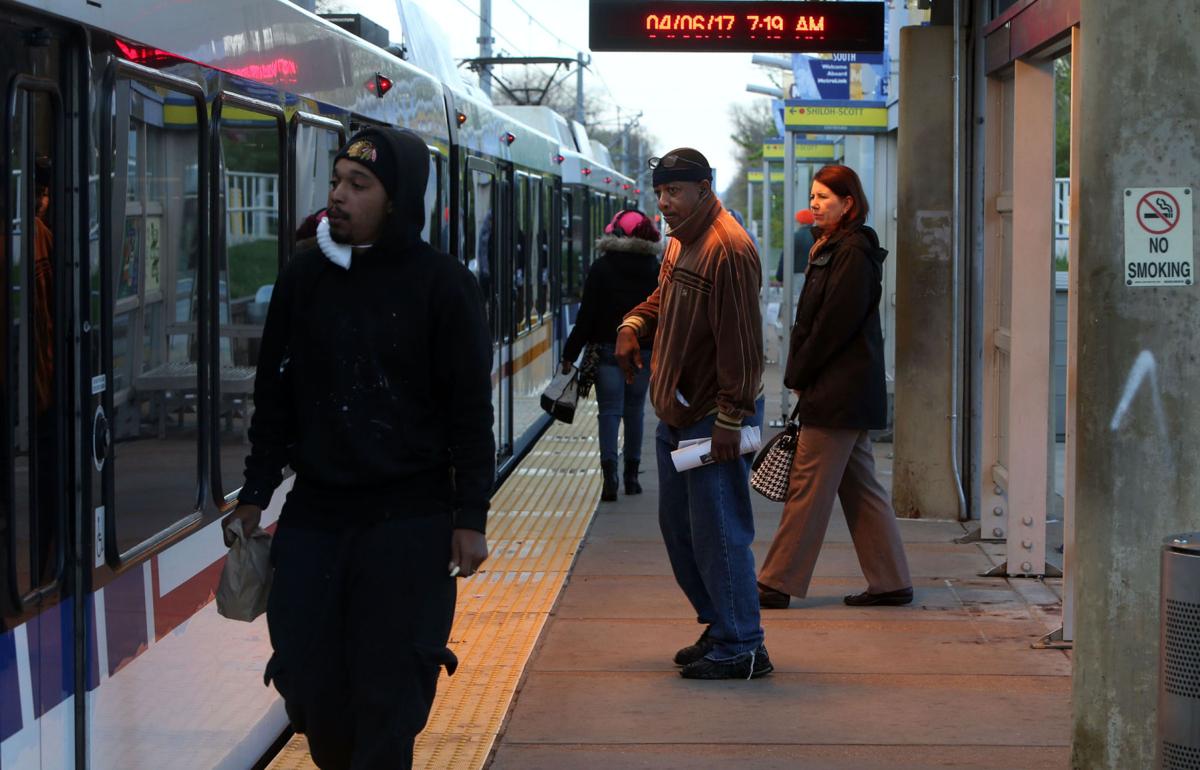 ST. LOUIS • The public safety officers who patrol MetroLink in the city of St. Louis were given permission Monday to immediately begin issuing citations to riders who don't pay the fare, according to a memo obtained by the Post-Dispatch.
Yet, in St. Louis County, eight Metro officers face allegations of impersonating police — a Class A misdemeanor under Missouri law.
Despite establishing a unified command in that agreement, St. Louis County is now the only jurisdiction where Metro officers can't issue tickets for fare evasion.
"We are just pleased that we have regained the ability in the city and the city will prosecute violations for fare evasion," said John Nations, president and chief executive of Bi-State Development, the agency that oversees MetroLink.
More than a year ago, amid an increase of high-profile violent crimes on MetroLink, the light-rail system's public safety officers were effectively barred from issuing citations in Missouri by St. Louis and St. Louis County.
Officials from Bi-State have contended that the change rendered their officers powerless and caused more crime.
MetroLink stations have no turnstiles. Fares are enforced by inspectors who randomly ask passengers to show their tickets.
In the memo dated Monday, St. Louis police MetroLink Commander Lt. John Blaskiewicz acknowledged that the city could not make the trains safe without Metro's officers.
"I am grateful your team is back on the trains because the City cannot provide adequate visibility and security without you," Blaskiewicz wrote.
Under MetroLink's security plan, Blaskiewicz reports to St. Louis County MetroLink commander Capt. Scott Melies. Melies said on Tuesday he was not consulted about the change.
"This is a decision made by the city court," Melies said. "So we will address the decisions made by the city court like we always do."
The memo does not say that the decision was made by a court — or even a judge.
The decision, according to the memo, came after discussions with the city counselor's office and circuit attorney's office. The only reference to a court is a sentence that says the citations "will be prepared at the City Court level as was done in the past."
Melies declined to discuss any possible charges against Metro's officers citing an ongoing investigation.
But on Thursday, St Louis County Executive Steve Stenger acknowledged the existence of the allegations against Metro's officers on "The Charlie Brennan Show" on KMOX Radio.
"It's my understanding there were at least eight security personnel that were accused of impersonating police officers," Stenger said. He said he did not know if charges had been filed by St. Louis County Prosecutor Robert McCulloch.
In October 2015, the police chiefs of St. Louis and St. Louis County sent Bi-State a letter raising a number of complaints about the agency's police officers, including problems with the citation forms Metro was using. Those citations included a nine-digit identifier printed on the tickets. The number is used by the federal government to compile statistics and measure accountability of law enforcement agencies. Bi-State, the chiefs wrote, needed to apply for its own number, rather than using the county's.
Last year, Bi-State submitted an application to the FBI, but was turned down because it did not meet the qualifications for a criminal justice agency.
In a statement, St. Louis County police Lt. Co. Kenneth Cox said the county welcomed the decision by the city to allow Metro security personnel to issue citations for fare violations. He said that the county had never forbid Metro from ticketing people who failed to pay.
"What the County is concerned about is Metro guards illegally impersonating police officers," Cox said. "Writing fare violation tickets does not constitute impersonating an officer. Metro guards have taken numerous other actions that represent such impersonations, including displaying credentials that misrepresent their authority."
Cox said that McCulloch's office has always told county police that his office would review fare violation charges and determine whether charges were warranted.
But McCulloch told the Post-Dispatch in an interview last month that his office had stopped filling fare evasion charges because MetroLink operated on an honor system.
"I don't want my prosecutors filing any of the fare jumping ones," McCulloch said. "It's an honor system and they make no attempt to collect it. And I don't see it as our responsibility to collect it."