For the women of Missouri, Wednesday marks a milestone. It's been 100 years since the Missouri Senate decided they should be allowed to vote.
On July 3, 1919, the chamber approved women's right to vote, making Missouri the 11th of 36 states that were needed to ratify the 19th Amendment to the U.S. Constitution. It would become the law of the land in 1920.
But the path to women's suffrage in Missouri hit some speed bumps along the way.
The battle had really begun back in 1867, when the Ladies Union Aid Society, a nursing unit during the Civil War, formed the Woman Suffrage Association of Missouri. After slavery was abolished in 1865, it began working to secure equal voting rights for women. The effort failed.
It would be decades before women resumed the fight, this time in a house on Cates Avenue. That's where 80 women gathered in April 1910 to discuss the future of the women's movement in Missouri.
Florence Wyman Richardson, the first president of the Equal Suffrage League of St. Louis, made known early on the organization would be peaceful yet fiercely committed to its goal. That approach would be demonstrated in June 1916 during the so-called Golden Lane, a silent demonstration on opening day of the Democratic National Convention in St. Louis.
As delegates walked the 12 blocks from the Hotel Jefferson on 12th Street (now Tucker Boulevard) to the old St. Louis Coliseum to attend the convention, more than 2,000 women lined Locust Street, donning white dresses with yellow parasols and sashes that read: "Votes for Women." They stood in silence.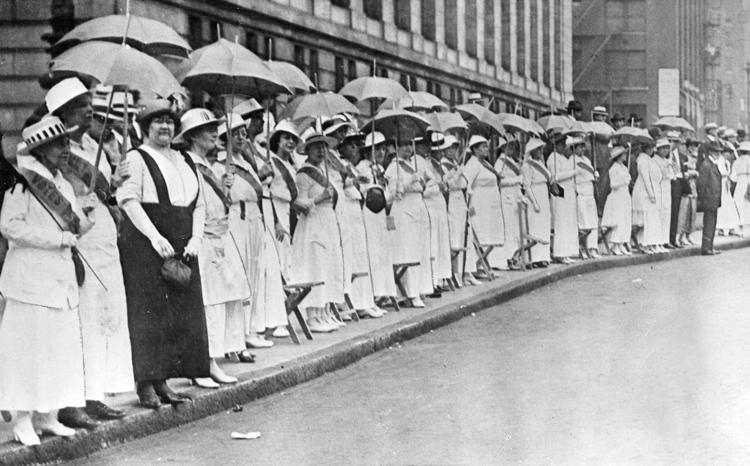 Though the issue was debated and dismissed at the convention, nationwide women's suffrage earned its spot in the U.S. Constitution four years later on Aug. 26, 1920.
A year earlier, sensing impending victory, suffragists created the League of Women Voters, which still features chapters across the U.S. This includes the League of Women Voters of Metro St. Louis, an organization that "envision[s] a democracy where every person has the desire, the right, the knowledge and the confidence to participate," according to the group's website.
Louise Wilkerson of St. Louis has been co-president of the league since 2017. She said there still is a fight for equality for women.
"We do know that we're still struggling to secure women's rights," Wilkerson said, recalling nationwide debate over reproductive rights and wage gaps. With the 2020 presidential election on the horizon, she said voter suppression is one of the league's priorities now.
The league will march in the Webster Groves Community Day Parade on Thursday to show it's still fighting for democracy.
To mark the anniversary of women's suffrage in Missouri, Secretary of State Jay Ashcroft will present a proclamation "recognizing the centennial of that key moment in women's history" to the league on Monday. Gov. Mike Parson signed the proclamation last month.