ST. LOUIS — Local groups representing Americans of Asian descent on Wednesday condemned a Branson-area state representative's use last week of the phrase "Chinese virus," saying it is language helping fuel a wave of hate crimes against Asian Americans.
Rep. Brian Seitz, a Branson Republican, used the phrase on March 9 during discussion in the Missouri House about state revenues and a bill that would allow the state to collect sales taxes from online retailers that don't have a physical presence in the state.
"While the zombie apocalypse has seen a shortage of revenue for the state, I remind the body that the Chinese virus has not shut down one business," Seitz said. "Government has shut down businesses and created this shortfall."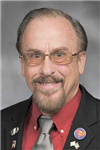 On Wednesday, four groups representing business leaders, attorneys and other Missouri residents of Asian descent condemned the use of the phrase.
Seitz did not respond to a request for comment.
The condemnation came the morning after a gunman killed eight people, at least six of them women of Asian descent, at three Atlanta-area massage parlors. The 21-year-old Georgia man charged in the eight murders, Robert Aaron Long, told the police that he had a "sexual addiction," but investigators have not ruled out bias as a motivating factor, the New York Times reported.
The shootings were widely condemned Wednesday by prominent U.S. civil liberties and Asian American groups who have raised alarms about bigotry against Asian Americans that spiked as cases of the coronavirus spread in the U.S., fueled by the news that COVID-19 first appeared in China and former President Donald Trump's and other Republicans' use of the phrase "China virus."
Over the past year, thousands of incidents of abuse have been reported to an anti-hate group that tracks incidents against Asian Americans, and hate crimes in general are at the highest level in more than a decade.
Stop AAPI Hate, a coalition of Asian American advocacy groups, issued a report in August stating that it had received thousands of reports of hate and discrimination across the country across 47 statessince the group was founded in March, around the time the outbreak began to seriously worsen in the U.S.
Weber, who was born in South Korea and adopted and raised in Kansas, said the term "denigrates, stigmatizes and dehumanizes people who look like me."
The Asian American groups that condemned Seitz's use of phrase Wednesday said they expect Seitz to "seek out the appropriate education and guidance to gain understanding."
"There is no legitimate reason to use this racist rhetoric when a neutral, widely accepted term is available," the groups said in a joint statement.
"Missouri is home to hundreds of thousands of people of Asian descent, including business and civic leaders, students, families, and other hardworking citizens trying to weather the pandemic like everyone else.... We ask you and the other members of the Missouri Legislature to take part in combating racism and promoting unity."
U.S. Rep. Cori Bush, D-St. Louis, released a statement Wednesday condemning the Atlanta shooting and linking it to anti-Asian bigotry amid the COVID-19 pandemic.
"To our Asian neighbors, family, and friends. I know that the world seems more scary today. More cruel. Know that we love you," Bush said in a tweet.
"We mourn those killed last night in Atlanta with you. We will dismantle white supremacy alongside you."
By Nassim Benchaabane. The Associated Press contributed to this report.