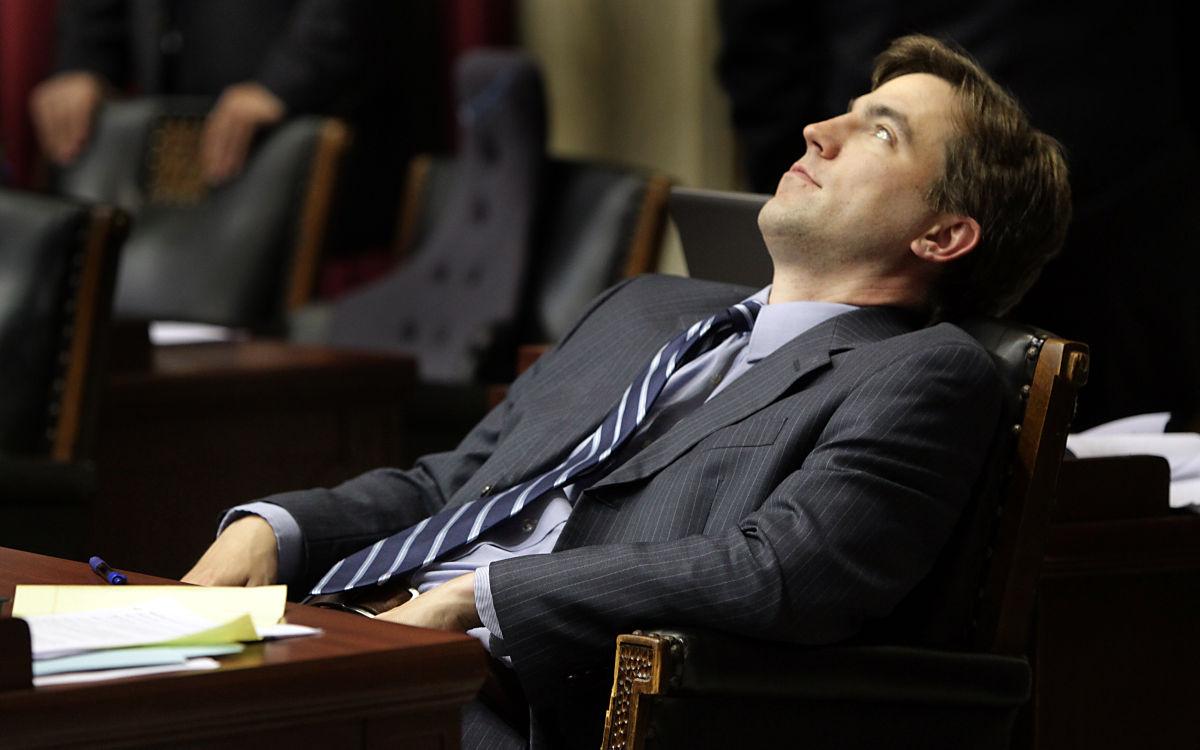 JEFFERSON CITY   •   Rep. Jay Barnes wants Missouri to require a "cooling off period" before former legislators can become lobbyists.
Under his bill, statewide elected officials and legislators would have to wait at least a year before registering as a lobbyist or soliciting lobbying clients.
"It makes sense to the average voter that when somebody runs for office, they run for office for the purpose of serving the people of this state and not as a steppingstone to a job as a lobbyist working the hallways or working the Rotunda," Barnes, R-Jefferson City, said at a hearing Monday.
When legislators instantly turn into lobbyists, he said, "there is at least the appearance of impropriety."
The House Government Oversight and Accountability Committee, which Barnes chairs, took no action on his bill, one of seven ethics bills discussed at the hearing. Barnes, who chairs the committee, said most of the bills need at least "technical amendments" before proceeding to the House floor.
The Missouri Senate also has a revolving-door bill on its agenda. Sponsored by Majority Leader Ron Richard, that measure is more wide-ranging but would institute a two-year cooling off period. It has won committee approval and is poised for debate by the full Senate.
At least 32 states have laws that regulate moving between legislating and lobbying, according to the National Conference of State Legislatures. They range from Maryland, which requires legislators to wait until the end of the next regular session to become lobbyists, to eight states that require a two-year wait.
That leaves legislators free to write laws one day and advocate for the special interests that the laws benefit the next day.
About 50 former Missouri legislators were registered as lobbyists for last year's legislative session. This year's lobbying corps includes at least six more.
The newest legislators-turned-lobbyists include four Republicans and two Democrats.
For example, former Rep. Chris Molendorp, R-Belton, is helping the Missouri Hospital Association lobby for Medicaid expansion.
Former Rep. Chris Kelly, D-Columbia, has joined the team of lobbyists helping St. Louis-based Ameren Missouri with bills affecting how investor-owned electric utilities get paid for infrastructure.
The other new legislator-lobbyists include Republicans Dwight Scharnhorst of High Ridge, Noel Torpey of Independence and Jeff Grisamore of Lee's Summit and Democrat Jay Swearingen of Kansas City.
Legislative leaders have said they hope to enact piecemeal ethics changes this year instead of preparing an omnibus bill that could get weighted down with amendments.
In addition to the revolving door bill, they are considering separate measures that would cap gifts from lobbyists, require quicker reports on out-of-state gifts and prevent legislators from serving as paid political consultants to other legislators.
(Barnes' revolving door bill is HB228. Richard's ethics bill is SB11.)