HENLEY, Mo. • Other than a bent sign marking this tiny stop on the long-gone Rock Island Railroad, there isn't much left. The feed mill closed. So did the sandwich shop, store and bank.
Only a few stout stragglers remember when trains, loaded with grain and lumber, connected Henley to the outside world.
"There were a lot of hobos, too," said Cecil Roark, 77, leaning against a pickup, hood propped open.
Bankruptcy and nature quieted things down in the 1980s. Thickets of trees and vines rooted between the rails, turning the old corridor into an arboretum.
Now, a salvage crew is working seven days a week to reclaim it for the Spandex era. This time, cyclists will probably be pedaling through Henley and other picturesque towns that many have never heard of.
Ameren, which bought the Rock Island corridor in 1999 through a subsidiary, is donating 191 miles of it to the state. First the brush must be cleared and the rail and ties removed, which could take at least two years.
"This line is being abandoned and donated to Missouri Department of Natural Resources for use as a bike trail," Jeff Trammel, an Ameren spokesman, said in an email about the 144-mile section that runs cross-state from Windsor to Beaufort, west of Union.
Cyclists and hikers, of course, are salivating. The route is loaded with long tunnels and bridges, including spans over the Gasconade and Osage rivers. It's supposed to link with the Katy Trail, touted as the longest "completed" rail-trail in the country.
In its 25th year, the Katy Trail is on the right of way of the former Missouri-Kansas-Texas Railroad, which stopped running in 1986. It extends 240 miles between Clinton and St. Charles County.
"What we are looking at is a 450-mile loop that would be unlike any trail in the world," said Chrysa Niewald, president of Missouri Rock Island Trail Inc., a fundraising group and liaison among landowners, towns, Ameren and the state.
"It's going to take some time to get the trail developed," she said.
Among the many lingering questions: How much will it cost? Who will pay for what? Will landowners be compensated? Who will be responsible for building new fencing for farmers? Will horses be allowed on the trail? As the public enjoys fresh access to isolated areas, will they respect it?
No one could say when the 144-mile section getting cleared now will be open to the public.
Roark, who spoke for Henley, said he wasn't worried.
"This has been a town that takes care of itself," he said. "Been that way for years."
He joked, with a tinge of seriousness, about making sandwiches to sell to cyclists. Momentum for the trail is building behind the salvage workers' progress and other announcements.
Farther west from Henley, on the same line, Gov. Jay Nixon expects Rock Island Trail State Park to open by the end of 2016. The 47.5-mile section between Windsor and Pleasant Hill, donated by Ameren, will connect the Katy Trail to the Kansas City area.
"One of my top priorities as governor has been to improve and expand our outstanding state park system and give Missouri families and visitors even more ways to enjoy the outdoors," Nixon, a Democrat, said in a September press release about Rock Island Trail State Park.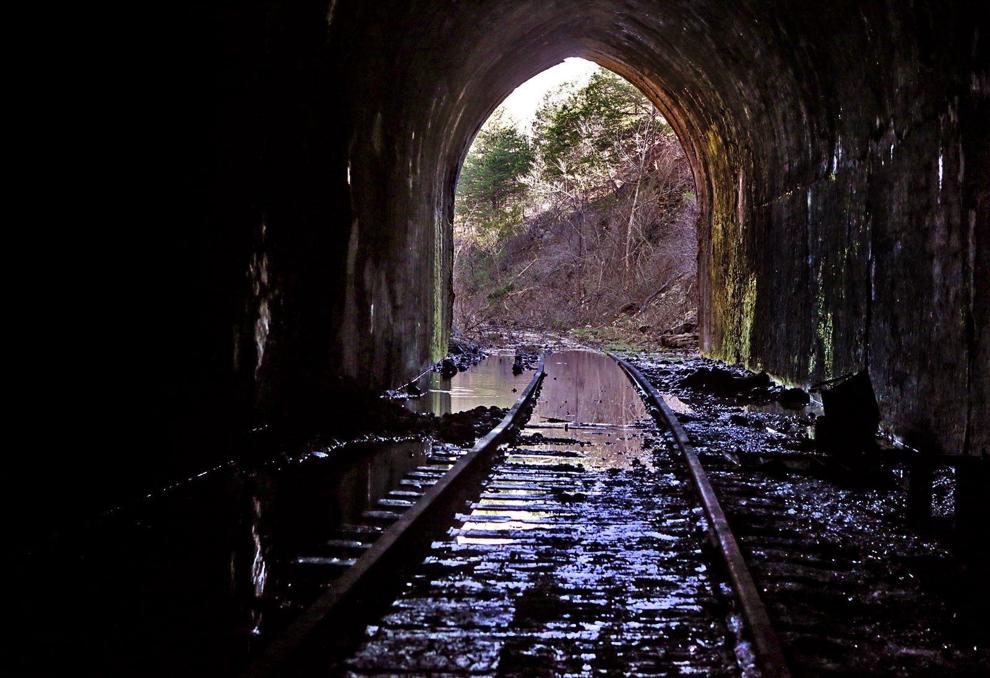 The additional 144-mile stretch being cleared would head back across the state toward St. Louis.
As with the Katy Trail project, there is opposition to the Rock Island. Most of the land for the railroad was originally obtained by eminent domain and privately executed easements with landowners, many of them farmers. If the rail failed, the landowners would regain full use of the property.
Congress changed that in the 1980s with the option to preserve rail corridors for potential future use.
"We are aware of the landowners who are obviously not in favor of it," said Niewald, head of the trail advocacy group. "It's hard to make people understand that this a federal legal option and Ameren as the railroad owner has chosen this path."
Hundreds of landowners in Missouri have filed suit against the federal government since the Surface Transportation Board in February granted interim recreational trail use of the 144-mile section of the former Rock Island line.
"We are not anti-trail, we just want our clients to be paid for their property taken to build this trail," said Meghan Largent, a Clayton-based lawyer with the firm Arent Fox. "Some of our clients want the trail, some don't."
Plaintiffs say the line has essentially been abandoned for years. Fences and farm traffic cut across some sections of the rail line. Lots of rearranging will need to be done to turn the old rail corridor into a trail.
Not to mention that some nearby landowners had bought property to get away from the public, not be closer.
"I don't want a state park running through my property," said Gene Snellen, who has a stunning view of the railroad bridge over the Osage River. "Who is going to police it?"
Snellen, who runs several McDonald's restaurants and has 235 acres, said the state should spend its money on Interstate 70, not another recreational trail.
Susan Wieberg, an assistant manager at the MFA cooperative in Argyle, alludes to the age-old divide between rural and urban Missouri.
"So many people really don't understand farming," she said. "Are we going to get reported for every sick cow or dead cow?"
A farmer said even the risk of spreading disease between farms is a concern that hasn't been addressed.
As the opponents line up, some residents smile about the potential.
"It's a cool idea," said Leslie Bittle, who has a view of the Osage River, its wide flood plain, tall dolomite bluffs and old rail bridge. "It's beautiful out here, and it's just an unused railroad bridge."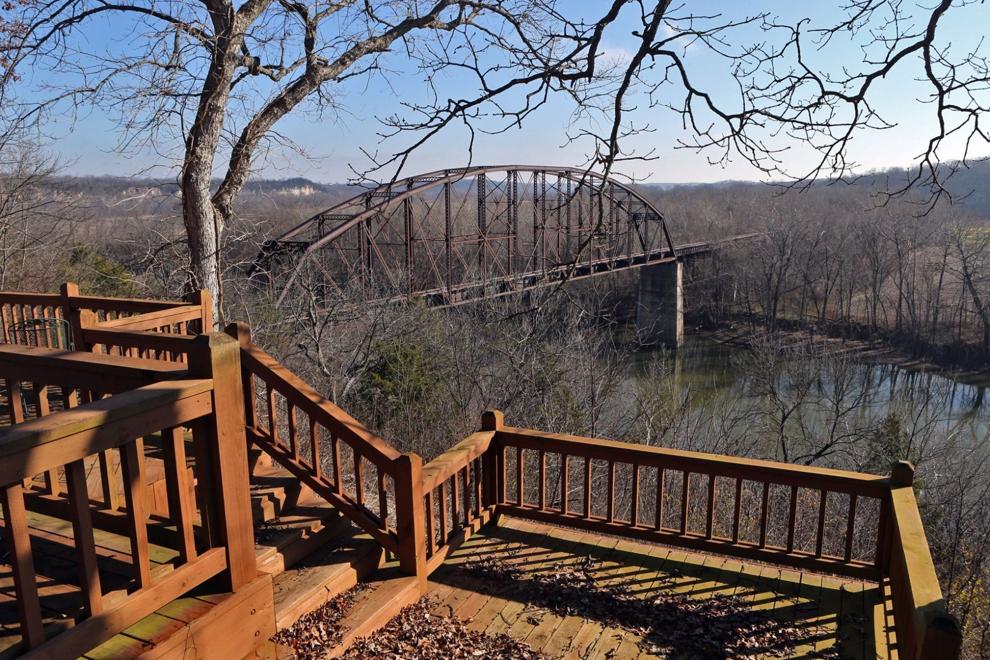 Her family moved to the perch nine years ago.
"We fell in love with the view," she said, thinking that one day maybe they could run a bed and breakfast.
Aside from jaw-dropping views of the countryside, the Rock Island corridor travels through the middle of several small towns. Leaders are excited about bringing people back via a different mode of transportation. It could lead to the renovation of old buildings and other development.
One study estimated 400,000 visitors to Katy Trail State Park in 2011 spent an average of $45 a day for an economic impact of $18 million, of which $8 million went to towns along the trail. A fourth of the visitors spent the night near the trail; 52 was the average age of visitors.
"I'd like to see it come through town," Christopher Bursnall, mayor of Meta, said of the Rock Island Trail. "It could lead to outside sources and maybe get our town used a little more. We are a sleepy little place."
Especially if horses were allowed and if fencing for farmers was taken care of.
Still, he had guarded optimism.
It's one thing to cut out the brush and rip up old rail. There's a long tunnel outside of town, and a number of bridge crossings, in need of repair.
Rodney Luebbering, 42, a full-time dairy and hog farmer in Osage and Miller counties, sees dollars spent, not gained.
"The main concern would be the cost to the taxpayers and the loss to the landowners," he said.
He admits that the trail loop "would be kind of neat" for those who actually take advantage of it, but he asked how many would, this far out in the state?
"Even if it's 10,000 a year, will it even remotely offset the price tag?" he said. "Nobody knows the cost."
By cost, he means litigation cost for the federal suit. Actual cost to fix up the corridor. Ameren's tax break for its donation. Upkeep.
Trammel, the Ameren spokesman, said in an email that it was unclear if there would be a tax benefit. "Our tax department is evaluating this, but we will not know the extent of any tax benefit until we obtain an appraisal, which will coincide with the completion of the salvage," he said.
Total project cost will be $15.5 million for the 47.5-mile section of the Rock Island Trail opening as a park in 2016, of which $8.5 million will be paid for with Ameren settlement funds from the Taum Sauk reservoir failure near Johnson's Shut-Ins, according to the state.
The state says it's too early to estimate costs for the 144-mile section being cleared that spans nearly to Union, but it will take a mixture of public and private funding.
"At this early stage, it is not possible to provide an accurate estimate of costs or time frame," state parks spokeswoman Steph Deidrick said in an email. "It is worth noting that the Katy Trail took 20 years to be fully developed."
"Missouri State Parks looks forward to hearing from communities along the line throughout the process," she added.
The overgrowth is the immediate obstacle, and it doesn't stand a chance.
A small crew from A&K Railroad Materials is attacking it with chain saws and a special excavator with a rotary mulcher attached.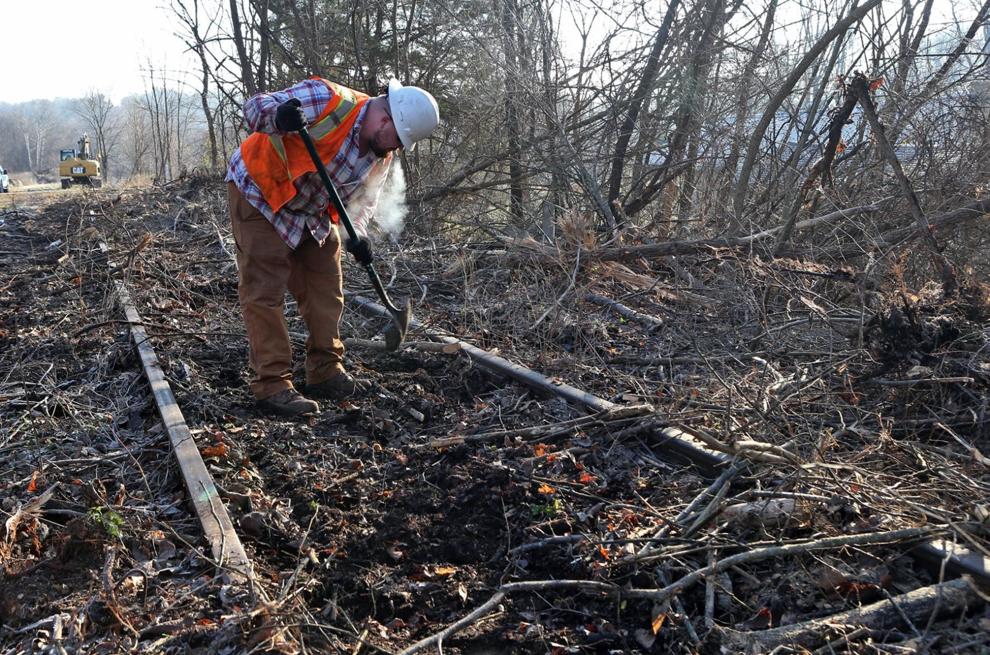 "We've had places we've gone through, you couldn't even see. It was just a wall of trees," said Nathan Oien, project manager of the effort. "Fences slow us down the most."
They recently started clearing between Eldon and Freeburg. To protect the endangered Indiana bat, Oien said, they must do the brush work between November and April. They clear about a half mile a day.
In Henley, about 25 miles from Lake of the Ozarks, he studied the exposed rusty rail. He said that section was made by Illinois Steel in 1925 and was installed in 1937 as a replacement for older track.
It won't be harvested for resale until the brush is all clear.
For the most part, he said, farmers have been good to deal with.
"There's always a few that don't want progress," he said. "And it's understandable. You have a big farm and now they are going to put a nature trail down the middle of it."
Oien, of Minnesota, said none of the bridges were passable for heavy machinery. He said that the decking was rotten but that the overall structures he had seen seemed solid.
"It's going to take some serious money to put this trail into play," he said.