ST. LOUIS • Missouri's 2016 ballot could be filled with weed.
Competing proposals, bolstered by growing national support, are seeking to put medical marijuana legalization on the statewide ballot. If approved, Missouri would join 23 other states that have done so.
Proponents have an uphill battle. First they need to collect 168,000 valid signatures from at least six of the state's nine congressional districts. Then they need to win approval from the state's conservative-leaning voters. Only a handful of states that have legalized medical marijuana are in the Midwest (Illinois, Minnesota and Michigan). And there's not one in the South, the region with which Missouri has been more politically aligned over the past decade.
In addition, two competing efforts could confuse voters and create an additional hurdle for gathering signatures.
Past efforts to get such a measure on the ballot have languished and failed. This time proponents say things will be different, citing internal polls showing significant statewide support for medical marijuana along with a presidential election year that will drive a larger turnout yielding the best chance of success.
"We think it has a good shot," said John Payne, the executive director of Show-Me Cannabis, a marijuana advocacy organization.
The group, which planned to conduct a cannabis law reform conference on Saturday in downtown St. Louis, previously pursued a broad legalization initiative. But the group has abandoned that for a more focused medical marijuana plan.
Most states that have completely legalized marijuana began by first allowing medical marijuana, for which public support is much stronger.
The Show-Me group has thrown its support to an effort backed by a new organization called New Approach Missouri. They have drafted a proposed ballot initiative that would allow doctors to certify patients to purchase marijuana if they have cancer or other serious health conditions. Under the plan, the state could license at least 75 cultivation facilities and allow qualifying patients to grow up to six marijuana plants in their homes.
The marijuana would be taxed at 4 percent, in addition to existing state and local taxes. The tax proceeds would go to health care for Missouri veterans.
For its effort, the group has hired Jack Cardetti, a seasoned Democratic operative who once served as Gov. Jay Nixon's spokesman.
"Ours is a real straightforward ballot initiative," Cardetti said. "And we have built a coalition."
Cardetti said significant organization is required to get a measure before voters. The group had about $28,000 on hand as of last month.
Another proposal is taking a different approach. Brad Bradshaw, a Springfield, Mo., doctor who is running in the Democratic primary for lieutenant governor, is seeking to legalize medical marijuana, heavily tax it and put the money toward medical research.
Bradshaw's committee, Missouri Research: Cures, Jobs, Health & Lower Taxes, has about $8,300 on hand, with most of the money coming from Bradshaw himself.
"Ours is the only measure that is going to make it to the ballot," Bradshaw said. "I've had a team of professionals working on this making sure it is a well-drafted, conservative approach."
Missouri Research's plan doesn't allow home growing and doesn't restrict the number of cultivation centers. Notably, it would give priority to licensed pharmacists in applying for dispensary licenses.
Bradshaw attacked New Approach's proposal, saying it is driven by money.
"They want to make hundreds of millions of dollars by the cultivation of this drug by creating a monopoly," Bradshaw said.
In Illinois, then-Gov. Pat Quinn signed a law in 2013 that legalized medical marijuana as part of a pilot program that created 21 licenses to grow the drug, and 60 licenses to sell it. The program, dogged by allegations that the license process was politicized, got off to a slow start. About 3,000 patients in Illinois can begin buying medical marijuana starting Monday.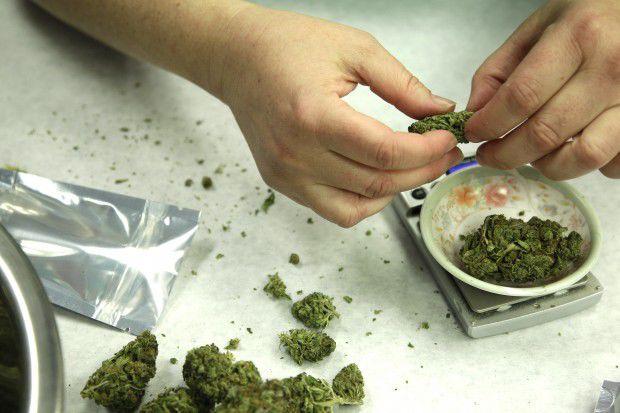 The current ballot proposals would be much broader.
Bradshaw said his plan would help fund research at Missouri's medical facilities and make it a national leader. The marijuana would have a 75 percent tax at the retail level.
Payne, of Show-Me Cannabis, said Bradshaw's plan is "narrowly tailored to a few patients." He also said the plan's tax is too high.
"That's close to 100 percent taxation when you include other local and state taxes," Payne said. "We think that's too much for patients to pay. Our proposal has a much lower rate."
Bradshaw estimated the total added tax of his plan amounts to about one dollar per dose.
If both initiative petitions are approved by the Missouri secretary of state's office, the focus will turn to getting the expensive and daunting task of getting 168,000 signatures.
Bradshaw said he will raise money, as well as put his own money into the campaign.
"It's going to be a combination of grass-roots organization and signature gathering," Bradshaw said.
Payne said he isn't concerned about Bradshaw's effort because he says his side already has a grass-roots network. And, he said he doesn't think both measures would appear on the ballot at the same time.
"It's not a major concern of mine," Payne said. "Realistically, supporters are going to coalesce around one. It's really difficult to get one of these on the ballot, much less two."