JEFFERSON CITY — House Minority Leader Crystal Quade said on the last day of the legislative session that she was sorry there were too few Democrats in the capital city to stop a GOP-backed bill that would ban most abortions.
"I'm sorry," Quade, choking up on the House floor, said Friday to abortion rights activists gathered in the Capitol. "I'm sorry there aren't enough of us in this chamber to stop this. I'm sorry you're viewed as second-class citizens. Now it's up to you to change this."
On Saturday, Quade, D-Springfield, sent a fundraising email to her supporters, asking them to donate to her campaign. Democrats control fewer than one-third of state House and Senate seats.
So, in exile, the party is casting the bill — pending before Republican Gov. Mike Parson — as extreme. There are no exemptions allowing abortions in cases of incest or rape. Abortions would be banned at the eighth week of a pregnancy, the only exception being for medical emergencies.
And, if the U.S. Supreme Court would overturn Roe v. Wade, nearly all abortions would be made illegal, according to the bill. The only exception would be for medical emergencies.
Parson has said he will sign the bill, but it's still unclear when he will do so.
"By signing HB 126, Governor Parson is telling survivors of rape, incest and human trafficking that the whole system is against you," Auditor Nicole Galloway, a Democrat considering challenging Parson in 2020, said in a statement.
"Not only are Governor Parson and Republicans in Jefferson City out of step with the majority of Missourians, they don't care about women's health, re-victimizing survivors, or the law," Galloway said.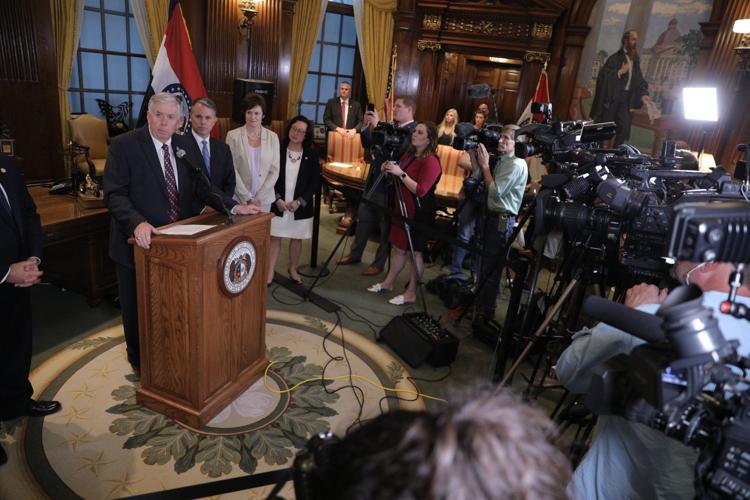 When asked why he would sign the bill, given that there are no exceptions for rape or incest, Parson first said that he would sign it because that was the version the Legislature sent him. He later said he believed all life was valuable, regardless of how it was conceived.
Jean Peters Baker, chairwoman of the state Democrats, said the bill was "far too extreme to the majority of Missourians" — an angle that may resonate with some of Missouri's conservative-leaning electorate, who may be ambivalent toward total abortion bans.
In 2018, 18% of Americans polled believed abortions should be outlawed in all circumstances, according to Gallup.
In the same poll, 29% of respondents said abortion should be legal in all circumstances, while 50% said it should be legal only under certain circumstances — suggesting most people have mixed views on the procedure, and that they do not agree with either extreme in the abortion debate.
Missouri's electorate has tended to be more conservative than the nation as a whole, but the near-total ban could signal trouble for some suburban Republicans, where voters have been more receptive to Democrats in recent election cycles.
In his St. Louis County district, Rep. Shamed Dogan said, many constituents have nuanced views on abortion.
Dogan, of Ballwin, was the only Republican to vote against Missouri's abortion measure last week. He said he did so because there were no rape or incest exceptions.
"I think I've only gotten two or three people voicing their opposition who were constituents," Dogan said. He said more than 100 constituents have contacted him supporting the vote.
"These weren't form emails," he said. "These were individuals writing in on their own. A lot of them had personal stories. None of these emails was a copy-and-paste."
Whether abortion resonates as an issue in November 2020 obviously is yet to be determined.
On the other hand, Democrat Mike Revis was able to snag a GOP-held Jefferson County House seat in a February 2018 special election in which right-to-work dominated debate.
In November, voters in the 99th District in St. Louis County — which borders Dogan's 98th District — will choose a replacement to former Rep. Jean Evans, R-Manchester, in a special election. She resigned earlier this year to become the executive director of the Missouri Republican Party.
Evans has said she was able to pull off victories in the swing district by knocking on doors and winning over independent voters.
Evans won 53% of the vote last year, under-performing then-Democratic U.S. Sen. Claire McCaskill, who won 55% of the vote in the 99th District.
Democrat Mark Osmack has filed paperwork to run in 2020 against state Sen. Andrew Koenig, R-Manchester.
The 15th Senate District includes much of west St. Louis County, including Dogan's district. Koenig handled the abortion bill in the Senate, and is one of the chamber's most conservative members.
Democrats are betting voters will find Koenig out of step with the district.
Indeed, Democrats' performance in the Kansas City and St. Louis suburbs in 2018 represented one very minor silver lining in an otherwise dismal year for the party.
Though McCaskill lost in 2018, and Democrats lost three seats in the Legislature, they also gained three suburban House seats — one centered in Maryland Heights and part of St. Charles, and two in Kansas City.
U.S. Rep. Ann Wagner, R-Ballwin, kept her seat in Congress — but narrowly, by fewer than 5 percentage points. Since then, Democrats have said they would spend more resources on the suburban St. Louis seat in 2020.
"We're told abortion will not be safe if it is illegal. I'm here to tell you abortion is not safe," said Rep. Mary Elizabeth Coleman, R-Arnold…