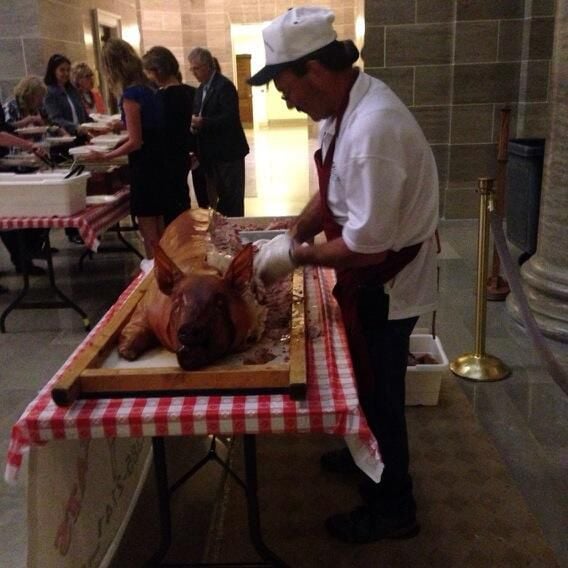 JEFFERSON CITY • A leading Democrat in the Missouri House is promising to deliver half of the votes needed to put a sweeping anti-corruption plan on the books.
In an announcement Tuesday, Rep. Kip Kendrick of Columbia, who serves as the Democratic whip in the House, outlined an ethics reform agenda he says mirrors promises made on the campaign trail by Governor-elect Eric Greitens, a Republican.
"Eric Greitens was elected to office with a campaign focused on rooting out corruption in our Capitol," Kendrick said. "Missourians have every right to demand immediate action and I intend to make sure that Governor-elect Greitens can deliver on his promise."
Measures backed by a bloc of Democratic lawmakers include banning all gifts from lobbyists; toughening laws relating to lawmakers becoming lobbyists and strengthening laws on how campaign funds are used.
The proposal also would give the Missouri Ethics Commission more investigative power, ban fundraising during the legislative session and impose term limits on all statewide elected officials.
Among the lawmakers backing the various proposals are Democratic Reps. Deb Lavender of Kirkwood, Joe Adams of University City, Tracy McCreery of Olivette and Bruce Franks of St. Louis.
"As the minority whip, I promise to deliver over half of the votes necessary to get the bills on Governor-elect Greitens' desk by mid-January," Kendrick said. "It's time for aggressive ethics reform and Democrats stand with the governor-elect and his pre-election platform to get this done."
Lobbyist spending has been a focal point of efforts to clean up the image of Jefferson City, where lawmakers routinely accept food or free sports tickets supplied by groups attempting to sway votes.
A recent Post-Dispatch review, however, found lobbyist spending has been dropping in recent years following revelations of extensive wining and dining by lobbyists.
In 2015, for example, lobbyist spending totaled $690,000, more than $200,000 below any other year in which records are publicly available.
This year, lobbyists have spent about $540,000 on behalf of public officials as of October, the last month for which data was available.
Rep. Shamed Dogan, R-Ballwin, is sponsoring a plan outlawing lobbyists gifts to local elected officials.
Rep. Justin Alferman, R-Hermann, also is backing a measure banning lobbyists gifts after the measure fizzled in the Senate during the spring session.
Sen. Rob Schaaf, R-St. Joseph, is proposing a gift ban and a three-year waiting period for lawmakers wanting to become lobbyists.