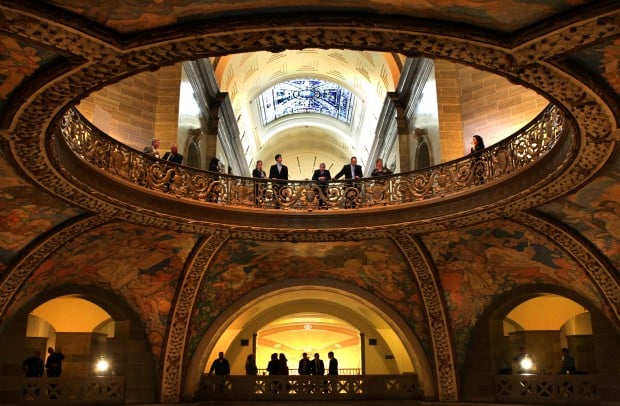 JEFFERSON CITY • The Missouri Legislature's failure to replace an ethics reform law tossed out by the state Supreme Court earlier this year has left some wondering whether there will be a spike in questionable gifts and donations to elected officials as the campaign season heats up.
"We're basically the 'Wild, Wild West' when it comes to ethics laws," said state Rep. Tishaura Jones, D-St. Louis.
The state Supreme Court quashed the Legislature's 2010 ethics and campaign finance law on a technicality in February, and while some lawmakers pushed for a replacement, no action was taken.
Missouri's ethics and campaign finance laws rank among the most lax in the country, according to a nonprofit, nonpartisan investigation released earlier this year. Missouri also remains one of only four states with no limits on campaign contributions, according to the National Conference of State Legislatures.
Of those states, Missouri is the only one also without limits on what lobbyists can legally give to lawmakers.
Already this year, about $18 million has made its way into Missouri campaign funds in donations of over $5,000 each, the cap that some have proposed.
The now-defunct ethics reform law did not address donation caps, but it contained measures to bring more transparency to the system. It outlawed the shuffling of funds among committees that critics liken to money laundering, and it required candidates for statewide or legislative office to report within 48 hours any donations of more than $500 received during the legislative session.
Those who support ethics reform say that without strict laws, the government is vulnerable to financial influence and other forms of corruption.
"It creates the potential for corruption or some kind of unethical behavior," said Caitlin Ginley of the Washington-based Center for Public Integrity.
Republicans and Democrats alike proposed replacement bills in the Legislature during the session.
Proposed bills would have capped contributions for statewide or legislative candidates at $5,000 per donor per election. Similarly, there were proposals to limit lobbyists' gifts to $1,000 each year.
House Speaker Steve Tilley, R-Perryville, told reporters in March that he would give the ethics reform measures an opportunity to be heard. But the bills were only referred to committee on the last day of the session, in effect killing them. A similar Senate proposal also died in committee.
Tilley, who could not be reached this week, said then that he supported many parts of the law that had been thrown out — particularly provisions that gave more authority to the Ethics Commission and eliminating the committee-to-committee transfers to encourage transparency.
He said he does not support campaign contribution caps because they can make the process less transparent.
"I have always been opposed to campaign contribution limits because it leads to what we used to have before, where people would give to committees and committees would give to other people and it was hard to track the money," he said.
House Majority Leader Tim Jones, R-Eureka, who is in line to become the next House speaker, told reporters that he thought the Legislature would likely come up with a better bill — without the influence of election-year politics — if it waited until after the November elections.
He also noted that the court ruling came in the middle of the session, when most lawmakers had already focused on other priorities and just before legislators entered the thick of budget negotiations.
"I don't think anybody necessarily tried to ignore it. I think it just hit when we had been in session for a period of time," said House Speaker Pro Tem Shane Schoeller, R-Willard.
Julie Allen, executive director of the Missouri Ethics Commission, said the dismissal of the 2010 law "dealt a blow."
Without the measure, the commission cannot initiate its own investigations, so it has to rely on outside complaints. The law also established the charge of obstructing an ethics investigation and barred people who owed money to the commission from taking office or creating new committees.
Still, some who have worked on ethics reform in the Missouri Capitol say the 2010 law did not go far enough.
"When you inject politics into issues that are incredibly important, you don't always make the result better," said Rep. Jason Kander, D-Kansas City, who proposed several replacements in the past legislative session. "If we can get it right, we are going to get better policy on every issue."
Kander is an advocate of campaign contribution caps and limits on gifts lawmakers receive from lobbyists.
Most states restrict campaign contributions from various sources, including those from political action committees and political parties, according to the state legislatures conference, a bipartisan organization that provides research and technical assistance to legislators across the country.
Missouri has wrangled with limits on campaign donations for the past few decades.
Opponents say caps can discourage transparency as people look for other ways to get money into campaign coffers.
A special House committee created in 2010 to address ethics laws created a model bill that included caps, but the caps were removed before a final version passed. So was a provision to impose caps on gifts from lobbyists. And then the entire law was thrown out by a court.
Kander said that puts the state in a position prime for corruption.
"Right now, Missouri is the only state in the country that has the combination of unlimited lobbyist gifts and unlimited campaign contributions," he said.
"Most Missourians realize they deserve better than that."
Missouri voters first set contribution limits in 1994. A lawsuit over whether the cap limited free speech made it to the U.S. Supreme Court, where the limit was upheld. The state Legislature then voted to repeal the cap in 2006 and again in 2008 after the initial vote was tossed out in court.
Gov. Jay Nixon, a Democrat, repeatedly has called on the state Legislature to reinstate the caps, though the latest finance records show his campaign has received more than $1.5 million in monetary and in-kind contributions in sums of more than $5,000 this year.
Dave Spence, the presumptive front-runner to become the GOP's gubernatorial candidate, also has said he supports ethics reform. His ethics proposal includes a cap on lobbyist gifts and transparency provisions that were in the 2010 law, but it does not call for campaign contribution caps. Spence's campaign has taken more than $650,000 in donations higher than $5,000 this year.
States that border Missouri all have implemented some kind of cap on contribution limits, but the approaches vary.
Arkansas limits contributions to candidates at $2,000 per election cycle.
Kansas has instituted a contribution schedule — $2,000 to statewide candidates, $1,000 to Senate candidates and $500 to House candidates.
Illinois restricts personal contributions to $5,000 per election cycle, but corporations and unions can give double that and PACs can donate up to $50,000.
And while it has no caps on other types of contributions, Iowa has banned corporate campaign contributions.
A month after the court threw out Missouri's ethics law, the state received a C rating on a project dubbed the "State Integrity Investigation."