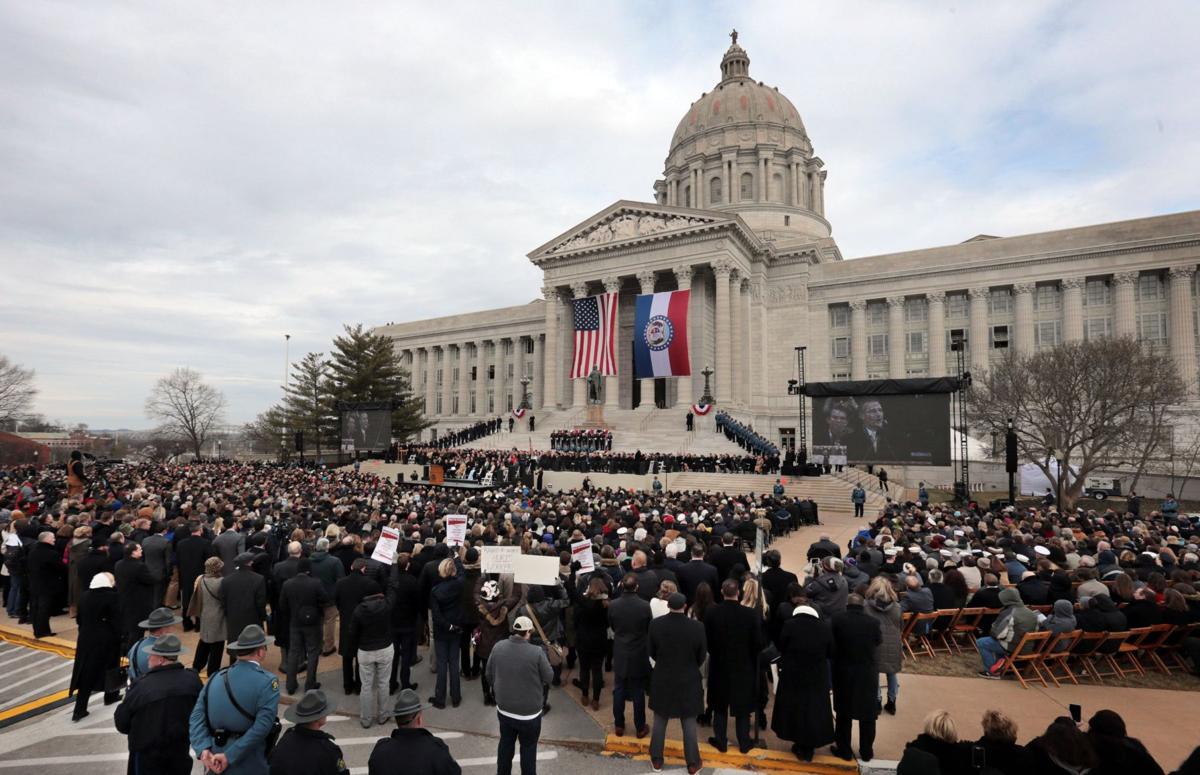 JEFFERSON CITY • A new analysis of state finances shows Missouri lawmakers and Gov. Eric Greitens face a "dire" budget situation.
According to a report issued Thursday, projections show the state is on track to spend $456 million more than it receives in the fiscal year beginning July 1.
With little appetite for raising taxes among the Republicans who control state government, that means cuts are likely on the way.
"We will balance it, but we have a pretty difficult task ahead," said Rep. Scott Fitzpatrick, R- Shell Knob, who chairs the House Budget Committee.
"There's a lot of uncertainty right now," added Sen. Dan Brown, R-Rolla. He oversees budget matters in the Senate.
The report also shows that slower-than-anticipated revenue growth will leave the state nearly $40 million in the red when the current fiscal year ends on June 30.
Greitens, a political newcomer, is expected to address that shortfall by cutting current spending in the coming days. Such action would come after then-Gov. Jay Nixon made $51 million in cuts last month.
But deeper cuts will be needed in the budget that dictates spending during the next fiscal year. Although revenue from income taxes and other sources is expected to rise by 3.8 percent, that won't be enough to offset rising costs of programs like Medicaid, which provides health insurance for poor people.
Without paring back on spending, the budget would be $456.3 million out of whack.
"It's pretty dire," Brown said.
"I know this isn't going to be an easy year to craft a balanced budget," added Rep. Marsha Haefner, R-St. Louis.
The revenue estimate is based on an analysis by nonpartisan state budget experts and outside consultants. It provides the basis for the governor and legislative leaders to build Missouri's $27 billion spending blueprint.
In a prepared statement, Greitens did not specifically address what he plans to cut in order to balance this year's budget. Nor did he address which programs he will target for reductions in the next fiscal year.
Greitens, who has not previously held elected office, has postponed his budget address until February.
"For too long, government hasn't been fiscally responsible or accountable. That changes now, as we begin to fix the mistakes of the past and fight for you," the governor's statement reads.
Along with trying to cut Medicaid costs, Fitzpatrick also said lawmakers will target the cost of legal settlements, which have topped an estimated $17 million this year, largely due to sexual harassment and discrimination cases arising out of the Missouri Department of Corrections.
"We're going to be looking closely at that," Fitzpatrick said.
Budget writers also will be looking at the number and amount of tax credits being issued by the state.
Lawmakers have already introduced nearly two dozen tax credit programs that will mean less money in state coffers if they are approved.
"We need to stop carving out sales tax exemptions," Fitzpatrick said.