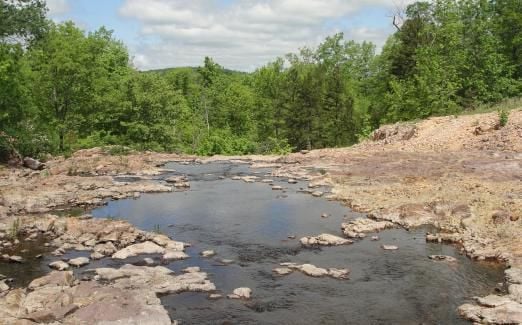 JEFFERSON CITY — Missouri outdoors officials have no plans to open a shuttered state park in Reynolds County, but that doesn't mean they aren't working to improve the facility.
Bidding documents show the state is seeking contractors to repair a dam on a 60-acre mountaintop lake at Jay Nixon State Park.
The work is not an indication that the Missouri Department of Natural Resources is reversing its 2017 decision to keep the park closed, said Brian Quinn, a spokesman for DNR's division of environmental quality.
"There was a spillway constructed by the previous owner that needs to be repaired so the dam will meet all current safety standards," Quinn said Friday.
Located near Taum Sauk Mountain State Park in Ironton, the 1,230-acre facility was announced in January 2016 as Missouri's 55th governor was leaving office.
"A visit to this secluded park will allow guests to enjoy the sounds of wildlife and experience nature. Located in a wooded, rugged section of the St. Francois Mountains, there are opportunities for hiking," DNR said on an early web page about the park.
There are no facilities at the park, which can only be accessed from the Ozark Trail.
The property was purchased in 2015 with funds received from a Natural Resource Damage Assessment and Restoration settlement with the American Smelting and Refining Co. The Missouri Trustee Council, which includes the U.S. Fish and Wildlife Service and the Missouri Department of Natural Resources, reviewed the proposed purchase at a public meeting on Dec. 18, 2014, at Johnson's Shut-Ins State Park.
Few paid attention to the purchase until the Post-Dispatch reported that the park had been named after Nixon, who championed an expansion of the park system using money from environmental settlements.
"The status of Jay Nixon State Park was re-evaluated due to limited access and lack of facilities," a DNR spokesman said.
Quinn said the work on the dam holding water in Firepit Lake will be the subject of an April 8 meeting. It is not yet known how much the work will cost.
DNR records show the 58-foot-high dam was built in 1975. It is 410 feet long.
Quinn said the cost to maintain the land has been "minimal," with any operating costs included in the budget that pays for the Taum Sauk Mountain/Johnson's Shut-Ins management area.
He also said there are no other projects planned in the park and there is no timetable to open the park to the public.
An Oregon County judge earlier ordered the state to sell some of the land it acquired to build a park along the Eleven Point River in southern Missouri. The state is appealing that decision.