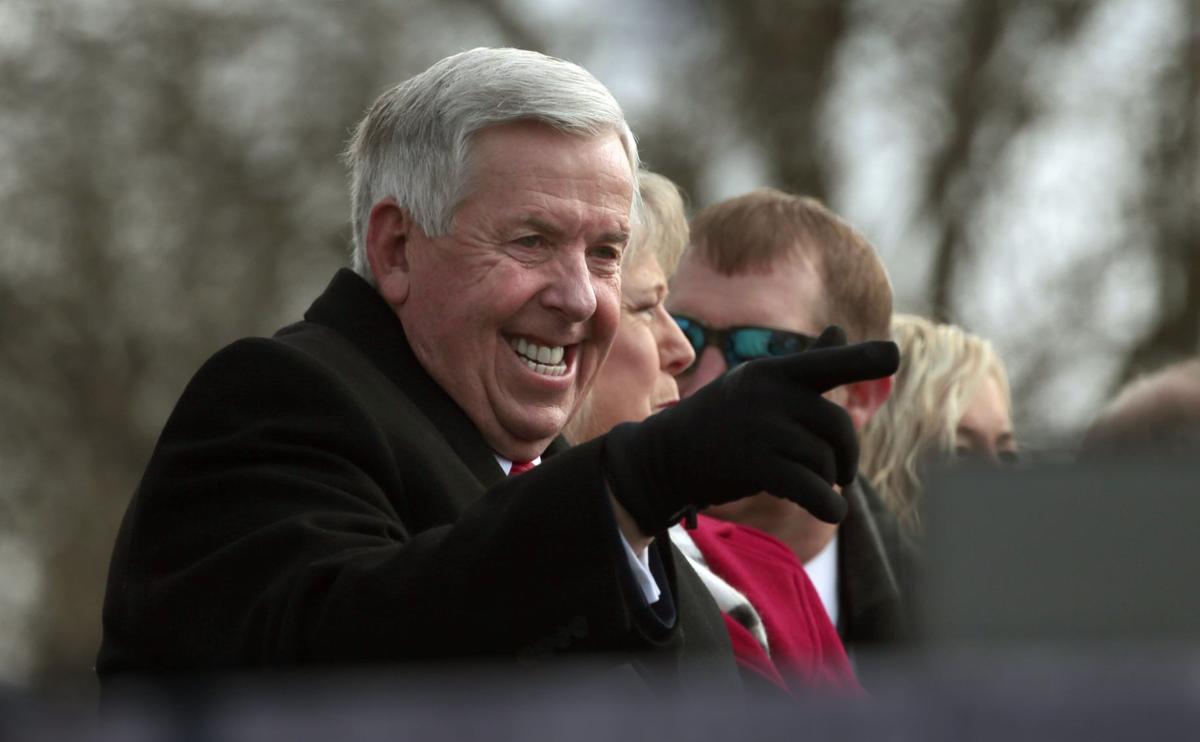 JEFFERSON CITY — Greece, Israel and the United Arab Emirates could see a visit from Missouri Gov. Mike Parson later this year, according to trip planning documents obtained by the Post-Dispatch.
Parson's administration had planned the overseas trip for March 2020 but had to postpone due to the COVID-19 pandemic, said Kelli Jones, spokeswoman for Parson.
The planning signals a resumption to what had become commonplace for Missouri governors: international travel largely funded by a nonprofit that receives taxpayer dollars through the state budget.
On March 23, Ann Pardalos, manager in the Department of Economic Development, sent Parson chief of staff Aaron Willard a memo regarding the three-country tour.
She said she aimed to follow up in early May to confirm plans. Jones said Wednesday the governor's office had tentatively blocked off time in December, but that actual dates and details have yet to be confirmed.
"The mission will again focus on Israel, Greece and the UAE," Pardalos said in the March 23 memo. "These markets still pose great opportunities from a trade and investment prospective and we would want to keep all three on the schedule due to expenses already incurred related to flights and hotels."
Pardalos said officials were eyeing the second half of 2021 for the trip, including a Nov. 4-Nov. 18 window and a Dec. 2 to Dec. 16 window described as "optimal."
"This timeline includes Christian holidays during the visit to Israel and the Old City in Jerusalem, which may create some minor issues but not unsurmountable," Pardalos said.
"Temperatures may be less than ideal (40-50 degrees F and damp) in Greece and primarily Jerusalem (Israel). Ideal travel time to UAE (low 80's F)," she said.
"We have tentatively blocked off dates in December and will confirm the actual dates after June 1 when the airlines post their updated travel schedules," Jones said in an email to the Post-Dispatch. "However, we have not fully confirmed travel dates nor details at this time."
The records also show Parson has expressed interest in traveling to Canada.
Since the March memo, violence has erupted in Israel and occupied territories. President Joe Biden's administration on Wednesday called for a "significant de-escalation" of violence between Israel and Palestinian militants.
"We continue to monitor the conflict in region," Jones said. "Since the mission is many months away, an assessment will be made at a later time by the Governor's Advisors and Security Personnel."
She also confirmed the governor and first lady's expenses will be paid by the Hawthorn Foundation, "as has been the case for every Governor and First Lady since the inception of the organization in the late 1970s."
Former Gov. Eric Grietens traveled to Israel in late 2017 after trips earlier that year to China, South Korea, Switzerland and the United Kingdom. Greitens, a Republican currently running for U.S. Senate, resigned in June 2018 amid fallout from numerous scandals.