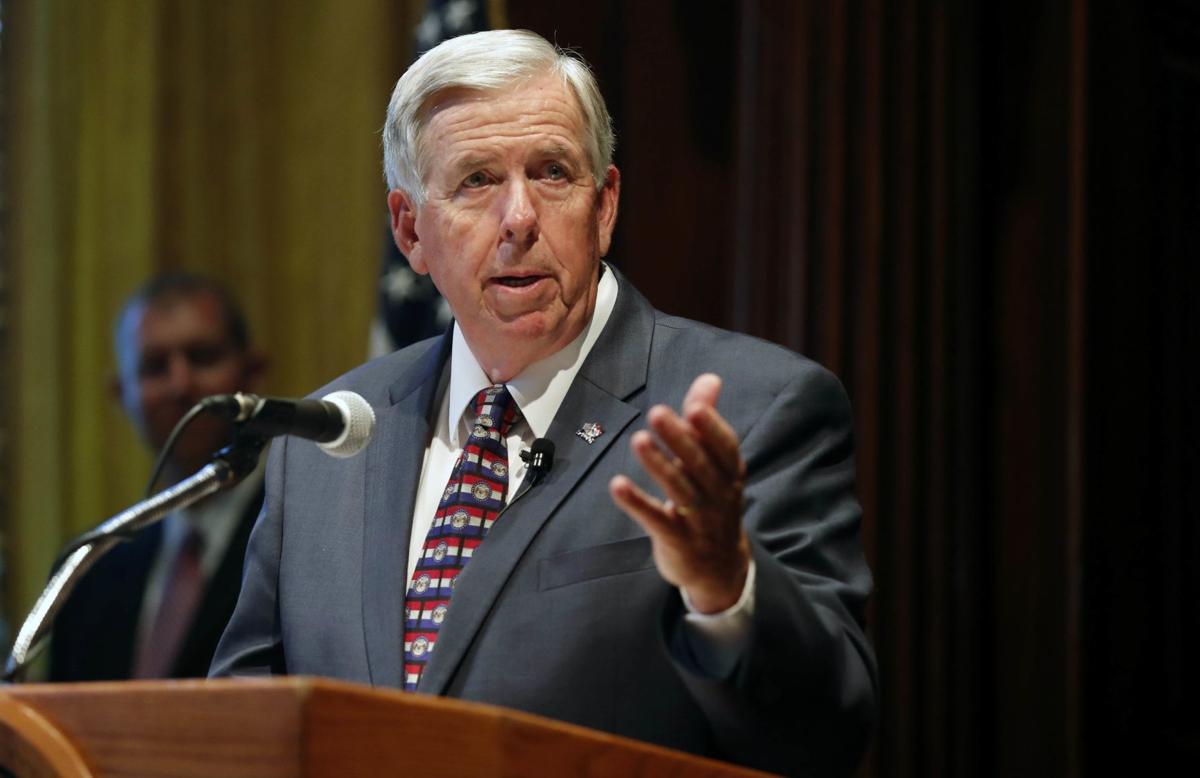 JEFFERSON CITY — Gov. Mike Parson signed an executive order Wednesday moving the date of local government elections from April 7 to June 2.
"Given the growing concern surrounding COVID-19 and the large number of people elections attract, postponing Missouri's municipal elections is a necessary step to help combat the spread of the virus and protect the health and safety of Missouri voters," Parson said in a statement.
Parson acted as many local election officials across the state, including in the St. Louis area, were already planning to go to court to try to move the April election to June 2.
On Wednesday morning, in fact, Lincoln County in the St. Louis area and 42 counties in western and central Missouri filed petitions with state appeals courts asking for such a switch.
Moreover, officials in St. Charles, Jefferson, Franklin and Warren counties had said they were planning to do the same. Under Missouri law, election dates can be shifted by state appeals court panels if a disaster prevents one from being held.
"I'm glad that the entire state could be on the same date so there is no confusion for voters," St. Charles County Elections Director Kurt Bahr said of the governor's order.
The election board in St. Louis County also had been expected to consider asking for a move to June 2.
On Monday, a three-judge panel of the eastern district court rejected an earlier request by the St. Louis County board to allow a mail-in election on April 28 or to move everything on the April 7 ballot to the Aug. 4 state primary.
But the judges indicated they would consider an earlier date for a standard election.
Secretary of State Jay Ashcroft, in a statement, said Parson's emergency declaration last week gave the governor the ability under Missouri law to move the date of the election. He said he asked Parson to change the date.
The state's emergency statutes allow the governor to "waive or suspend the operation of any statutory requirement or administrative rule prescribing procedures for conducting state business, where strict compliance with such requirements and rules would prevent, hinder, or delay necessary action by the department of health and senior services to respond to a declared emergency."
In a news release, the secretary of state's office said the deadline to register to vote in the municipal election was still March 11. Write-in candidates will still have until 5 p.m. on March 27 to file.
Anyone who is 18 by April 7 will be allowed to vote, but anyone who turns 18 between April 8 and June 2 will not be allowed to vote, Ashcroft said.
He said officeholders whose terms expire after the April 7 election date will be able to serve until after the new election date.
In addition to the concern over polling places attracting large numbers of people, local officials also had said they were worried they wouldn't get enough election judges to work on April 7.
Many poll workers are over 60 years old, an age group which health experts say is at high risk of complications should they contract COVID-19.
Missouri became the seventh state to change an election date because of the coronavirus pandemic, joining Alabama, Georgia, Kentucky, Louisiana, Maryland and Ohio.
But Illinois and Arizona opted to go ahead with their primary elections Tuesday.
Missouri's presidential primary was held March 10 before health authorities' warnings about the pandemic intensified.
Bahr, the St. Charles County official, said some local-level election officials may continue to seek court approval for election date switches because of concern that the extent of the governor's emergency powers may be ambiguous.
"They would like to have the buy-in from the courts that it's valid," Bahr said.
The county clerks in Lincoln and Jefferson counties, Crystal Hall and Ken Waller, both said they would go ahead with their requests for court approval for the date switch as a precaution in case the governor's order is legally challenged. Bahr said he may do so as well.
The Associated Press contributed to this report.