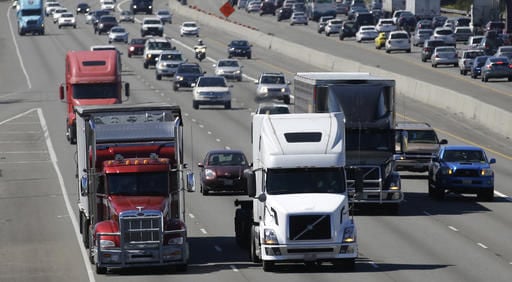 JEFFERSON CITY • Gov. Mike Parson is considering changing a key way Missouri enforces the payment of child support in an attempt to address a nationwide shortage of truck drivers.
Under state law, a person who hasn't paid child support for three months can lose a driver's license or other occupational licenses.
But, with the trucking industry scrambling to fill driver jobs, Parson told the Post-Dispatch its time to look at alternatives.
"Today, we are tremendously short on drivers," Parson said. "Let's find another way to serve up that punishment."
The proposal is part of Parson's attempts to improve the state's workforce, while also attacking a shortage that could raise the cost of consumer products in the coming years. The American Trucking Association projects a shortage of 100,000 drivers by 2021.
Parson did not outline what might replace the loss of a driver's license as a way to punish child support scofflaws, but said it is something he will look into heading into the 2019 legislative session.
"For a nondriving offense, that's not practical," said Parson, who took over as governor on June 1.
In 2017, more than 7,000 Missouri drivers lost their licenses for failing to pay child support, compared to 8,080 in 2016, according to figures provided by the Missouri Department of Revenue.
In addition to the proposed changes to child support, Parson also said he'd like to give state prison inmates "real world" experience in learning how to drive trucks so they are more prepared to fill the driver shortage when they leave prison.
Parson told the newspaper he would like to free up Missouri Department of Transportation trucks to supplement current programs where inmates use simulators to learn about long-haul trucking.
"That's another avenue to workforce development," Parson said.
The state currently has commercial vehicle operator programs in Farmington and Bowling Green. There also is a heavy equipment operator training program in Boonville.
"There is a tremendous shortage of skilled labor in the construction industry right now, and employers are thrilled to find people who have been properly trained and certified — and are very eager to work — to do these jobs," said Missouri Department of Corrections spokeswoman Karen Pojmann.
Pojmann said six inmates who graduated from the heavy equipment training job landed jobs with Missouri employers before being released.
A number of other states have similar truck driver training programs for prison inmates, including North Carolina, which is where Corrections Director Anne Precythe was a prison system administrator before taking her post in Missouri in 2017.