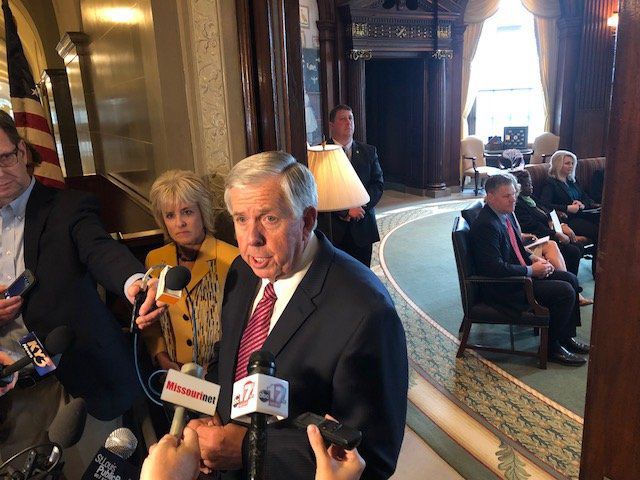 JEFFERSON CITY • Gov. Mike Parson offered initial support Tuesday for raising the state's gasoline tax to help rebuild roads and bridges across Missouri.
"I'm going to be supporting infrastructure in the state of Missouri and, yes, if that's part of the infrastructure plan," he said. "I think that is important. We need to make sure we've got a good plan in place."
Parson's comments followed a meeting with a group of mayors from across the state, including Kansas City Mayor Sly James, St. Peters Mayor Len Pagano and Florissant Mayor Tom Schneider.
James and his colleagues said they were pleased that Parson took time to meet with them and they share his concern about the state's road and bridge system.
"One of our major issues is infrastructure," James said.
"We cannot kick this can down the road any longer," added Schneider. "Transportation has been neglected for over 20 years."
The meeting with mayors was among another packed day for Parson, who was sworn into office Friday after Greitens abruptly resigned. Greitens' resignation followed an agreement with St. Louis Circuit Attorney Kim Gardner that he would step down after just 17 months in office in exchange for her dropping a felony charge against him.
If approved, the state's fuel tax for gas and diesel would rise 2.5-cents per year beginning in 2019, topping out at 27 cents in 2022. The proposal also would raise taxes on alternative fuels, including natural gas and propane.
The increase would bring Missouri above the current national average of 24 cents per gallon, according to the U.S. Energy Information Administration.
Analysts say the higher taxes could bring in an additional $293 million for the state road fund when it is fully implemented.
The state has not raised gas taxes since the Legislature approved an increase in 1992. The 6-cent hike was phased in over four years.
Along with speaking out on the gasoline tax, Parson said he would not be pushing to issue any low-income housing tax credits this year. Parson and Greitens had butted heads on the issue last year when Greitens moved to defund the program, citing insider dealing among developers.
"That is not something we're going to deal with at the current time," Parson said.
Rather, he said he would form a commission to study the issue, which has been the subject of numerous blue ribbon panels and studies.
"To even have a shot at returning, we're going to have to have total reform," Parson said.
The governor is expected to meet Wednesday with St. Louis Mayor Lyda Krewson and St. Louis County Executive Steve Stenger as he ramps up his fledgling administration.
Among Parson's most recent hires were Marylyn Luetkemeyer as his executive assistant and Robert Knodell as his deputy chief of staff.
Luetkemeyer was Parson's former executive assistant when he was a senator and lieutenant governor.
Knodell is former executive director of the House Republican Campaign Committee, former chief of staff for the Missouri House Pro Tem and a former budget and policy adviser to the chairman of the House Budget committee.
Next week, Parson is scheduled to deliver a speech to a joint session of the House and Senate, appoint new members to the state school board and undertake a tour of the state.