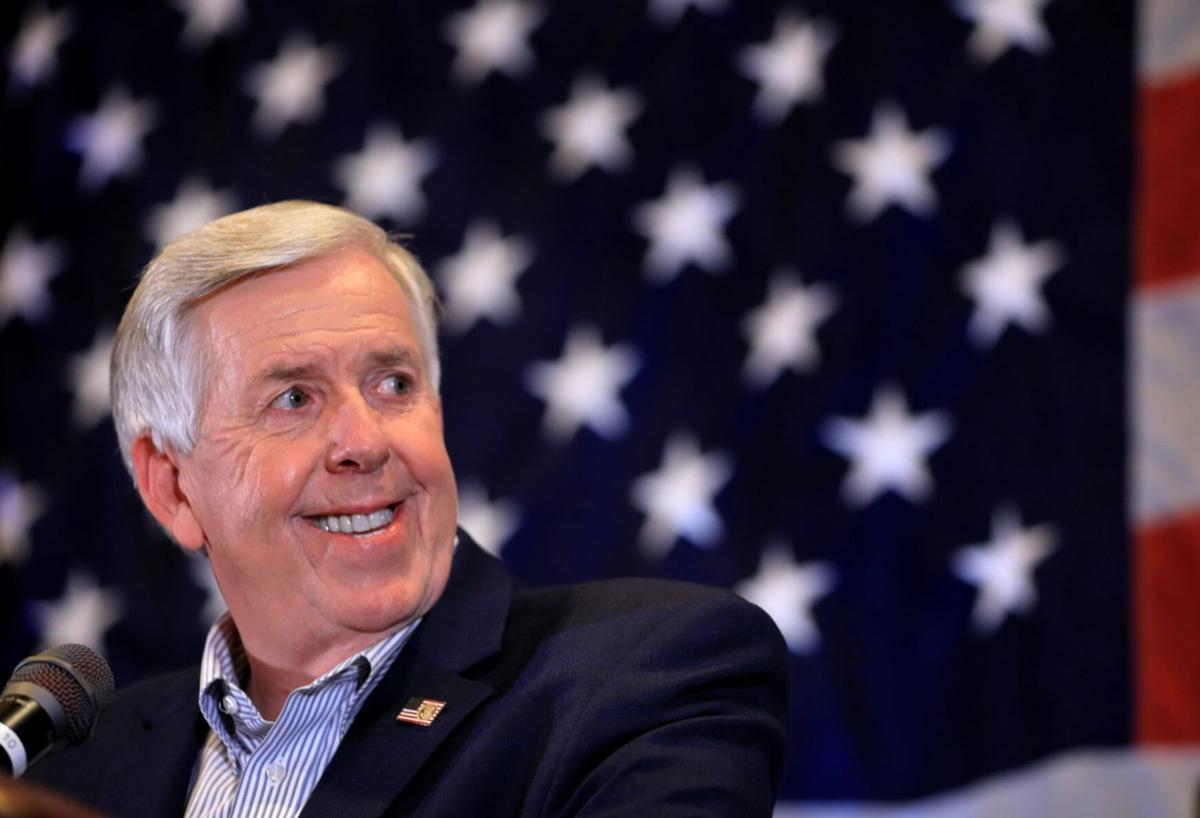 JEFFERSON CITY — As Gov. Mike Parson traversed the state to cut ribbons and herald business expansions this week, a surge of coronavirus cases has led to the shutdown of some of the government services he oversees.
At the Missouri Department of Revenue, six license offices were closed as of Wednesday because of COVID-19 concerns, including facilities in Edina, Blue Springs, Osceola, Aurora, Waynesville and Caruthersville.
The Department of Natural Resources has canceled at least three public meetings at parks and historic sites "out of an abundance of caution and due to public health concerns."
And, his own administration continues to urge employees to stay away from state office buildings, which have been the scene of outbreaks in recent months. As of last week, about one-third of the state's 50,000-plus workers are working from home.
"We are still strongly encouraging people to work remotely if possible," said Chris Moreland, spokesman for Parson's Office of Administration.
Yet, despite calls for people to pay stricter attention to large group gatherings, Parson has kept up a busy travel schedule after convincingly winning a full, four-year term on Nov. 3.
This week, for example, his schedule called for him to "attend various meetings and events across the state, including several business expansion announcements that showcase the great progress we continue to make towards economic recovery in Missouri."
On Tuesday, the governor helped break ground for a $23 million terminal at the Columbia Regional Airport, which has seen a steep drop in passengers during the pandemic.
On Wednesday, Parson was scheduled to visit a medical device company in Cape Girardeau, a machine company in Washington and a groundbreaking ceremony for a digital printing company in St. Charles.
On Thursday, he heads to Concordia, near Kansas City, to visit Milbank Manufacturing Co., which produces electrical equipment.
The post-election barnstorming tour is the latest example of how Parson has pressed to keep businesses open while the virus surges across the state.
Rather than impose a statewide mask mandate or require businesses to close or limit capacity, Parson has left stricter mitigation measures to local governments, only to see the state set record-breaking tallies for cases and deaths.
Missouri added 5,717 new cases of the virus Tuesday, the second-highest daily increase ever, according to Post-Dispatch data, after 6,346 were reported Saturday.
On Wednesday, the Missouri Department of Health and Senior Services reported 4,587 new infections and 24 additional deaths. In all, 3,477 people have died of complications related to the virus.
The latest report from the White House Coronavirus Task Force said Missouri is in the red zone for test positivity, indicating a rate at or above 10.1%, with the seventh highest rate in the country.
"With Thanksgiving and upcoming holidays, Missourians must understand the COVID-19 situation statewide," the Nov. 15 report notes. "Effective practices to decrease transmission in public spaces include limiting restaurant indoor capacity to less than 25% and limiting bar hours until cases and test positivity decrease to the yellow zone."
On Thursday, Parson is scheduled to brief the press outside his office in the Capitol. It is not clear what he plans to discuss.