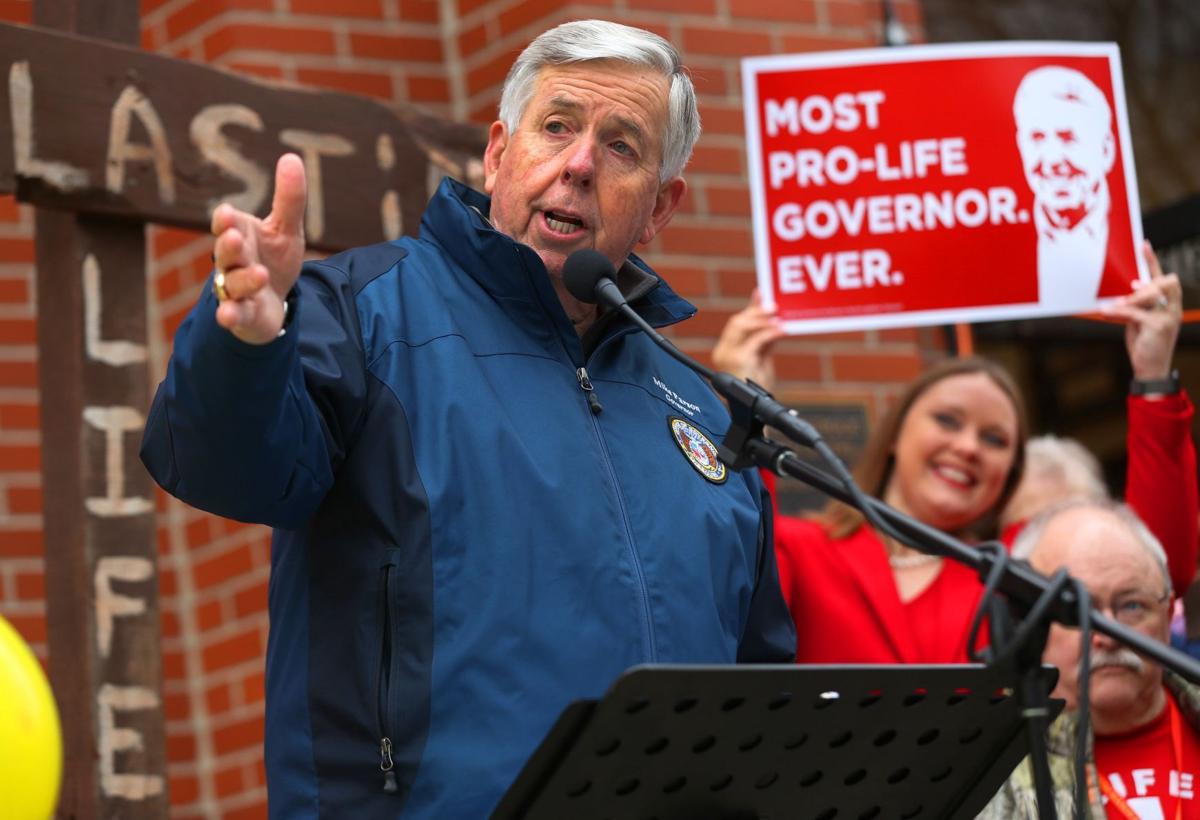 JEFFERSON CITY — Gov. Mike Parson's administration has issued an emergency rule designed to give agencies under his control another tool to close down Missouri's lone abortion provider.
The rule, which goes into effect Oct. 13, will allow one agency to share health inspection reports with another, potentially making it easier for the state to withhold funding. It's part of the ongoing push by the Republican administration and the GOP-controlled Legislature to put Planned Parenthood out of business.
But Planned Parenthood said the rule may not pass muster with the federal government, which has the power to block decisions by states on how Medicaid dollars are spent.
Bonyen Lee-Gilmore, vice president of communications for Planned Parenthood's Forest Park Avenue facility in St. Louis, said the rule appears to single out the organization, which could run afoul of President Joe Biden's administration of the Medicaid program by treating health providers differently.
"You have to apply rules consistently and evenly," Lee-Gilmore said.
At the hearing, Jennifer Tidball, acting director of the Department of Social Services, and Robert Knodell, then-acting director of the Department of Health and Senior Services, told senators the departments were devising new regulations that could work to block funding for providers found out of compliance with state standards.
The new rule would allow the DHSS, which inspects abortion facilities, to share information with DSS, which would then be able to "potentially sanction Medicaid providers based on the information that was shared by Health and Senior Services," Tidball told the committee.
Planned Parenthood operates the state's only abortion facility in St. Louis. While Medicaid doesn't pay for abortions, the administration's goal is to strip funding from all Planned Parenthood clinics across the state.
Lee-Gilmore said the rule is confusing because inspection reports done by DHSS are already public records.
Those records were a key part of evidence in a court case heard in 2019, which was the last formal attempt by the administration to shutter Planned Parenthood.
In the end, the state lost the case and was ordered to pay Planned Parenthood more than $140,000 in legal fees.
The high-profile four-day trial in October 2019 highlighted the administration's efforts to close the facility by denying it a license to operate based on allegations that Planned Parenthood had botched abortions.
In a 97-page decision, former Administrative Hearing Commissioner Sreenivasa Rao Dandamudi ruled that Planned Parenthood met the requirements for renewal of its abortion facility license in St. Louis.
"Planned Parenthood has demonstrated that it provides safe and legal abortion care. In over 4,000 abortions provided since 2018, the department has only identified two causes to deny its license," Dandamudi wrote.
"Ultimately, we have no concerns with the substance of Planned Parenthood's quality assurance review, and there are no other indications of deficient practices," Dandamudi wrote.
Parson later replaced Dandamudi as a commissioner.
During the spring legislative session, conservatives in the Senate held up passage of a tax on health care providers that generates about $4 billion of the state's $11 billion Medicaid budget, by demanding bans on funds going to abortion providers and affiliates.
GOP opponents said such restrictions on abortion providers and affiliates would jeopardize federal funds under the Biden administration, which favors abortion rights.
The rule says the "information transfer" of inspections between DHSS and DSS, which operates the state's Medicaid program, will allow the agency to determine if federal funds can be spent on services provided by Planned Parenthood.
"The Department of Health and Senior Services finds that there is a compelling governmental interest that requires an early effective date (for the rule) in order to ensure that abortion facilities are operated in accordance with all legal requirements and applicable standards of care," the rule says.
The rule said Planned Parenthood could be cited if it fails to notify a laboratory of a failed abortion within 24 hours or if it fails to ensure a doctor performs a pelvic exam 72 hours before an abortion.
Lee-Gilmore said Planned Parenthood has not determined if it will challenge the rule in court.
"It's too early to tell if legal action is warranted," she said.