JEFFERSON CITY • Missouri's governor formally rejected a plan Monday to significantly loosen state gun laws, calling the Republican-led initiative a "drastic departure" from current rules that would make the state less safe.
"Here in Missouri, responsible gun ownership and support for the Second Amendment are strongly held values. These values are part of who we are, and a tradition we pass from generation to generation," Nixon said. "But I cannot support the extreme step of throwing out that process entirely, eliminating sensible protections like background checks and training requirements, and taking away the ability of sheriffs to protect their communities."
Nixon, who is entering the final six months of his two terms as chief executive, has been largely accommodating to gun-rights legislation during his tenure. His decision comes two weeks after 49 people were killed and 53 injured at a nightclub in Orlando, Fla., by a single gunman, an action that has sparked another nationwide debate on gun rights in the United States.
Nixon told the Post-Dispatch Sunday that the shooting in Florida was not a major factor in his decision to nix the gun proposal.
"I'm very aware of it," he said. But, Nixon added, "When you are talking about significantly changing the framework and the law in your state, I don't analyze that as, 'Something that happened in Florida, we should make significant changes on something like this.'"
The legislation that moved through the Legislature in May would eliminate the requirement to get a permit to carry a weapon in public. It also would alter the state's castle doctrine law by expanding its parameters beyond a person's house. The new law also says a person would no longer have a duty to retreat to safety before using lethal force.
And, it would create a lifetime concealed carry permit.
Veto-proof margin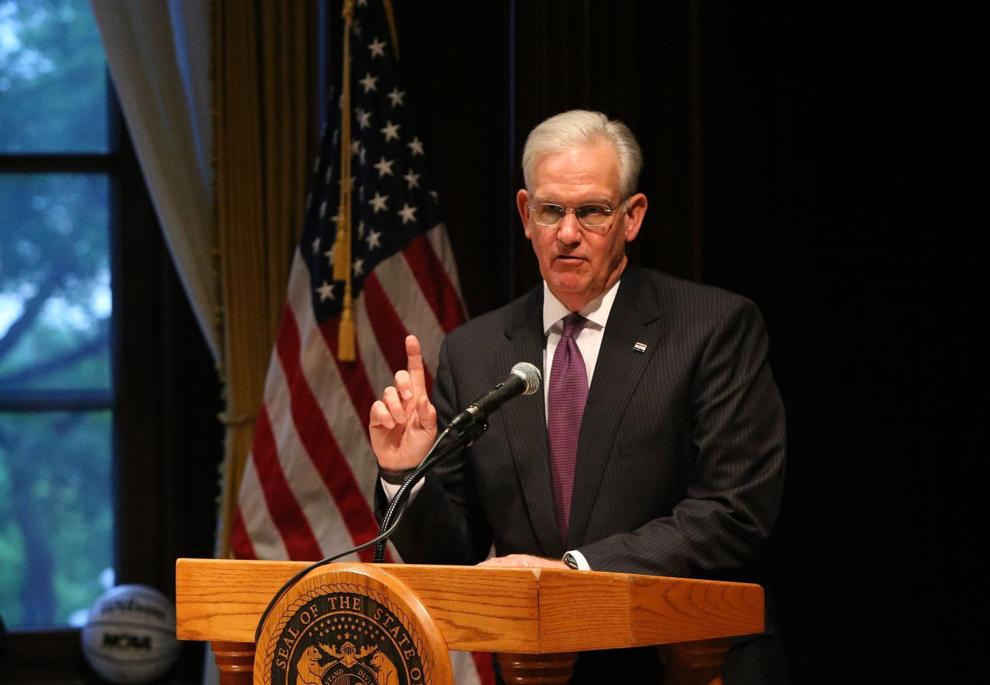 Nixon said he is hopeful lawmakers will take time to reflect on their actions on the measure, which came in the last-minute flurry of legislation on the final days of the spring session.
"I think given time to look at this and analyze it and see the system and framework we had before, I think people are going to say we don't need to veer dramatically away from what was working in Missouri," Nixon said.
In the House, the measure received 114 votes. In order to become law, it would need 109 votes to overcome a veto. The legislation received 24 votes in the Senate, one more than is needed to override.
Under current law, Missouri residents wanting to carry a concealed weapon must complete a gun safety training class and pass a criminal background check. If a person has a clean record and no history of mental illness, a local sheriff must issue a permit.
Nixon said instructors spend a significant period of the classroom time educating students not only on how to use firearms, but also when they are justified in using firearms to protect themselves or others.
"This classroom instruction is obviously important for public safety, and for the student as well, who needs to know when he may justifiably draw and fire his weapon at another human being," he said in his veto message. "There are life-and-death scenarios reviewed in the classroom, as well as scenarios in which an individual is not justified in using lethal force."
The governor said a person who is denied a permit by a local sheriff would nevertheless be allowed to carry a concealed weapon under the legislation.
"I cannot support a system that would ignore a determination by the chief law enforcement officer of a county that an individual is a danger to the community and should not be authorized to carry a concealed firearm," Nixon said.
Last week, Rep. Eric Burlison, R-Springfield, said the proposed law only makes a slight change in how Missouri treats gun laws. He argued that gun owners may already legally openly carry a weapon in places where it is not forbidden. The proposal would allow people to legally conceal a weapon in those same places.
During debate on the measure in May, Sen. Jason Holsman, D-Kansas City, said he is a gun owner but argued the change would allow untrained citizens to carry concealed weapons. He said creating a "stand your ground" law in Missouri would lead to more firearms violence.
"Any other citizen who feels threatened by that citizen can shoot and kill them because they feel their life is in imminent danger," he told his colleagues.
The legislation is Senate Bill 656.