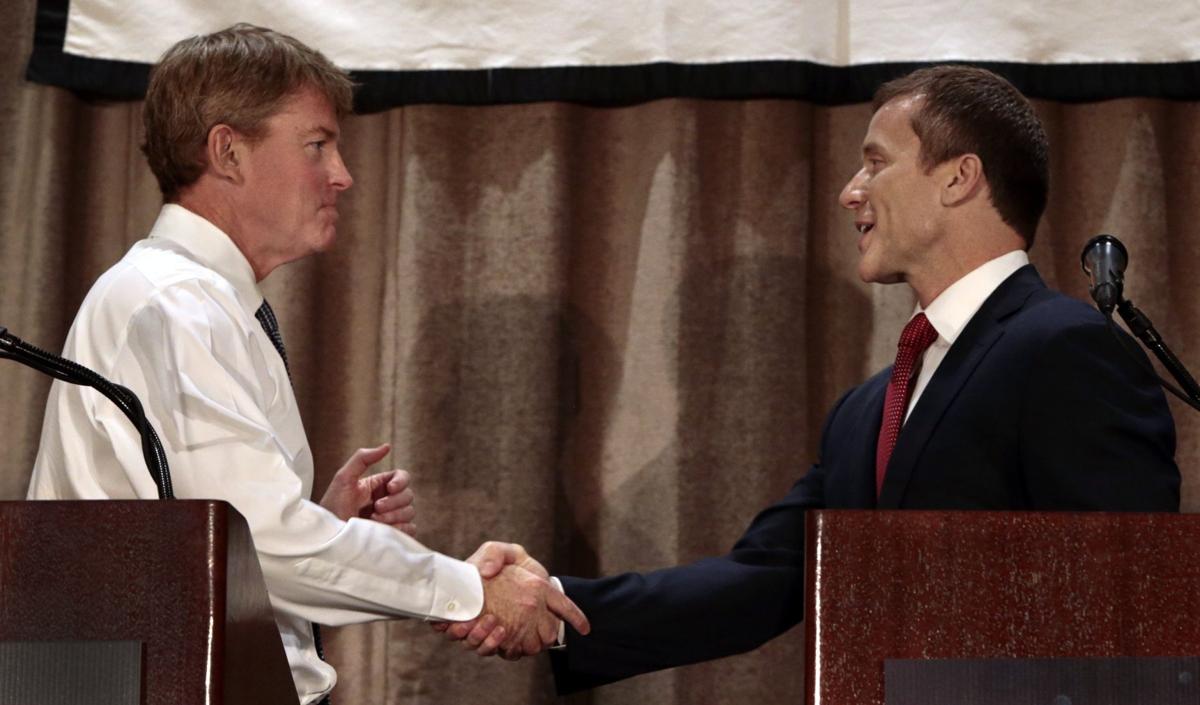 Republican Eric Greitens has closed the gap in the race for Missouri governor, pulling into a statistical tie with Democrat Chris Koster less than two weeks out from the Nov. 8 election, according to a new Post-Dispatch poll.
The poll shows Koster with a lead of 1 percentage point over Greitens — 46 to 45 — which is well within the poll's 4-point margin for error.
The statewide telephone poll, conducted for the newspaper by Mason-Dixon Polling & Research, questioned 625 registered likely voters. It was conducted Monday through Wednesday.
The numbers represent a major surge for Greitens, a former Navy SEAL with no previous electoral experience who has been campaigning as a political outsider.
As recently as mid-October, the RealClearPolitics polling average had Greitens 5 points down against Koster, a longtime state officeholder and current attorney general who has been running on his governmental resume.
"It's a tight race and there's a lot of time left on the clock," said Mason-Dixon pollster Brad Coker, who marveled at the "strange mix of cross-currents in Missouri."
He noted that the state's other top race, for the U.S. Senate, also is close — but in that case, it's the previously trailing Democratic challenger, Jason Kander, who has closed the gap against incumbent Republican Sen. Roy Blunt.
The common theme, Coker said, is the attraction of the "outsider."
"The governor's race ... is a flip-flop of the Senate race, where you have the Democrat running as the outsider," said Coker. "Things are not fitting a very clear pattern except that the perceived insiders are doing worse than you thought they would. A year ago, Koster was probably considered a shoo-in."
The poll isn't the first indication that the race has tightened in recent weeks.
Campaign documents show the Republican Governors Association has pumped $11.5 million into Greitens' campaign, more than half of it within the past 30 days. Data from the National Institute for Money in State Politics indicate that's an all-time record amount for the national GOP entity to spend on any gubernatorial election — and a strong hint that the party, too, has numbers showing a close race.
Greitens won the Republican nomination Aug. 2, after a bruising four-way primary in which he took less than 36 percent of the vote.
A former Democrat, Greitens faced early questions about whether he could unite a party that he had spent a year attacking as part of the problem during the primary. A post-primary unity event had to be canceled because one of his vanquished opponents refused to attend. The National Rifle Association and major agriculture endorsements, which normally go to the Republican, instead went to Koster.
But the new poll indicates the normal political landscape has somewhat snapped back into place, with Greitens winning the groups usually associated with Republican strength.
Greitens is winning 50 percent of men, compared with 40 percent for Koster. Greitens scores highest with white voters, winning 52 percent to 40 percent for Koster. And among rural voters, Greitens scored between 53 percent and 57 percent in various rural regions of the state, against Koster's rural support of 34 percent to 39 percent.
And that NRA endorsement for Koster? It didn't prevent Greitens — whose ads featured him shooting a military-style rifle — from beating Koster 47 percent to 37 percent on the question of "Who do you believe will do a better job defending 2nd Amendment gun rights?"
"It's a return to normalcy" for Republican voters who weren't sure about Greitens during and immediately after the primary, but are now coming home, said Coker. He said it's the same pattern the poll found regarding Republican presidential nominee Donald Trump, who was tied or even trailing against Democrat Hillary Clinton in some early Missouri polling, but now is sitting on a 5-point lead.
Countering national trends, Blunt's support lags that of GOP presidential candidate.
The poll does contain some bright spots for Koster. He dominates Greitens in the state's vote-heavy urban cores, winning St. Louis with 54 percent versus 37 percent for Greitens, and Kansas City 52 percent to 38 percent. Koster is winning women with 52 percent versus 41 percent for Greitens, and African-American voters prefer Koster 80 percent to 2 percent.
Coker anticipated that the black vote actually may contain an additional, hidden advantage for Koster that won't show up until election day: Seventeen percent of African-Americans are "undecided" in the race, the poll finds. That's an unusually large percentage of any group to be undecided this late in the race. Whatever it is that's causing the hesitation, Coker said, almost all of that vote can be expected to ultimately break Koster's way by virtue of his party.
"He'll probably end up with 90 percent of the black vote before it's all over," said Coker. "That little shift might get him to 48 percent (total)." In a race with three third-party candidates peeling off some voters, that could be decisive.
On the issues, the poll indicates that the themes the two candidates are hammering to define themselves are getting some traction with voters.
Koster, who has stressed his competence and knowledge as a governmental leader, outpaces Greitens 48 percent to 42 percent on the question, "Who do you believe would do a better job improving the state economy and creating jobs?"
Greitens, who has vowed to "clean up" state government with lobbying restrictions and other ethics measures, edged Koster 46 percent to 43 percent on the question, "Who do you trust more to improve ethical standards in state government?"
The poll shows both candidates underperforming with their party's own self-identified partisan voters — perhaps not too surprising in a race where the Democrat is an ex-Republican and the Republican is an ex-Democrat.
Greitens gets 86 percent of self-described Republicans supporting him, while Koster gets 84 percent of self-described Democrats. "Usually you want to be in the 90s" on that question, said Coker.
Greitens, 42, used his stature as a former Navy SEAL and founder of the veterans' service organization The Mission Continues to win the Republican gubernatorial nomination over three more politically experienced opponents. He had never previously run for office — though he once flirted with running for Congress as a Democrat. Today he espouses familiar Republican policies, including a vow to make Missouri a "right to work" state.
Koster, 52, a St. Louis native, is a former prosecuting attorney and former state senator, where he was elected as a Republican. He switched to the Democratic Party in 2007 after decrying what he said was the radicalization of the GOP. He is completing his second term as attorney general.
Both campaigns have raised unusually high amounts of money — Greitens more than $26 million, Koster almost $28 million. In contrast, current Gov. Jay Nixon, a Democrat, won re-election in 2012 on the strength of just $16 million.
That flood of money has bought a flood of aggressive campaign ads.
Koster has attacked Greitens' two core selling points — his military background and his ethics crusade — with allegations that he overpaid himself with funds from The Mission Continues that were meant to help veterans. Greitens has vehemently denied the allegation.
Greitens has essentially painted Koster as the incumbent, tagging him as a career politician and stressing his support of the Affordable Care Act, often called Obamacare. He has relentlessly reminded voters of a 2014 New York Times investigation of state attorneys general who pulled back on investigating their campaign contributors, and which presented Koster as Exhibit A.
The governor's seat is being vacated because Nixon, the two-term incumbent, is barred by term limits from seeking a third term.
Walker Moskop of the Post-Dispatch contributed to this report.(tncms-asset)9b72616a-9cba-11e6-8800-00163ec2aa77(/tncms-asset)