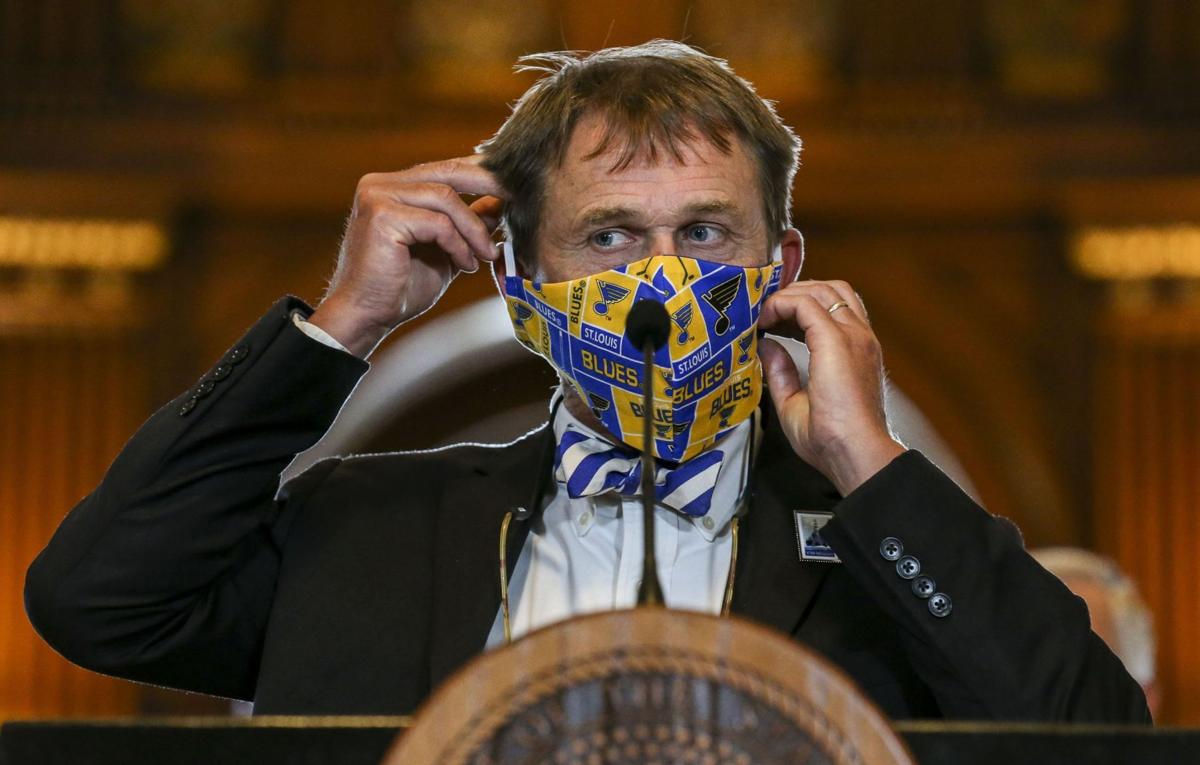 JEFFERSON CITY — Missouri's top health officials pledged Wednesday to do more to reach the homeless, home health care workers, and other groups that may have been neglected in the state's vaccine rollout.
Williams was joined by Adam Crumbliss, director of the division of community and public health and Robert Knodell, Gov. Mike Parson's deputy chief of staff.
Officials described efforts to improve communication and reach vulnerable groups, and they also discussed a federal plan to distribute vaccines through retail pharmacies such as Walmart and Health Mart without taking away from the state's vaccine allotment.
Rep. Kimberly-Ann Collins, D-St. Louis, introduced the topic of the homeless population when she noted that people in crowded shelters or huddled together for warmth outdoors are at increased risk for spreading the disease. She also said home health care agencies in her district hadn't received outreach about getting vaccine to staff.
Crumbliss said his division had been contacting various community groups and would work on making connections with the agencies Collins mentioned.
Many other committee members also came to the meeting with questions about groups they felt had been neglected.
Rep. Cyndi Buchheit-Courtway, R-Festus, asked what she should tell her constituents who live in rural areas. "They're feeling like they're being forgotten," she said.
Rep. Patty Lewis, D-Kansas City, said later that she wanted to echo Buchheit-Courtway. "I'm here to tell you that urban feels forgotten too," she said.
Prisoners and prison staff, Black and Latino Missourians, Capitol workers who are not in high-risk groups, urban law enforcement officers, medical personnel, and dentists were among other groups mentioned by lawmakers. 
Several committee members brought up the struggles of some medical workers who were in the first vaccine priority group. Some who aren't affiliated with major hospitals have not been vaccinated, even though vaccine is now available to lower priority groups. 
"Is there anything we can do to help a dentist get to the front of the line?" Rep. Michael O'Donnell, R-Oakville, asked.
Rep. Suzie Pollack, R-Lebanon, said older Missourians often feel they are the last to receive information about the vaccine. She asked if health departments that conduct contact tracing could work on providing more information.
Williams repeatedly emphasized during the meeting that the state is attempting to distribute a limited supply of vaccine as fairly as possible.
Planning has recently been made easier, Williams said, because they now receive clear communication from the federal government about how much vaccine to expect each month. 
Distribution
The federal government is planning to partner with Walmart and Health Mart to distribute vaccines in Missouri, officials said at the meeting. Unlike the previous federal partnership with pharmacies, the doses will be a bonus for the state rather than coming out of its allocation.
DHSS announced Monday that the state will allocate 53% of its vaccine doses to selected hospitals that have a good track record and the capacity to distribute 5,000 doses a week. Williams said those hospitals are largely, though not entirely, in urban areas.
To address the needs of rural areas, 23% of vaccine supply will go to mass vaccination events conducted by the National Guard in nine regions around the state. Other groups — local public health agencies, federally qualified health centers and other community providers — will receive 8% of vaccine supply apiece to fill in remaining gaps.
Williams defended the state's vaccine rollout, which faced criticism after reports that Missouri trailed the rest of the nation in the percentage of residents who had received at least one dose.
According to Centers for Disease Control and Prevention data on Jan. 24, less than 4% of Missourians had been vaccinated, compared with 5.6% nationally.
The administration has blamed reporting lags for the low ranking. As of Wednesday morning, the Missouri vaccine dashboard reported 7% of the population has been vaccinated and more than 553,000 doses have been administered. The CDC dashboard lists more than 86,000 fewer doses in Missouri.
Williams said the state has hovered around No. 10 in the rankings of lowest cases per capita for about a month. Adding antigen tests, which Missouri and 22 other states do not include in their totals, doesn't change the ranking much, he said. The state is planning to add antigen tests to its COVID dashboard in the coming weeks.
Government officials said the state's low percentage of vaccines distributed could also be blamed, in part, on a federal partnership with pharmacies.
The state has moved to take back at least 25,000 doses of the vaccine from CVS and Walgreens, which were intended to distribute them to long-term care facilities.
Knodell said the problem was not necessarily the fault of the corporations, but rather that the federal government miscounted the number of vaccines the facilities would need because it based the number on capacity instead of actual patients.
U.S. Sen. Josh Hawley, R-Missouri, has requested briefings on Missouri vaccine distribution from CVS and Walgreens. Williams said during the hearing that he'd spoken with Hawley on the phone earlier in the week.
The state is in Phase 1B, Tier 2, of its vaccination plan. That means health care workers, staff and residents of long-term care facilities, first responders and high-risk individuals are eligible to be vaccinated.
It's unclear when Missouri might move to the next tier. Williams said it might happen later in the spring, and that he expects life to begin returning to normal by August.
About 75% of people need to be immune in order to reach herd immunity, Williams said, meaning 2.5 to 3 million vaccines, plus those who have already had the virus, might get Missouri close to that point.