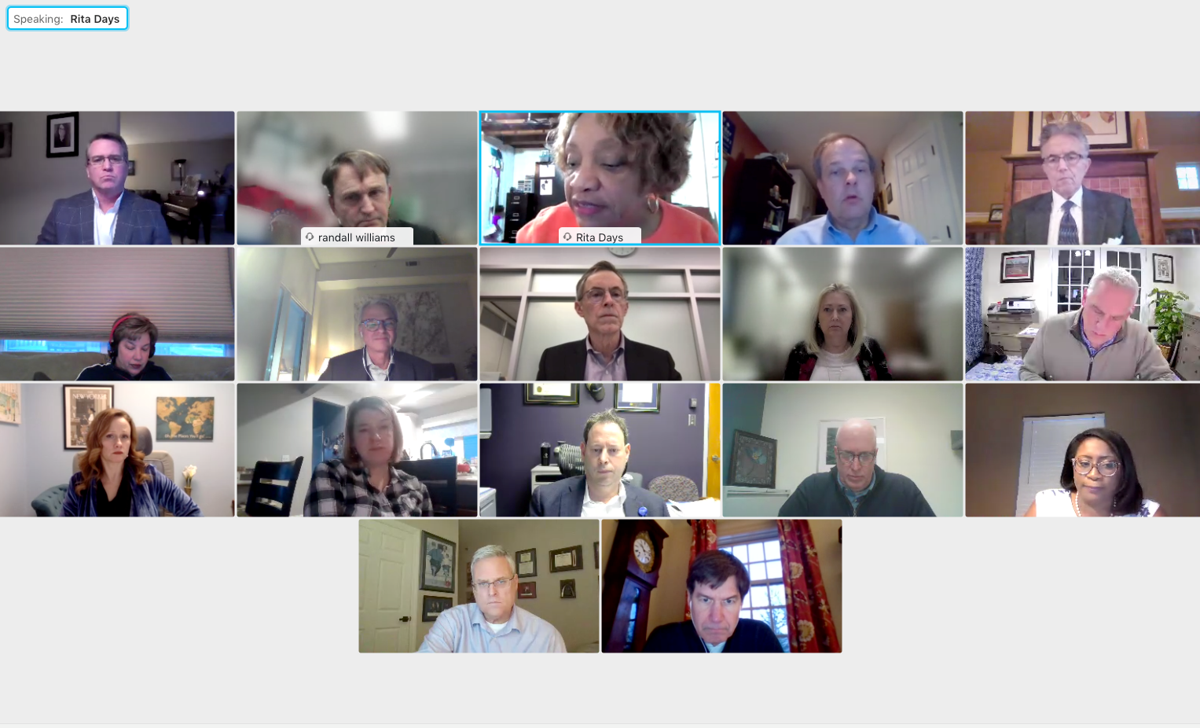 ST. LOUIS COUNTY — Missouri's director of public health pushed back Thursday against criticism by local officials that the state undersupplied the St. Louis region with vaccines.
In a meeting with the St. Louis County Council, Dr. Randall Williams, director of Missouri's Department of Health and Senior Services, referenced state figures showing an increase in vaccine shipments to the St. Louis region. Williams added that with a limited national supply of vaccine, Gov. Mike Parson sent first shipments to nursing homes, which represented 4% of COVID-19 cases in Missouri but about 40% of COVID-19 deaths.
The vaccine has "never been warehoused in Jefferson City," Williams said. "We only say where it goes."
The council had asked Williams to answer questions earlier this month, when local officials complained that while the St. Louis region's 2.2 million residents represent 37% of the state's population, the region was getting only about 17% of the state's vaccine doses.
In response, Parson last week doubled the number of doses going to the St. Louis region. As of Thursday, the St. Louis metropolitan region had received a total of 315,200 vaccine doses — about 35% of the 898,175 doses distributed to hospitals and public health departments across Missouri.
The County Council had planned to question Williams for 45 minutes Thursday, but the 5 p.m. meeting was cut short when Williams was about 30 minutes late from another meeting.
At the same meeting, representatives from the four major hospital systems — BJC HealthCare, SSM Health, Mercy and St. Luke's Hospital — said they together had conducted tens of thousands of vaccinations, including the inoculation of more than 60% of their workers.
The hospitals emphasized that applicants for vaccines do not have to be current patients and can register with multiple hospitals as long as they only take one appointment.
Councilwoman Rita Heard Days, D-1st District, said she was concerned about seniors in her majority Black district who don't have reliable transportation or internet access.
Hospital officials said the county's public health department is better equipped to reach into neighborhoods, and that they wanted to support those efforts. But that, too, depends on vaccine supply.
"The only chokepoint right now is just manufacturing capacity," said Dr. Clay Dunagan, chief medical officer for BJC hospital. "The fact is we're using every dose that comes to us pretty much within a week."
Recently, most vaccines have gone to hospitals that "have capacity to get large amounts of vaccine out very quickly," Williams said. Missouri aims to increase shipments to local public health departments to reach communities without reliable access to medical care, he said.
County Executive Sam Page said at a Wednesday news conference that the county's public health department would receive 3,000 doses a week from the state. The health department is administering vaccines at a St. Louis Community College campus in Ferguson, at a public health office in Berkeley, and at four fire stations in Eureka, Affton, Mehlville and Pattonville.
Meanwhile, officials hope to administer 2,200 vaccines Saturday at a state-run event at the University of Missouri-St. Louis in north St. Louis County. Reservations are required and can be made on the state's vaccine website covidvaccine.mo.gov. or through the state's hotline at 877-435-8411.
Missouri is currently vaccinating anyone 65 and older and adults with compromised immune systems and select government employees like police and emergency responders.
Councilwoman Lisa Clancy, D-5th District, who wrote Williams earlier this month to request a meeting, petitioned him Thursday to open vaccinations to teachers. Other states, including Kansas and Illinois, have considered school staff frontline essential workers and started vaccinating teachers.
"I feel like that leaves a gaping hole in our current plan to get people vaccinated," Clancy said.
Williams said the state is unlikely to do that until vaccine supply increases.
"As soon as we can get there, we will," he said. (tncms-asset)b59545ca-d800-50ff-bdbe-9a39ae0dbc04[0](/tncms-asset)