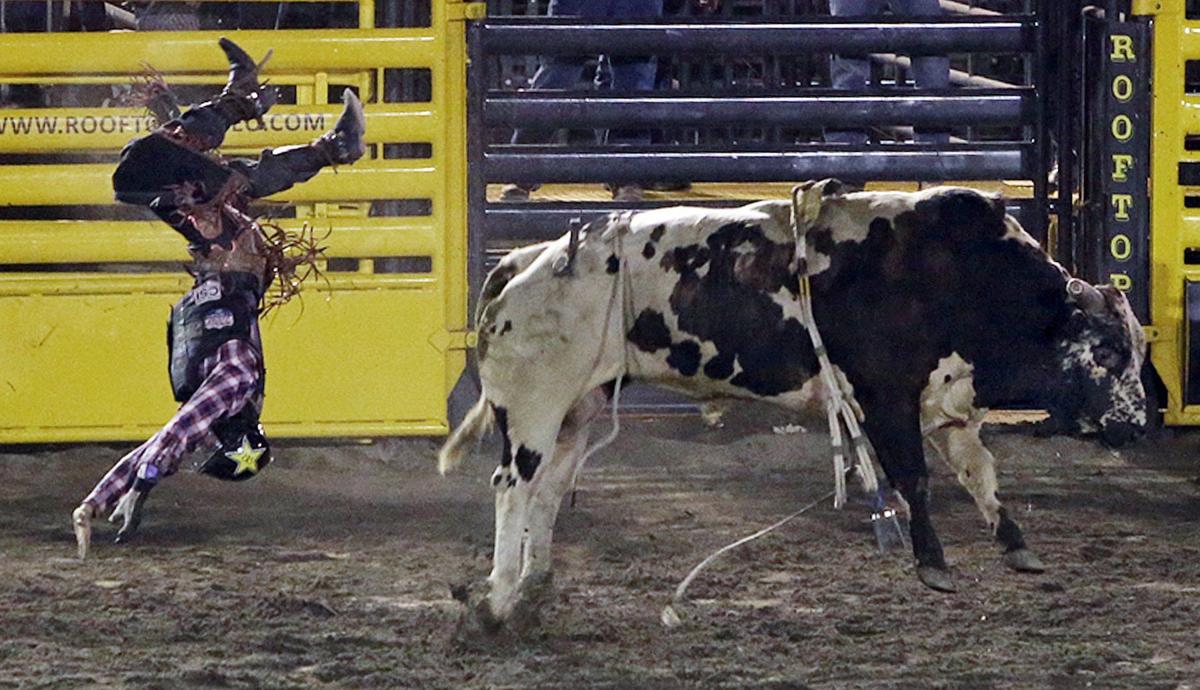 JEFFERSON CITY • Missouri Gov. Mike Parson wants to invest nearly $5 million in a project that might not have a payback until long after he's left office.
The governor, a Republican, is calling on lawmakers to set aside money to make upgrades to the 118-year-old Missouri State Fairgrounds in Sedalia, with a goal of luring the National High School Rodeo Finals to the facility.
The finals, which can draw as many as 1,700 competitors and crowds estimated at 50,000, are already scheduled through 2029, meaning it could be more than a decade before Missouri could have an opportunity to serve as a host.
If Parson wins a full term in 2020, he will have been gone from office five years before any calves are roped or bulls ridden.
The Missouri Department of Agriculture, however, says the investment would be worthwhile.
"These upgrades would allow us to qualify not only for future rodeo events, but also other off-season events that may find Missouri as a well-positioned, central U.S. location," Agriculture Department spokeswoman Sami Jo Freeman said.
Just as past governors have had pet projects — then- Gov. Jay Nixon was an advocate for expanding the state park system — Parson's push for the state fairgrounds comes as lawmakers are grappling with a $30 billion spending blueprint amid a slowdown in tax revenue.
Although administration officials are hopeful that revenue will pick up before the end of the fiscal year on June 30, budget observers say the governor may have to withhold money to keep the state in the black.
"If (withholdings) do happen, they are going to be very painful. It will likely be higher ed institutions that will face this," said Rep. Kip Kendrick, D-Columbia, the ranking minority member of the House Budget Committee.
For now, the money for the fairgrounds remains intact in the budget proposal moving through the House and the Senate.
The high school rodeo finals are held over a 10-day span and include 13 rodeo specialties and two shooting competitions. Each state, as well as Canadian provinces and other countries, sends competitors to the event, which is held each year in mid-July.
Along with bull riding, there are barrel racing, bareback riding and roping competitions.
The event has rotated the past 11 years between the Wyoming communities of Gillette and Rock Springs. Lincoln, Neb., was selected to be a third location to host in July 2020 and July 2021.
Lincoln also was selected to host the event in 2026 and 2027.
Other cities that have hosted the finals have upgraded their facilities in hopes of capitalizing on the money that could be generated by the added business. A University of Nebraska study estimated the economic impact of hosting the finals in Lincoln at $16.2 million annually.
Tourism officials in Rock Springs put the economic impact at $7 million.
In Missouri, the additional money would pay for a new 80-stall horse barn, 160 additional campground sites and a permanent pavilion that would replace a tent that costs about $30,000 to rent each year.
Freeman said the current horse facilities didn't meet the fair's needs.
"To accommodate for overflow issues, temporary horse barns have been rented in recent years. Those rental costs exceed $15,000 for two months of tent rental," she said.
The proposed spending follows an unsuccessful bid for the rodeo finals last year. Missouri was turned down because of a shortfall in space.
"Missouri would love to host the NHSRA as soon as possible and we will be bidding in the future as the Missouri State Fairgrounds is upgraded," Freeman said. "The Missouri State Fair is home to many off-season events that drive the rural Sedalia economy throughout the year, and we'd love to add the rodeo to that list."
Sedalia, with a population of 21,500, is comparable in size to Rock Springs and Gillette. Lincoln's population is over 280,000.
Randy Conklin, who runs a cattle and horse operation in Fayette, Mo., is on the national site selection committee.
He said the main reason Sedalia was turned down was the lack of space for the trade show that accompanies the rodeo.
"If we had the facilities, the central location would be hard to beat," Conklin said. "If they can get those upgrades, there would be a 90 percent chance they could get it."
For now, the rodeo is booked at the American Royal in Kansas City in 2029. But, Conklin said, if site improvements are not made there by 2021, the rodeo association has the ability to void the contract and look elsewhere.