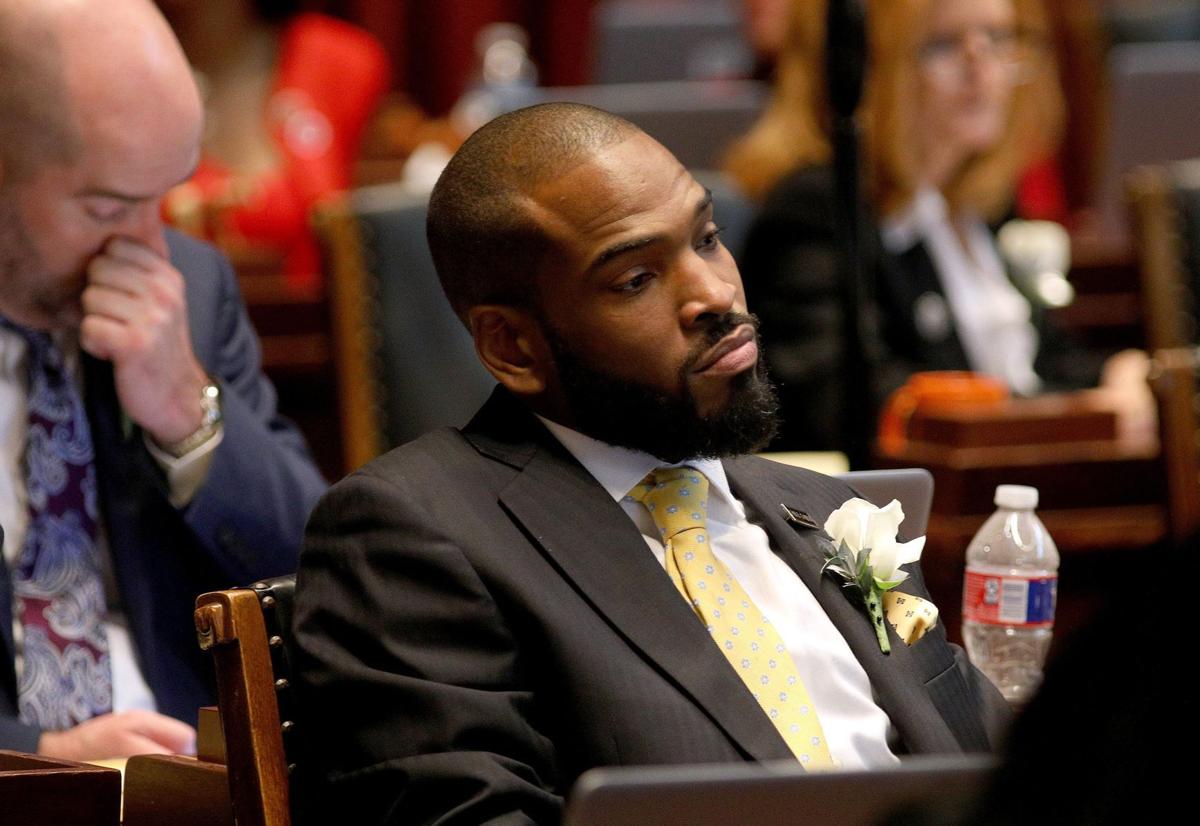 JEFFERSON CITY — A St. Louis lawmaker has seen his pay slashed since his colleagues in the Missouri House censured him in January over allegations he had sex with a Capitol intern and tried to cover it up.
House leaders began withholding $1,000 per month, or $500 per pay period, from state Rep. Wiley Price IV, D-St. Louis, a month after he became the first House lawmaker in Missouri history to receive the official rebuke.
A House spokesman said the chamber hasn't done this kind of payroll deduction in the past, and it was unclear whether the action will go unchallenged. Price declined to be interviewed for this article.
The deductions, effective Feb. 15, stem from a line in the House Ethics Committee resolution censuring Price; the resolution orders him to pay back $22,492 in costs associated with a yearlong ethics investigation.
A letter to Price from House Administration and Accounts Chairman Rep. Jason Chipman, R-Steelville, said the deductions would take place until the fine is "paid in full."
Chipman cites as a basis for the deductions a resolution the House approved on Feb. 1, nearly two weeks after the House had censured Price. The resolution lays out how the House Ethics Committee operates; the last version of the panel's operating rules in 2019 didn't include wording addressing such fines.
Assuming the deductions started midway through February, Price will have paid $10,500 toward the debt by the end of this year and $22,500 back by the end of 2021, when his current term ends.
House lawmakers earn $35,915 per year, meaning the $500 withholding per paycheck represents about a third of Price's $1,496 gross pay twice per month.
The censure follows a dispute involving Price, his former legislative assistant and a Capitol intern who worked for another lawmaker.
The legislative assistant reported Price told her he had sex with the intern; Price and the intern both denied having sex. The report found Price threatened and intimidated the aide after she reported the alleged sexual encounter; relationships with legislative interns are forbidden under House rules.
Price said in January he took issue with some parts of the report, but ultimately accepted being censured by his peers.
"Obviously I'm frustrated by these proceedings, but I apologize to my friends and my colleagues for even putting us in this position," he said as his colleagues weighed his fate.
On Jan. 13, a majority of the GOP caucus moved to expel Price from the House, but with several Republican defectors and a Democratic caucus largely united against expelling Price, the effort failed. He was instead censured on a near-unanimous vote.
Since then, his desk has been moved to a far corner of the chamber, next to other ethically challenged members, he has been removed from committees and he is barred from having a legislative intern. The House moved his office away from a suite populated with Democratic lawmakers and to a lone office away from others.
As part of the resolution recommending Roeber's expulsion, it charges him $1,574 for investigation costs — substantially less than Price's fine.
Price's fine, records show, includes a $7,965 legal bill from the Leawood, Kansas, HF Law Firm LLC. The bill includes $1,475 for travel to and from Jefferson City, interviews with Price and witnesses, report work time and other expenses.
His bill also includes $1,402 in court reporting costs.
But the biggest portion of his fine stems from the end of a legislative assistant cost-share agreement he had with a Kansas City-area lawmaker at the time the legislative assistant reported Price said he had sex with the intern.
The House had to hire another aide for Price, and incurred $13,125 in additional staffing expenses related to the agreement, according to a memo obtained from House administrators.
The $1,574 fine Roeber was ordered to pay will cover the cost of four court reporting invoices the House was billed this year associated with Roeber's case.