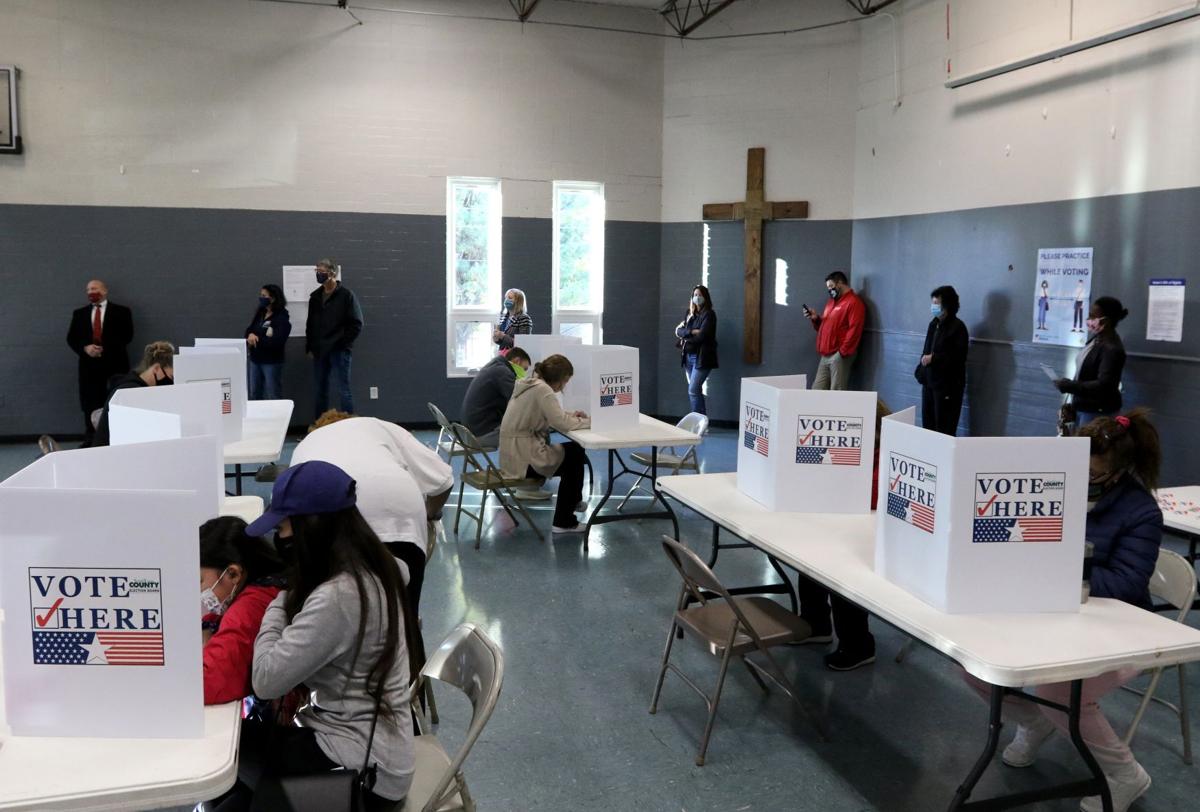 JEFFERSON CITY — Changes to voting, many of them tightening restrictions, moved forward Thursday in the Republican-controlled Missouri Legislature.
The push for stricter voting laws comes after a presidential election in which unsubstantiated claims of voter fraud in battleground states gained traction, culminating in the Jan. 6 riot at the U.S. Capitol.
Experts have noted many changes may have a disproportionate effect on groups that lean Democrat, such as voters of color, young people and people living in poverty. Some say the measures may also burden groups that lean Republican.
Missouri Secretary of State Jay Ashcroft has praised the state's elections, which he oversees, and said there was no evidence of voter fraud in Missouri.
But the Legislature has pushed to require photo ID for voting, make it more difficult for voters to bypass the Legislature with initiative petitions, and add additional safeguards to forestall or detect fraud.
The Missouri House on Thursday gave final approval to a proposal that would raise the cost for filing an initiative petition.
It also approved a proposed constitutional amendment that could make it harder to amend the constitution or use initiative petitions to put issues on the ballot.
The ballot text would lead by asking if the state should "allow only citizens of the United States to qualify as legal voters," something the Constitution already requires.
The House granted first-round approval Wednesday to a proposal forbidding courts from editing ballot language, as they have done in the past, if they determine it is misleading or inaccurate.
The proposal's sponsor, Rep. Mike Henderson, R-Bonne Terre, said it is meant to make it more difficult for well-funded special interest groups from out of state to influence changes to the constitution.
But opponents say it would have ruled out some beneficial amendments.
In recent years, voters have expanded Medicaid, legalized medical marijuana and changed ethics rules with less than two-thirds support from voters.
It's harder to determine what impact the requirements for initiative petition signatures would have.
Henderson said he didn't know how many petitions had met the new standard of collecting signatures from 10% of voters in each congressional district. The current standard requires signatures from 8% of voters in six of the eight congressional districts.
Rep. Doug Clemens, D-St. Ann, said the effort could reduce the power of rural voters by preventing them from moving forward with a petition without the support of Kansas City and St. Louis.
Rep. Kevin Windham, D-St. Louis, argued the proposal could have a greater effect on grassroots campaigns with less funding.
"Money interests are just going to dump more money into it because they have money," he said.
It would also add some restrictions, including photo ID requirements for regular voting. The House voted to reconsider the legislation after noticing errors in the language.
House Democratic leaders said during a news conference Thursday the legislation could disenfranchise voters who don't have access to the documents necessary to get an ID.
Merideth also said conversation around the issue could confuse voters and discourage those without current ID to vote with a provisional ballot, which would still be allowed.
House Republican leadership spoke in favor of the proposals. "I think some of the changes that we're attempting to make are good changes. Good changes for the public, good changes for everyone," House Speaker Rob Vescovo, R-Arnold, said of the election-related legislation moving through the House. "The Senate will now make the decision what they think is substantive in our bills that we sent over."
Senate Majority Leader Caleb Rowden, R-Columbia, said he supports plans to make it harder to alter the Constitution, which has become cluttered with specific items on subjects like bingo and medical marijuana.