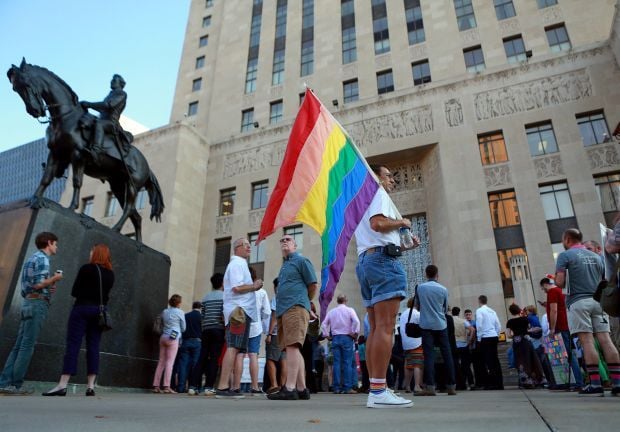 Updated at 9:15 p.m. with details from the Wednesday night hearing.
JEFFERSON CITY • The chairman of the state House Emerging Issues Committee said Wednesday night that the panel was delaying a vote on a measure that would grant greater protections to some people and entities opposed to same-sex marriage.
"A few of them (committee members) have asked for more time, because they've gotten legal memos just today and they've asked for more time to consider them," state Rep. Elijah Haahr, R-Springfield, said Wednesday night.
Haahr said the legal memos members had received included arguments about whether the measure was constitutional. But besides the memos, advocates on both sides of the issue have not let up pressure on the committee since a hearing last week.
"I think the members are doing their best to try to make a determination about whether to move the bill forward," Haahr said.
Senate Joint Resolution 39 would ask voters whether clergy and their churches should be shielded from government penalties and legal liability if they decline to participate in a same-sex wedding ceremony. Opponents argue that such protections already exist under the U.S. and state constitutions.
Wedding vendors — such as florists, bakers and photographers — would also be granted greater legal protections if they decline to participate in a same-sex wedding. Certain "religious organizations" — including hospitals, colleges and nursing homes with religious ties — could not be penalized for opposing same-sex marriage, which opponents say would allow for widespread denial of services.
State Rep. Mike Colona, D-St. Louis and the Legislature's only openly gay member, said Wednesday night that there had been talk in the House about amending the bill since the Senate approved it.
"Depending on the day, depending on the hour, we either have just enough votes or just not enough votes," Colona said of proposed amendments. "It's been very fluid."
He said that there were a "couple of amendments floating around out there." One would have the bill apply only to clergy; another would weave in a protection for businesses so employees couldn't sue their employer when disciplined for declining service to gay people.
"Those issues and the underlying constitutional amendment itself are being lobbied so heavily by both sides that it's hard for the members to commit one way or another," Colona said.
Haahr said Wednesday night that he preferred that the bill move forward as it was. But he said he didn't speak for the entire committee.
"I'm leaning toward supporting the bill in its current form, but I've said from the beginning, I have a membership of 12 committee members, and it's a majority vote," he said. "I'm not going to force them to go one way or the other. They get to vet the bill and they get to decide whether or not they think it should be amended, passed or voted down."
If the proposal passes the Emerging Issues Committee, it still has to go through at least one more committee before heading to the House floor. If an amended version passes the House, there would have to be a House-Senate conference committee to reconcile differences.
That would burn time when there are less than four weeks remaining in the legislative session.
"They (senators) have made their preference clear, they'd like to keep it in its current form," Haahr said. "But, you know, we're the House and we will hear it and we will make our determination as a committee and as a House body on whether or not we agree with that position."
On Wednesday, PROMO, a gay rights advocacy group, and the ACLU of Missouri held a rally under the Capitol dome to urge opposition to the measure. Former Rams and Mizzou defensive end Michael Sam, who is openly gay, spoke out.
"This so-called 'religious liberty' bill is just another way to undermine the dignity of LGBT people and their families," Sam said. "As an athlete who grew up in a Christian home, two things were always made clear to me. First: Treat every person, every team, competitor with respect. Second: Everyone should have an equal shot and start on an equal playing field."
On Tuesday, proponents also held a rally at the Capitol, with Lt. Gov. Peter Kinder, state Sen. Bob Onder of Lake Saint Louis and state Rep. Paul Curtman of Union — all main backers of the legislation and all Republicans — in attendance.
The resolution has faced headwinds since a 37-hour filibuster in the Senate by Democrats in March, with growing national interest and a backlash from some of the state's most well-known businesses.
Proponents say that no one should be "commandeered" into servicing a same-sex wedding if it violates their religious views. Onder, the sponsor, also has disputed claims that the amendment would encourage widespread denial of services and harm business in Missouri.
On Tuesday, Eric Greitens, a Republican candidate for governor, broke with the three other GOP candidates seeking the party's nomination to oppose the measure.