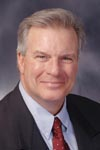 JEFFERSON CITY • Now that both the Missouri House and Senate have passed versions of a bill nullifying federal gun laws, it appears likely the Republican-led Legislature again will have a showdown with its Democratic governor over gun rights.
The Missouri House on Thursday passed its version of the Second Amendment Preservation Act by a vote of 110-41. The Senate passed a similar measure earlier this session. Both chambers need to approve an identical version to send it to Gov. Jay Nixon, who vetoed a similar bill last year.
Rep. Stacey Newman, D-Richmond Heights, said it was "interesting" that the House was looking to pass this bill as news broke that a shooter opened fire on Fort Hood in Texas Wednesday, killing three and wounding 16 others before committing suicide.
It was just another example, Newman said, of the Missouri Legislature rewarding the gun lobbyists.
With this bill, "the criminals walk free and the gun violence victims have no recourse," Newman said.
The bill, sponsored by Rep. Doug Funderburk, R-St. Peters, allows residents to sue federal agents for enforcing past, present and future federal gun laws.
It also would allow conceal carry permit holders to carry firearms openly, even in municipalities with ordinances banning this act. It would lower the minimum age to obtain a concealed carry permit to 19 from 21. School districts could designate school protection officers to carry firearms. Those volunteers would receive the same training as a police officer.
Funderburk said on the floor that the bill is designed to protect the constitutional rights of Missouri residents.
"This is what our founding fathers intent was (with the second amendment) and this is how we push back on a federal government that is running out of control," Funderburk said.
The Senate's bill was sponsored by Sen. Brian Nieves, R-Washington. Under the Senate measure, a district would be required to hold a public hearing prior to arming certain school personnel, and federal agents enforcing federal gun laws could face up to a $1,000 fine and a year in jail. No fines are included in the House version.
If the Legislature approved such a law, it likely would be challenged in court. Courts have consistently ruled that federal laws can't be nullified by states — a fact that several Democrats pointed out Thursday.
"You know this bill is illegal, you know it's unconstitutional, you know it's going straight to court," Newman said. "It's one more jobs bill for attorneys."
Last year, Nixon vetoed a similar bill because he felt portions of the bill were unconstitutional.
Funderburk said he's answered some of Nixon's concerns with the elimination of criminal prosecution for federal agents who enforce federal gun laws.
When asked about the passage of the Funderburk's bill, Nixon said the measure would harm efforts to work with the federal government.
"We'll look at all these things … (but) when it comes to this sort of stuff, you need to be very, very careful that you don't undermine the federal-state law enforcement relationship that has worked well to make our society safer," Nixon said.