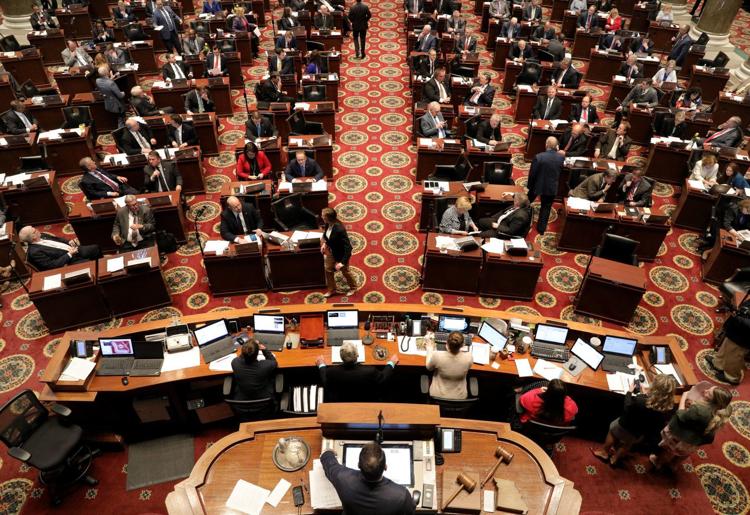 JEFFERSON CITY — The Missouri House is poised to give Gov. Mike Parson the power to spend an additional $1.3 billion to help the state react and respond to the ongoing pandemic.
House budget writers signed off on the Republican governor's request Monday, setting up the full chamber for a vote on the legislation Tuesday. The Senate is scheduled to take up the matter next week.
At issue is the Dec. 31 deadline for spending federal Coronavirus Aid, Relief, and Economic Security Act funding.
Parson budget chief Dan Haug said the state is trying to align its spending authority with the possibility that some of the federal stimulus money given to counties or earmarked for other programs will be returned to the state's coffers.
Counties, for example, have spent $128 million of the $520 million they received.
"We don't want that money to go back to the feds. We want to spend it in Missouri," Haug said.
Rep. Peter Merideth, D-St. Louis, suggested that some of the money returned from counties be given to places like St. Louis that continue to have needs related to the pandemic, but are running low on federal aid.
He said the city could use it for homeless prevention programs or to keep day care facilities open.
Haug also said some money could be directed to the state's unemployment trust fund, which started off the pandemic with $1.1 billion, but has fallen to under $500 million because of a flood of jobless claims.
The maneuver could stave off the state from being forced to get a federal loan, as well as stop the possibility of higher unemployment insurance premiums for businesses.
The state is juggling its response to the pandemic and its economic effects on the budget, as well as federal rules for how virus relief funding can be spent.
"There are a lot of moving balls here. It's confusing even for us," Haug said. "This is all new to all of us. We're trying the best we can."
Haug said a recent change in federal guidelines may allow the state to pay salaries of prison workers, highway patrol officers, state health laboratory workers and veterans homes employees with federal dollars.
That could free up state funds for other purposes, Haug said.
It could allow Parson to release money he earlier withheld because of concerns about budget shortfalls.
"This is certainly a positive development," Haug said.
The county's hospitals are nearly full, and the health department is overwhelmed and exhausted, Page said during a briefing Monday.
For the fifth consecutive day, the Missouri Department of Health and Senior Services reported more than 3,000 new confirmed cases Monday, following a record-setting 4,559 on Saturday.
Parson also asked for another $140 million for testing, tracing, reporting and other expenses related to mitigating the virus.
Rather than mandate a statewide mask requirement to stem the ongoing outbreak, Parson has focused on testing and tracing in order to keep businesses open.
Parson also wants $96.8 million to transfer child support debt intercepted from federal stimulus payments to custodial parents who are due the money.
Also on tap is $75 million in federal stimulus for school districts to pay for school lunch programs. Some school districts suspended meal service for students early in the pandemic, citing the risk of exposure to coronavirus for employees.
The Senate isn't scheduled to take up debate until Nov. 19, with a goal of finishing on Nov. 20.
Concerned about COVID-19?
Sign up now to get the most recent coronavirus headlines and other important local and national news sent to your email inbox daily.