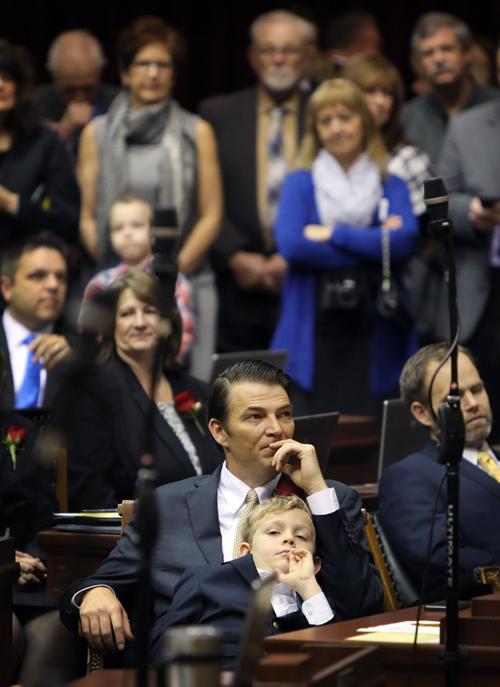 Missouri House Speaker Todd Richardson plans to seek the Republican nomination to challenge state Auditor Nicole Galloway next year, setting up a potentially big fight for the last remaining statewide office in Jefferson City held by a Democrat.
A Richardson spokesman confirmed Monday that the speaker is preparing to run.
Galloway was appointed to the state auditor post in April 2015 by then-Gov. Jay Nixon, also a Democrat, to fill the vacancy left by the suicide of state Auditor Thomas Schweich, a Republican, two months earlier.
Galloway has said she is running for election to a full four-year term next year.
Newly filed campaign finance records show Galloway had $514,749 on hand as of the end of June. Richardson had $294,248.
The auditor's office is the only state-level statewide post that holds its election concurrent with the national midterm elections. The other offices — governor, lieutenant governor, attorney general, secretary of state and treasurer — all are elected during presidential election years.
All five of those Missouri posts are held by Republicans following the GOP sweep in the 2016 elections.
U.S. Sen. Claire McCaskill, D-Mo., also is up for re-election this year and is widely viewed as a top target for national Republicans.
McCaskill ended June with about $5 million in the bank, and she was raising money at a clip of about $1 million per month in the second quarter of the year, according to her FEC reports.
Also revealed in reports released Monday: Two St. Louis-area Republican members of Congress — Blaine Luetkemeyer and Ann Wagner — have amassed multimillion-dollar campaign accounts more than 15 months before the 2018 elections.
Meanwhile, two Republicans representing Metro East congressional districts — who could get more robust Democratic challengers in 2018 than they have in recent elections — began July with under $1 million in the bank.
U.S. Rep. Rodney Davis, R-Taylorville, raised about $728,000 over the first six months of 2017 and had about $802,000 in his campaign account as of July 1, according to the Federal Election Commission.
U.S. Rep. Mike Bost, R-Murphysboro, reported having about $345,000 on hand after raising more than $453,000 in the first six months of the year.
Bost and Davis, along with Wagner, have been targeted by national Democrats seeking to take control of the U.S. House next year. All three won by relatively easy margins in 2016, and all three are expected to seek re-election to their seats next year.
Wagner, R-Ballwin, had contemplated a challenge to McCaskill for the U.S. Senate until announcing on July 3 she would not run. She by far outraised the rest of the St. Louis-area delegation over the first six months of the year, taking in more than $1.6 million. She ended June with more than $3.3 million in the bank.
Luetkemeyer's campaign still carries a personal loan of $1 million from the congressman himself. Luetkemeyer, R- St. Elizabeth, who is said to be interested in chairing the House Financial Services Committee in future Congresses, raised $606,000 from January to June and had more than $2.2 million in the bank as of July 1, according to his report to the FEC.
Illinois U.S. Rep. John Shimkus, R-Collinsville, who survived a primary fight in 2016, raised $561,000 in the first half of the year and ended June with almost $1.1 million on hand. Missouri U.S. Rep. Jason Smith, R-Salem, ended the first half of 2017 with about $934,000 in his campaign coffers, after raising about $546,000 in contributions.
U.S. Rep. William Lacy Clay, D-St. Louis, who also beat back a primary challenge in 2016, raised $95,000 and had $235,000 in the bank.
U.S. Rep. Vicky Hartzler, R-Harrisonville, who announced Monday she would not challenge McCaskill next year, raised about $291,000 from January through June and had just under $457,000 in the bank, according to her FEC report.