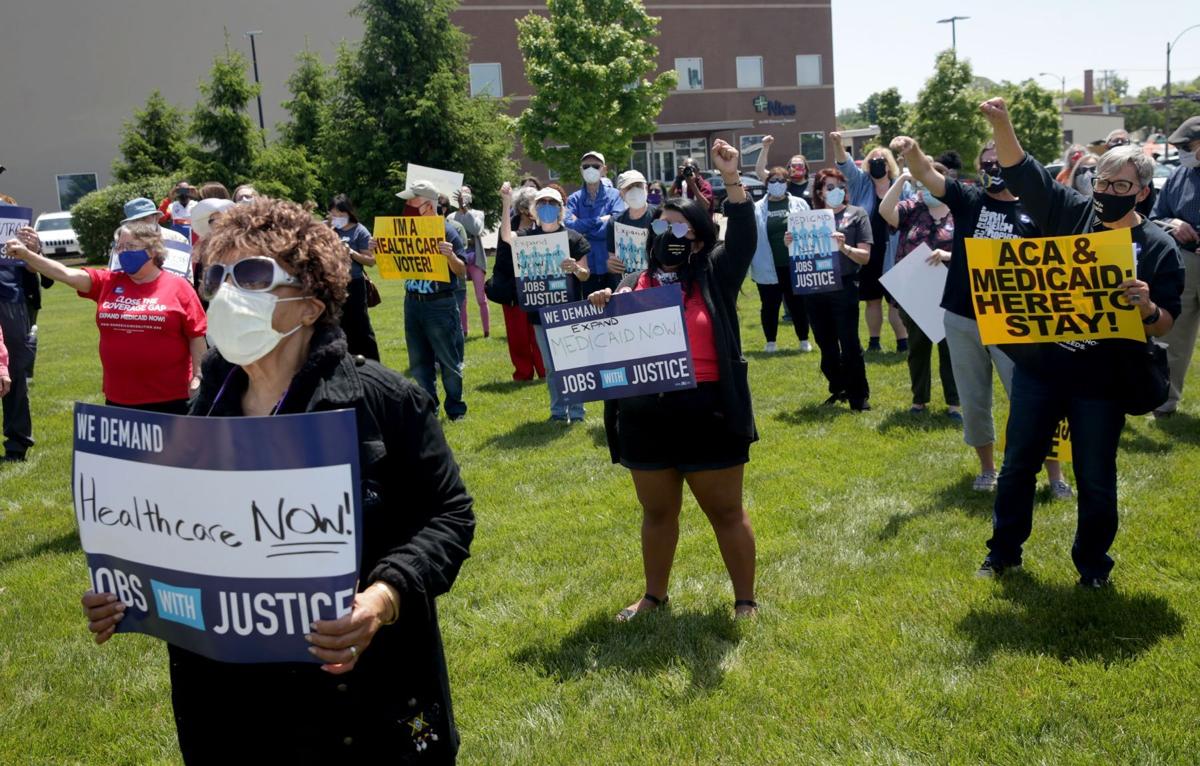 JEFFERSON CITY — A Cole County judge struck down a citizen-led effort to expand Medicaid Wednesday, saying it violated the constitution because the original ballot wording did not include a way to pay for it.
Cole County Circuit Judge Jon Beetem said the August 2020 referendum seeking to make Medicaid available to an additional 275,000 low-income adults required a funding source and therefore wasn't legal.
Beetem's decision came in response to a lawsuit filed by expansion supporters who argued that they should be able to enroll in the government-funded health care program on July 1 even though the Republican-led Legislature and Gov. Mike Parson failed to earmark money to pay for additional participants.
"The state constitution provides that state revenues may not be expended without an appropriation. Accordingly, this Court declines to order the implementation of Medicaid Expansion as requested in Count 1," Beetem wrote.
The decision marked the first test of the Legislature's refusal to comply with the ballot initiative in which 53% of voters decided that Medicaid should cover adults between the ages of 19 and 65 with incomes below 138% of the poverty level.
Opponents of the expansion argued that proponents should have included a funding mechanism in their ballot proposal.
Attorney Chuck Hatfield, who represented the women, said Beetem agreed with the plaintiffs but ruled on an issue that was not even raised by attorneys for the state.
House Speaker Pro Tem John Wiemann, R-O'Fallon, called the decision a "big win."
"Pushers of (expansion) erred when they deceived voters by failing to include a funding mechanism. This unconstitutional initiative would have cost Missourians millions," Wiemann said on Twitter.
The lawsuit filed by Autumn Stultz, Melinda Hille and Stephanie Doyle asked the court to make it clear that they can sign up for benefits beginning July 1, regardless if there is funding for the expansion.
"Regardless of whether there is funding available (there is) to pay for coverage, plaintiffs and other similarly situated individuals are entitled to enroll in the MO HealthNet program on July 1, 2021," court filings say.
Doyle, of St. Louis, is a single mother of three children who earns $12 per hour working full time. The lawsuit says she struggles with severe eczema and needs two medications for the ailment "but is unable to afford them without health coverage."
Hille, of Fenton, is unable to work because of medical conditions and earns less than 100% of the federal poverty level, the lawsuit says.
She has Type 1 diabetes, thyroid disease, pernicious anemia and a precancerous colon growth, the lawsuit says.
The third plaintiff, Autumn Stultz, of Springfield, is a single mother working a minimum-wage job full time, the lawsuit says.
Hatfield argued Monday that case law allows for the newly eligible to sign up for coverage because the budget doesn't expressly say the rolls are closed.
Assistant Attorney General John Sauer told Beetem that rationale is "implausible."
"Plaintiffs' argument flips basic rules of statutory interpretation on their heads. The plain and ordinary meaning of (the budget) is that it does not fund Medicaid Expansion," Sauer wrote.
Dr. Dwayne Proctor, CEO of the Missouri Foundation for Health, said the organization is "deeply disappointed with today's ruling."
"It is unfortunate that, yet again, hundreds of thousands of Missourians will have to wait even longer to access the health care they need," Proctor said. "We remain steadfast in our commitment to Medicaid expansion, which is an important step toward achieving health equity and ensuring Missourians have access to affordable, high-quality health care."
Emily Kalmer, governmental relations director for the American Cancer Society's Cancer Action Network, said the legal wrangling is hurting cancer patients.
"This year alone, 37,390 will hear the words 'you have cancer' and 12,960 Missourians will pass away from cancer. None of them should suffer a day without the Medicaid healthcare coverage that a majority of Missourians voted into the Missouri Constitution," Kalmer said.
Business groups also weighed in on the decision.
Jason Hall, CEO of Greater St. Louis Inc., said expansion would drive economic growth and create jobs.
"The Missouri State Motto says that the welfare of the people shall be the supreme law. As such, the Court's ruling today should not be the final word. The people have spoken, and we believe their voice should be heard at the appellate court level so that expansion of Medicaid can move forward and so that we can send a signal that Missouri is open to business and investment," Hall said in a statement.