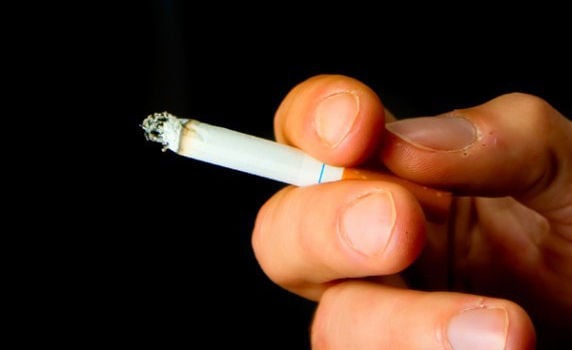 Missouri voters produced another razor-thin division on raising tobacco taxes, but strongly endorsed a Republican referendum on Obamacare and refused to change judicial appointments.
With complete but unofficial statewide results, the tobacco-tax issue, called Proposition B, was defeated narrowly. It was the third attempt in 11 years to increase state taxes on cigarettes and other tobacco products.
Missouri's cigarette tax of 17 cents per pack is the nation's lowest. The proposition would boost the rate to 90 cents per pack, still below the national average of $1.49.
"I'm a smoker and I think we're already paying more than our share," said Karen Watson, 58, of Lake Saint Louis.
Ron Leone of the Missouri Petroleum Marketers and Convenience Store Association, the opposition group, credited a narrow victory "to our ability to communicate with voters through our convenience-store education program." The American Cancer Society had promoted the tax increase.
Similar efforts to raise it failed by narrow margins — 49 percent in favor in 2002 and 48 percent in 2006.
Campaigns for and against Proposition B replayed the previous efforts. The Cancer Society says raising the tax will encourage smokers to quit and generate money for education and health programs.
Opposition came from the Missouri Petroleum Marketers and Convenience Store Association.
Its vigorous advertising campaign avoided mentioning cigarettes, stressing instead that the tax would create a slush fund for Jefferson City politicians.
The vote showed Missouri's traditional urban-country split. St. Louis and St. Louis County strongly supported it, as did Kansas City and Boone County, home to the University of Missouri-Columbia. Rural counties thrashed it.
The other statewide issues were much easier to call. Constitutional Amendment 3, to adjust the system for appointments to Missouri's Supreme Court and courts of appeals, had been abandoned by its backers. Voters did the same, strongly rejecting it.
The health care issue, Proposition E, had a strong lead. It is another skirmish in the national battle over the federal Affordable Care Act and the second such referendum in Missouri — and with similar results.
In 2010, voters strongly supported a ballot proposition to exempt the state from the act's mandate to buy health insurance. Both issues were placed on the ballot by Republicans in the Missouri Legislature.
The one approved Tuesday would prohibit the state — meaning Gov. Jay Nixon, a Democrat — from creating health insurance exchanges without legislative or voter approval. The federal law requires creating the exchanges to help uninsured people buy health insurance.
Nixon has never asserted that right, saying he will meet with legislators in January on the issue. But state Sen. Rob Schaaf, R-St. Joseph, sponsor of Proposition E, said he wanted to avoid any confusion.
Schaaf's Senate colleagues voted 25-8, strictly on party lines, to adopt his bill. The House vote was overwhelmingly partisan, with a few Democrats favoring it and no Republicans against it.
There was little campaigning either way. Conservatives wanted to highlight what they call the act's unpopularity, and liberals called it a GOP stunt.
"Prop E has always been an attempt to play politics with people's health care," said Jennifer Bersdale of St. Louis, of Missouri Health Care for All, a group that opposed it.