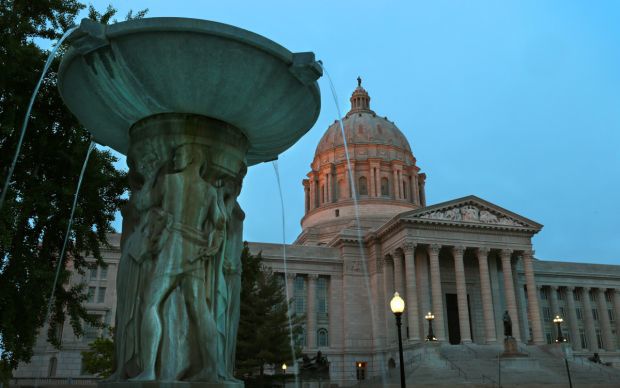 JEFFERSON CITY • Democratic and Republican lawmakers joined forces Wednesday to reinstate millions of dollars that Gov. Jay Nixon vetoed in the state operating budget, mainly for public safety, education and health.
Spending on rape exams for children, defibrillators on Water Patrol boats and education for Alzheimer's caregivers, for example, cleared both chambers easily on lopsided, bipartisan votes.
In all, the Legislature overrode a record 47 line-item budget vetoes, which would cost the state $35.5 million in general revenue.
Then bipartisanship disappeared.
Shortly before midnight, Senate Republicans used a rare maneuver to cut off a Democratic filibuster on a bill that will triple the waiting period for abortions, requiring a wait of 72 hours.
After the Senate ended debate by a vote of 21-9, the abortion bill was enacted over the governor's veto. The vote was 23-7. Earlier, the House had voted 117-44 for the abortion bill.
An override requires a two-thirds majority in both chambers — 23 votes in the Senate and 109 votes in the House.
House members opposed to the abortion bill pointed to its lack of an exception for victims of rape and incest, while proponents argued that a life was a life, regardless of how it was conceived.
By the time the House adjourned at about 3 a.m., legislators had overridden vetoes of 10 non-budget bills, also a record. They included bills letting school districts designate teachers to carry guns and barring the sale of electronic cigarettes to minors.
However, Nixon prevailed on one of the largest sales tax breaks that he opposed. It would have given out tens of millions of dollars to data centers and other businesses.
The sponsor, Sen. Bob Dixon, R-Springfield, said that instead of seeking an override, he would work to tighten the bill and revamp the tax code next year.
In fact, legislators enacted only a few of the tax break bills that Nixon called "Friday favors" because they passed on the final day of the Legislature's regular session in May. Among the bills that survived was one exempting products sold at farmers markets.
Most of the daylong veto session focused on the budget.
Republicans, who control both the House and Senate with two-thirds majorities, said Nixon, a Democrat, had displayed the wrong priorities by making the cuts. They denounced his spending on travel, lodging and association memberships.
"Cut the junkets, spend money on the kids," said House Majority Floor Leader John Diehl, R-Town and Country.
This summer, Nixon vetoed $275.7 million — $144.6 million of which was general revenue — in the state budget that began July 1. He withheld an additional $846 million to be released if revenue collections pick up.
Nixon called the scores of budget items he axed pet projects of legislators that the state couldn't afford, such as Asian carp control.
But lawmakers singled out different vetoed programs, characterizing them as vital for vulnerable Missourians.
One such item was $1.45 million for forensic exams for abused children, which House Budget Chairman Rick Stream, R-Kirkwood, said cost about $660 each.
Rep. Genise Montecillo, D-St. Louis, called the funding "critical."
"I had this agony hit home personally for one of my loved ones," Montecillo said. "It's too late for this member of the family, but it's not for others. We need to make sure these kids are taken care of properly."
In a sign of Nixon's poor relations with the Legislature, few Democrats stuck with the Democratic governor. In the Senate, only Sen. Joe Keaveny, D-St. Louis, voted to sustain the budget vetoes.
"I cannot in good conscience allow my personal support of individual budget items to outweigh my duty to protect Missouri's balanced budget," Keaveny said.
Sen. Gina Walsh, D-Bellefontaine Neighbors, voted for the overrides. She said the vetoed spending would have eliminated good programs, such as one that helps a hospital in her district reduce unnecessary emergency room use.
Asked if Nixon had lobbied her to back the vetoes, Walsh said she had heard from no one in the governor's office.
Other budget vetoes overridden included:
$2.5 million for reading instruction for students in struggling school districts.
$1 million for nonprofit pilot alternative schools in both Columbia and St. Louis.
$300,000 to establish an autism spectrum disorder clinical unit at Washington University.
$200,000 for foster parent training.
$100,000 for a mentoring program for children of inmates.
$160,000 to equip Water Patrol boats with defibrillators.
Rep. Marsha Haefner, R-St. Louis County, used the defibrillator program to criticize the governor for his travel costs.
"I hope we'll ask ourselves when we're looking at any of these items, 'How do you justify taking money away from this' ... when he's spent money on national associations, trips and things like that," Haefner said. "I think that is unforgivable."
Previously, Republicans decried the $550,000 over the last year and a half that Nixon spent traveling the state on his airplane. They did so again Wednesday, as Diehl held stacks of lodging and travel records above his head on the House floor.
"Look at how this governor has spent money," Diehl said. "These weren't withheld or vetoed. What was vetoed was rape kits for kids."
Not everyone agreed. Rep. Chris Kelly, D-Columbia, voted to override the budget vetoes, but he called the airplane argument a straw man. Instead, he blamed the unbalanced budget on Republican tax cuts.
Rep. Margo McNeil, D-Florissant, argued that the state can't afford the programs that Nixon vetoed.
Even though lawmakers overrode some budget vetoes, the governor could still withhold the money for those items. But legislators say at least the programs would have a shot at seeing their funding restored.
"It's one thing to withhold the money, but to veto $140 million of programs ... (that) basically kills those programs," said Stream, who is running for St. Louis County executive this November.
The parliamentary maneuver that cut off Senate debate on the abortion bill had not been used since 2007, when Republicans used it to end Democrats' debate on measures regulating abortions and declaring English the official language of government proceedings.
Senate President Pro Tem Tom Dempsey, R-St. Charles, said Republicans decided to cut off debate because the abortion waiting period had been fully debated during the regular legislative session and a deal had been struck with Democrats in May.
At that time, Democrats let the longer waiting period pass in return for Republicans' dropping a photo identification requirement for voting and a bill that would have required some unions to get annual authorizations from members before deducting dues.
Democrats, however, said shutting off debate could harm the Senate's tradition of being a less partisan and more deliberative chamber than the House, where the parliamentary procedure is used routinely.
Senate Minority Leader Paul LeVota, D-Independence, said the abortion waiting period bill was "so egregious against the women of Missouri that they had to use...a complete trick to get it done."
After the abortion bill passed, Sens. Scott Sifton, D-St. Louis County, and Jason Holsman, D-Kansas City, stalled action on the remaining items on the agenda, prompting Republicans to end the Senate's veto session.
"What it would take to return to normality remains to be seen," Sifton said.
Earlier, lawmakers overrode Nixon's veto of the bill that would ban minors from purchasing electronic cigarettes. The Senate voted 26-6 and the House voted 125-33.
It also exempts e-cigarettes from the same regulations and taxes as other tobacco products. Electronic cigarettes are devices that heat a nicotine solution that can be inhaled like smoke.
Additionally, lawmakers overrode Nixon's veto of the bill allowing school districts to designate teachers as school protection officers who can carry guns in schools. It lowers the age requirement for a concealed-carry permit to 19 from 21 and prevents cities from barring individuals with a permit from openly carrying a weapon. Senators voted 23-8 and House members voted 117-39 to override Nixon's veto.
The Senate voted 24-6 to overturn a veto on a controversial school transfer bill dealing with unaccredited districts, but that bill died in the House. The initial House vote was 20 short of an override.
Get Government & Politics updates in your inbox!
Stay up-to-date on the latest in local and national government and political topics with our newsletter.