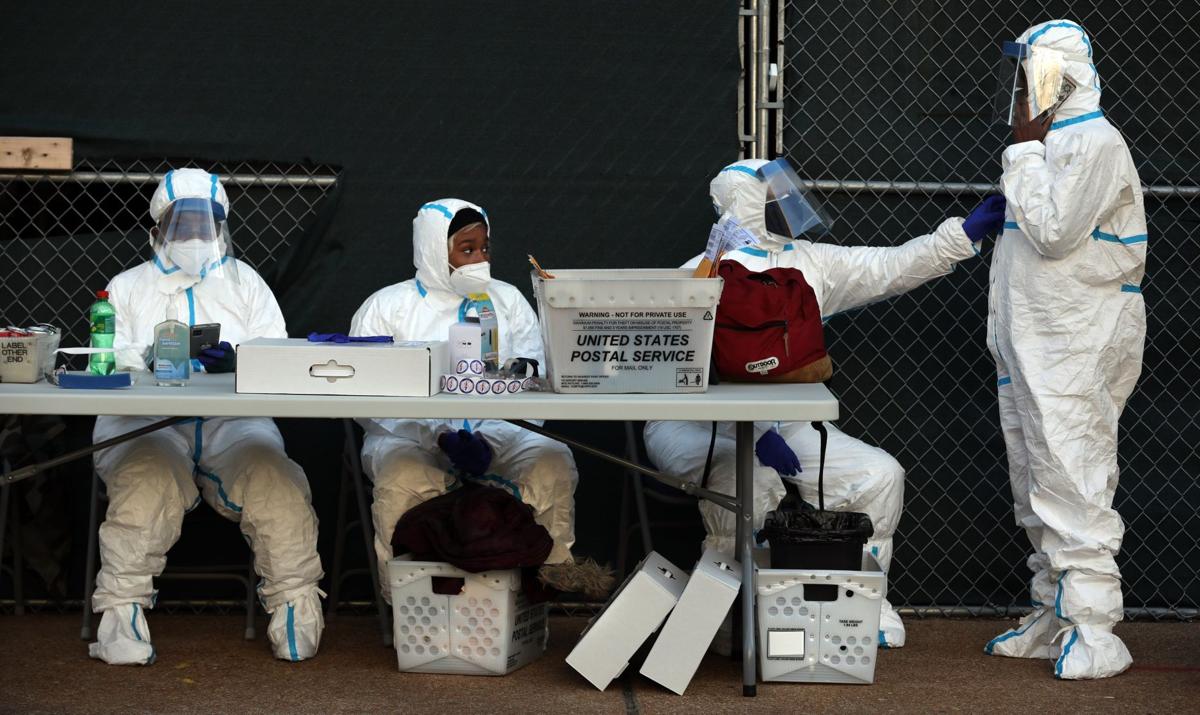 JEFFERSON CITY — Missouri lawmakers scrambled Tuesday to rewrite the state budget to give Gov. Mike Parson the ability to spend surplus federal stimulus aid before the end of the year.
Meeting in a special session amid an unrelenting surge in coronavirus cases, the Republican-controlled House voted 133-4 to redirect as much as $1.3 billion in federal Coronavirus Aid, Relief, and Economic Security Act funds.
"This will keep the trains of state government running on time," said House Budget Committee Chairman Cody Smith, R-Carthage.
"This is important for us to be back down here," said Rep. Kip Kendrick of Columbia, who is the ranking Democrat on the budget panel. "This is a very unique situation."
Parson, a Republican who won a full, four-year term last week, called the House and Senate back to the Capitol in an attempt to align his spending authority with the possibility that some of the federal stimulus money given to counties or earmarked for other programs won't be spent.
Counties, for example, have spent $128 million of the $520 million they received.
The state's hospitalization numbers have climbed steeply over the past couple of months. The seven-day average is now more than double what it was at the beginning of September.
Missouri has reported 216,697 cases of the virus since the beginning of the pandemic, and 3,299 deaths.
On the floor, an estimated 70 members of the GOP-dominated House sat in close quarters with no face coverings, which are considered a key tool in preventing the spread of the deadly virus.
At least one lawmaker, Rep. Dottie Bailey, R-Eureka, was in quarantine and did not participate in the voting after coming in contact with someone with COVID-19.
Missouri has received $3.06 billion from the CARES Act, and about $1.2 billion of that remains unspent. The package includes $2 million to fund a newly created witness protection program, which is designed to help address rising homicide numbers in St. Louis.
The legislation also will allow the state to receive federal reimbursements for the salaries of thousands of front-line state workers dating to the previous fiscal year.
"It is going to free up a good amount of general revenue," Kendrick said.
Rep. Justin Hill, R-Lake Saint Louis, complained that the legislation provides $75 million for school district food programs, which have become a key source of food for some students.
He said the money should be steered toward programs that benefit education, rather than public health.
"We have forgotten about Missouri's students. Kids are not being educated," Hill said. "Our school districts have become glorified lunch rooms. We're worried about giving them food when they are not even in classes."
Rep. Raychel Proudie, D-Ferguson, defended the use of the money to make sure districts can continue to distribute free and reduced breakfasts and lunches.
"Hungry children don't learn. Period," Proudie said. "That's a need we need to meet first."
Parson also wants $96.8 million to transfer child support debt intercepted from federal stimulus payments to custodial parents who are due the money.
Another $34 million will go to the Department of Labor and Industrial Relations to pay for unemployment assistance programs.
Rep. LaKeySha Bosley, D-St. Louis, said Parson should find a way to steer more funds to the city, which has spent all but $2 million of its share of federal aid.
The full Senate isn't scheduled to take up debate until Nov. 19, with a goal of finishing on Nov. 20.
Get Government & Politics updates in your inbox!
Stay up-to-date on the latest in local and national government and political topics with our newsletter.