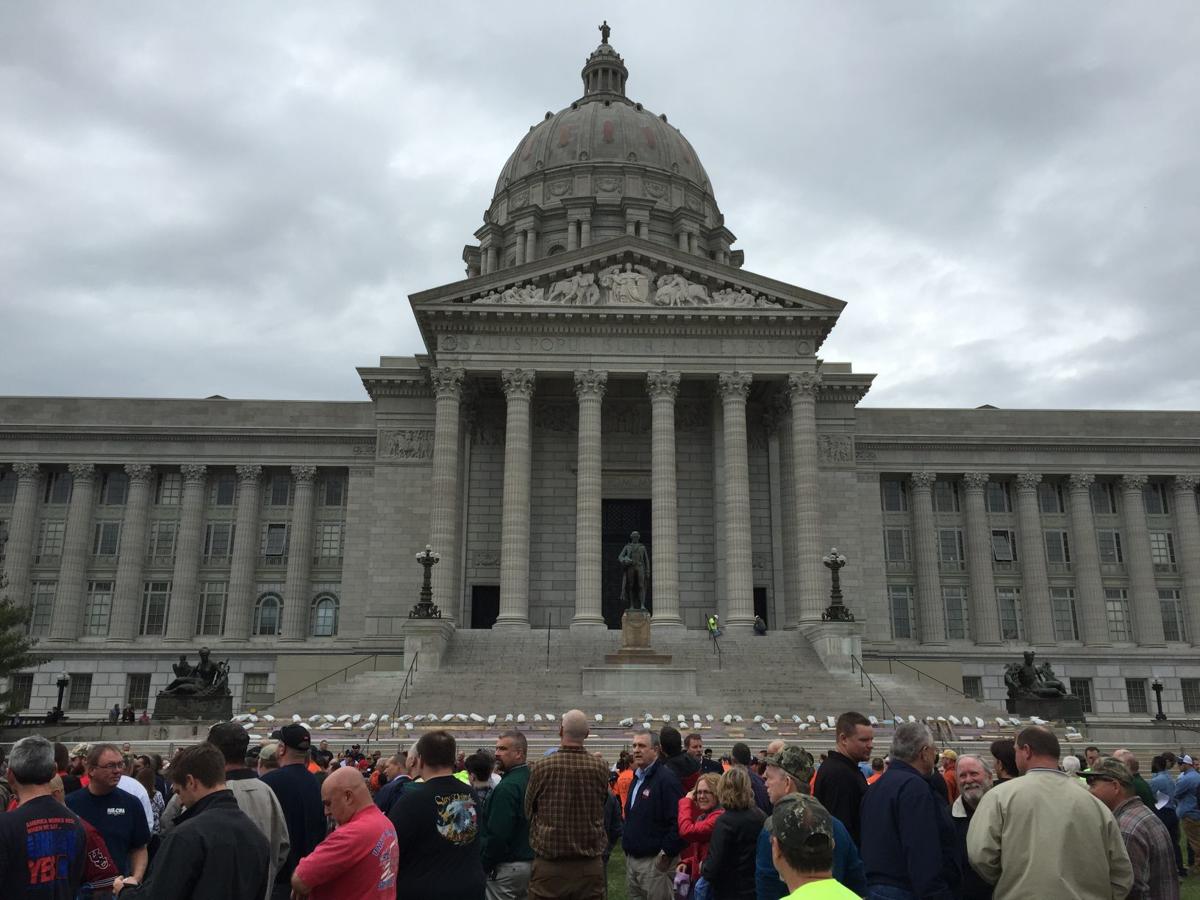 JEFFERSON CITY • A moment long dreaded by the state's labor unions and their supporters arrived Thursday, as Missouri lawmakers sent a proposal known as "right to work" to a Republican governor who has promised for months that he would sign it.
When he does, Missouri will become the 28th right-to-work state, marking the first time in U.S. history that more than half of the nation's workforce lives in states with such laws.
Labor law experts and economists have found flaws with both of those arguments, but the issue has made for a heated debate in state legislatures across the country.
Missouri Republicans insist that the laws have proven track records in states such as Indiana and Michigan, and that passing it will keep Missouri competitive.
"It's obviously an issue that stirs some deep passions on both sides, but it's an issue that we think is critical to the economic future of Missouri," said House Speaker Todd Richardson, R-Poplar Bluff.
As House lawmakers approved a measure sent to them by their colleagues in the Senate, Gov. Eric Greitens was speaking at a special needs school in Nixa, Mo., where he announced his spending plan amid a $456 million budget shortfall.
Republicans in the Legislature, ecstatic to have an ally in the governor's mansion, are hopeful the policy change will boost the state's economy and send a friendly message to employers looking to set up shop in the Show-Me state.
But for the hundreds of union members flooding the Capitol to protest the bill, it's familiar action with a new and disappointing final outcome. Both chambers previously have passed right-to-work legislation, but former Gov. Jay Nixon, a Democrat, vetoed those proposals.
During final debate on the House floor, Republicans pointed to a grandfather clause protecting existing contracts until they expire as evidence of compromise.
But Democrats slammed the urgency to push the bill through, saying they weren't ever invited to the table to negotiate changes.
"Perhaps I was gone that day, because I didn't get such a phone call," said House Minority Leader Gail McCann Beatty, D-Kansas City.
Democrats made one final attempt to attach a referendum to the bill, which would send the issue before voters in 2017. But like similar efforts before, it was easily defeated by the GOP supermajority.
Republicans have continually argued that voters already weighed in through the 2016 election, in which conservative candidates swept Missouri at every level of government.
"The vast majority of us ran on right to work," said Rep. Charlie Davis, R-Webb City.
Rep. Bob Burns, D-St. Louis County, said those campaigns — and ultimately the bill — were bought and paid for by David Humphreys, a GOP megadonor who has given millions to Republican candidates who support the legislation.
"This law is intrusive. It's being paid for by one billionaire in Joplin," Burns said.
Meanwhile some Democrats, like Rep. Bruce Franks of St. Louis and Rep. Brandon Ellington, a Kansas City Democrat who leads the Missouri Legislative Black Caucus, said they didn't support the legislation but called on unions to become more inclusive.
"We can't just fight for protections when we're not fighting for a diversified workforce," Ellington said.
Lawmakers debated for more than two hours, amid cheers and jeers from union members in the gallery, but opponents to the legislation acknowledged a losing battle before the bill passed, 100-59.
"It's a sad day for working people," said Senate Minority Leader Gina Walsh, D-Bellefontaine Neighbors.
Union workers also lamented the bill's passage, fearing it will lead to lower wages for the middle-class workforce.
"With today's passage of the deceptive right-to-work bill, Missouri is on a path that is dangerous to the well-being of working families and our neighborhoods as a whole, and for what — to fulfill the agenda of out-of-state corporations that are putting unnecessary profits above the human needs of the neighborhoods where they do business," said AFL-CIO President Mike Louis.
But business groups and GOP leaders quickly began to celebrate a long-awaited political victory.
"We're looking forward to the next step in this process, letting the rest of the country and the world know that we are open to worker freedom and we are open for business," said Missouri Chamber of Commerce President Dan Mehan.
Senate President Pro Tem Ron Richard, R-Joplin, said he had been pushing for the change for 16 years.
"This may be one of the greatest days in the history of Missouri, as far as I'm concerned," he said. "If nothing else happens the rest of my life, I am pleased."