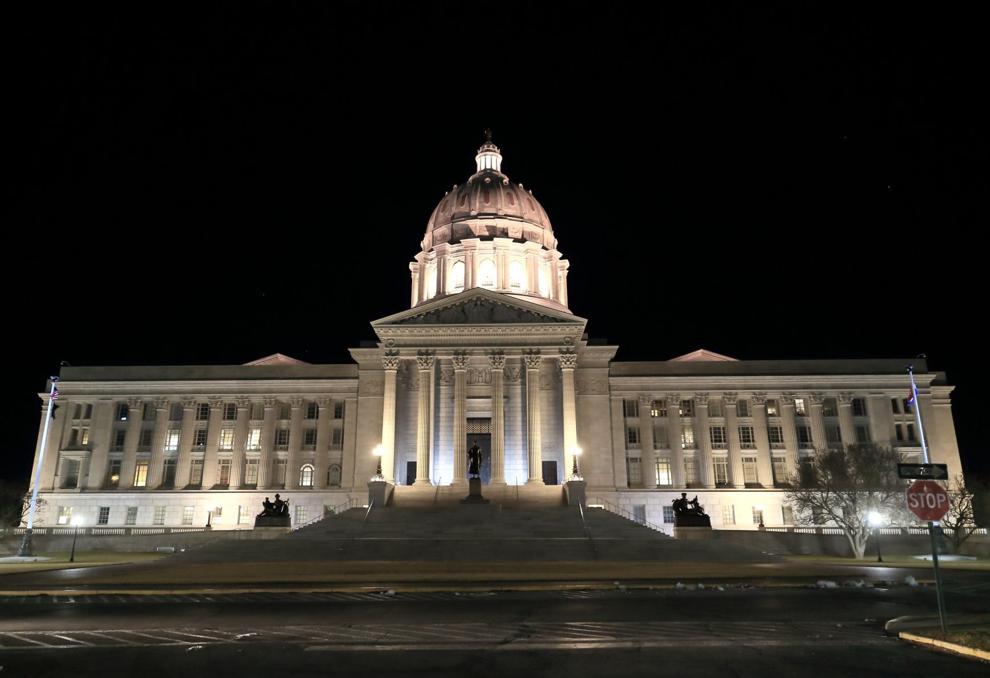 KANSAS CITY, Mo. — For state Sen. Greg Razer, the only openly gay member of the Missouri Senate, it's been painful to watch his colleagues file an onslaught of bills that attack his community. He worries about LGBTQ kids in Missouri.
"It hurts because I was a 17-year-old suicidal gay kid. I know what that pain feels like and that hurts," Razer, a Kansas City Democrat, told The Star. "What I have to do is make sure that those kids that are out there and their parents and the people that love them know that somebody in the Senate is standing up for them. I may not be able to stop everything, but there's going to be a fight."
Missouri lawmakers have filed the most anti-LGBTQ bills of any state, according to a database from the American Civil Liberties Union that tracks legislation nationwide. The legislation is a sign that conservatives targeting LGBTQ issues are emboldened as states have successfully passed legislation aimed at restricting gay and transgender rights.
As of Jan. 12, at least 27 anti-LGBTQ bills have already been introduced by Missouri Republicans, accounting for roughly 21% of legislation introduced nationwide in state legislatures that target the community, according to the ACLU. Texas is second with 15 bills, followed by South Carolina at 12. Only one bill has been filed in Kansas so far.
"This is the most dangerous session we've seen in Missouri in years," said Shira Berkowitz, senior director of policy and advocacy for PROMO Missouri, an LGBTQ advocacy group. "It's blatantly clear that this is leadership's priority."
Some of the bills target gender transition therapy. Several are entirely or nearly identical. One bill filed by state Sen. Mike Moon, an Ash Grove Republican, would prohibit all "gender transition procedures" for people under the age of 18 except for a few specific instances. Doctors who violate the restrictions could face professional discipline as well as lawsuits.
Moon, in an interview with The Star, said his legislation was not an attack on the LGBTQ community.
"If you're considering this an anti-trans bill … whoever is saying that, I think they're misguided," he said. "It's not anti. We should be able to be the people we choose to be, but there are consequences for all our actions whether we're right or wrong."
Other bills seek to block or control discussions of LGBTQ issues and sexuality in the classroom. Legislation filed by state Rep. Ann Kelley, a Lamar Republican, would create a set of rights for parents that includes "No classroom instruction by school personnel or third parties relating to sexual orientation or gender identity shall occur."
Kelley's bill appears to go further than Florida's "Don't Say Gay" law that was enacted last year. The Florida law bans instruction on gender identity and sexual orientation in kindergarten through third grade classes, but Kelley's provision doesn't specify a grade level. Opponents say this type of legislation creates a chilling effect on teachers and LGBTQ students, barring kids from mentioning their LGBTQ family members and loved ones.
Republicans have also filed a bevy of bills that seek to ban transgender student athletes from competing on sports teams that match the gender they identify with. Democrats and LGBTQ activists who spoke with The Star fear that these bills have enough momentum to pass this year. They say it's a wedge issue that vilifies the transgender community while only a handful of transgender kids compete in Missouri.
In the 2021-2022 school year, only one transgender student applied to the Missouri State High School Activities Association to compete based on their gender identity, Stacy Schroeder, MSHSAA's associate executive director, previously told The Star.
Lacing fears about anti-LGBTQ legislation is the expectation that the GOP-dominated Missouri Senate has shifted its priorities further to the right this year, increasing the likelihood that some of the bills could pass both chambers and be signed into law by Republican Gov. Mike Parson.
Parson told reporters at the end of last year's legislative session he was disappointed that lawmakers were unable to pass bills related to both bans on transgender student athletes and school curriculum. The governor's comments signaled that the issues would be at the forefront this year.
"I think we should have definitely addressed the gender, transgender issue that's out there," he said at the time. "I think that should have been addressed in this state so we make a clear understanding which way we're hitting that so people know."
Even if the bills don't pass, the fact that legislators are debating them at all is problematic, said Cathy Renna, the communications director for the National LGBTQ Task Force, a non-profit that advocates for the LGBTQ community.
"The damage is done when they're introduced because what happens is a very, very dangerous and harmful conversation," she said. "There's so much misinformation, disinformation and lies particularly around trans youth that is directly impacting the lives of these young people."
Gender-related procedures
At least six bills have been introduced that would restrict gender reassignment surgery, part of a wave of legislation nationally that targets procedures that assist minors in transitioning genders. Some of the bills go beyond surgery to include hormone treatment and other medications.
The World Professional Association for Transgender Health updated its guidelines in 2022 to allow for hormone treatment beginning at age 14 and some surgeries as early as 15 or 17, according to an Associated Press report from June.
Identical bills offered by Moon and state Sen. Denny Hoskins, a Warrensburg Republican, would prohibit all "gender transition" procedures for individuals under 18, except in medical emergencies. Doctors also wouldn't be allowed to refer patients to other providers.
Hoskins, in an interview with The Star, acknowledged the flurry of transgender-related bills and said he felt kids should have to wait until they are adults before undergoing the surgery.
"I just personally feel kids 18 years and under are not old enough to make these types of decisions for themselves," he said.
State Rep. Ashley Bland Manlove, a Kansas City Democrat who identifies as lesbian, said the legislation targets both transgender kids and doctors.
"Queer people who have not been able to be themselves and safely and comfortably be themselves end up with a lot of mental health issues and a lot of them are unhappy and suicide rates among the LGBTQIA community are crazy high," she said. "I feel like that legislation just compounds those types of issues."
Another bill from state Sen. Jill Carter, a Neosho Republican, would impose the same restrictions but goes further in enforcement. Under her proposal, "coercing" a child into surgery or taking medication would be considered criminal child abuse. Doctors who violate the law would have their licenses revoked.
Legislation in the House offered by both state Rep. Brad Hudson, a Cape Fair Republican, and state Rep. Justin Sparks, a Wildwood Republican, would prohibit any public funds going to providers who perform gender-related procedures on minors, and health insurance premiums paid this kind of care wouldn't be tax deductible. MO HealthNet, the state's Medicaid program, would also be prohibited from covering the procedures under the legislation.
School sports and curriculum
A slew of bills in both the House and Senate would ban transgender athletes from women and girls' sports.
The idea has gained traction among Republicans in recent years and has been proposed by state legislators across the country, even as the number of transgender athletes remains relatively small.
Republicans say the bans are an issue of fairness to ensure athletes who were assigned female at birth are not at a physical disadvantage. But Democrats and other opponents of the bills say they are transphobic and discriminatory and that local schools and sports authorities are best equipped to set guidelines and rules for competition.
Razer told The Star that Republicans were targeting LGBTQ kids instead of matters that impact Missourians such as child care and teacher pay. He said the gay community has historically been used for political attacks.
"They've run out of ways to attack me as a gay white man. Now they're going after children. They let us die in the '80s and behind closed doors laughed," Razer said, referring to government indifference during the early days of the HIV/AIDS crisis. "Now they're going after kids. It makes me sick to my stomach."
The bills introduced in Missouri have some variations but their overall goal of keeping transgender athletes out of women and girls' sports is the same.
Under Sikeston Republican Sen. Holly Thompson Rehder's bill, athletes must compete based on their biological sex at birth. State Rep. Brian Seitz, a Branson Republican, would require parents to sign an affidavit before each school year providing the athlete's sex at birth.
"This bill has nothing to do with transgender issues. It is 100% aimed to keep the playing field level, protect our girl's scholarships, and to protect the ground that women have gained over the past 30 years in female sports," Thompson Rehder said in a Facebook post about her bill last week.
According to a Gallup report last year, 0.7% of U.S. adults identify as transgender. Another 4% identify as bisexual, along with 1.5% as gay, 1% and 0.3% who identify as other.
The rate of self-identification for all of these groups is significantly higher among Generation Z compared to previous generations with 21 % of adults born between 1997 and 2003 identifying as LGBTQ, including 2.1 % transgender, according to Gallup.
One bill would ban transgender students from participating in female sports is scheduled for a Senate Education and Workforce Development Committee hearing Tuesday morning. The bill, filed by state Sen. Rick Brattin, a Harrisonville Republican, also would ban schools from teaching lessons on the role of systemic racism in the U.S.
Another subset of Republican-led bills, like Kelley's, target lessons on LGBTQ issues and sexuality in the classroom. One, filed by state Rep. Ed Lewis, a Moberly Republican, would create a set of rights for teachers. One of the rights says teachers would be "free from any requirement to refer to a student by a name other than such student's legal name and to use a reasonable pronoun when referring to a student without threat of reprisal."
Republicans have touted curriculum-related legislation as giving parents more of a say over what their kids are taught in schools.
"What we saw in the last several years were essentially testing grounds in places like Texas and Florida," said Renna, with the National LGBTQ Task Force. "They saw success and so now they're expanding."
Drag shows
Some Missouri lawmakers have also been quick to capitalize on, and denounce, reports of drag shows throughout the state. Republicans have used the shows to promote legislation that would ban children from viewing the performances.
While Republicans say the shows are too obscene to be viewed by kids, Democrats and LGBTQ rights advocates say the ongoing push to target the performances are part of a broader conservative attack on the LGBTQ community.
State Rep. Ben Baker, a Neosho Republican, filed a bill last month that would ban "adult cabaret performances" from public property or in any location that could be viewed by a child. Violators would be subject to a misdemeanor for a first offense. Subsequent offenders would be subject to a felony.
The debate over the performances has gained traction among some Republicans on social media. After reports of a drag show performed in Columbia last week, Senate President Pro Tem Caleb Rowden, a Columbia Republican, quickly criticized the event on Twitter and said he asked for a meeting with the Columbia Public School superintendent. He shared a link from a far-right website that said middle schoolers attended the show.
"I will use all the resources at my disposal to stand up for kids and their parents, especially in instances where they don't feel like their voice is being heard," he wrote.
Parson and Missouri Attorney General Andrew Bailey, who was sworn into office earlier this month, quickly followed suit and publicly condemned the event. Bailey wrote letters to the superintendent and the mayor of Columbia.
But LGBTQ activists and Democrats say the push to target drag shows is ignoring more pressing issues in Missouri.
"This is a political mission that doesn't actually protect youth, but further defends the fears and phobias of some adults," Justice Horn, a Kansas City activist who lobbied city council to create the city's first LGBTQ Commission, wrote on Twitter after Baker filed his drag show legislation.
"If Missouri really cared about our youth, our state wouldn't fall short in all other areas that impact them."
Renna said the need for LGBTQ activists to mobilize is at a level that she hasn't seen in years.
"This is not unprecedented, but this is a level of attack that we've not seen for quite awhile," she said.
The Star's Daniel Desrochers contributed to this story.