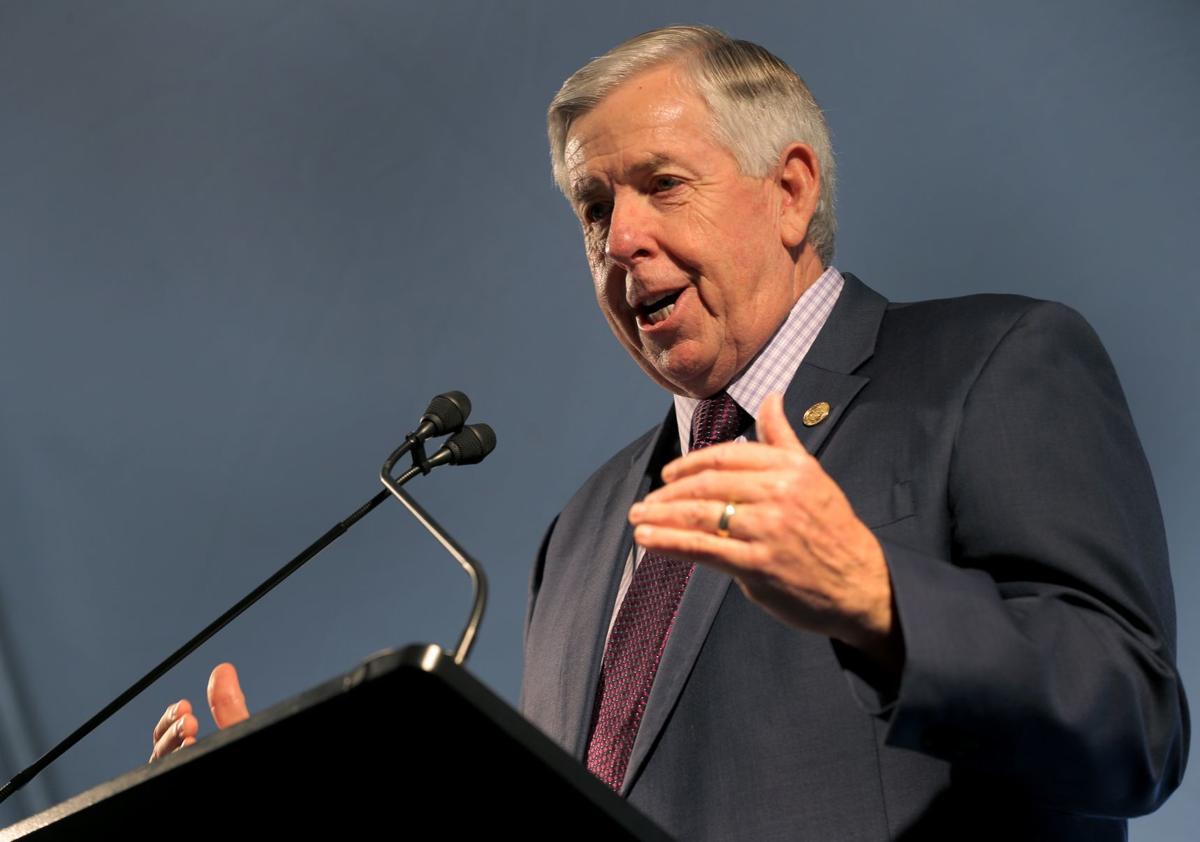 JEFFERSON CITY — Missouri health officials say a record number of COVID-19 cases reported Thursday is due to a delay in the release of testing results from a private contractor.
Even so, the number of new cases of the coronavirus continues to remain high compared to numbers reported in April and May, with much of the growth attributed to increased testing and outbreaks in three southwestern counties that are home to meatpacking facilities.
The Department of Health and Senior Services reported 553 new cases Thursday.
Missouri's seven-day average of new cases was tracking at 360 per day.
In all, there have been 982 deaths and 19,421 cases of the deadly disease.
The number of hospitalizations — 546 as of Sunday — is down from 735 on the same day a month ago. The high for hospitalizations came May 5, when 984 people were hospitalized.
Despite the uptick, Gov. Mike Parson said the state is on the right track.
"Overall, Missouri is still in a good place. Missouri is recovering," Parson said.
In a series of tweets, the administration said one laboratory, Quest Diagnostics, didn't report cases to the state between Sunday and Wednesday due to "technical issues."
The department blamed 160 of the 553 cases on the reporting "backlog."
The department said the technical issues had "caused a delay in our reporting of both negative tests and positive cases from this laboratory."
"Quest Diagnostics performs COVID-19 laboratory testing for more Missouri patients than any other lab," the department said, "so this delay is significantly impacting today's daily data report."
Attempts to reach the New Jersey-based company for comment were not successful.
Even without the 160 cases blamed on the laboratory's reporting delay, the remaining total — 393 — would have been the third-highest daily total since Missouri began tracking cases and deaths. The state reported 413 cases on Sunday and 434 on Tuesday.
Parson's comments came as Illinois Gov. J.B. Pritzker announced his state would be moving into Phase 4 of a restoration plan after all regions met benchmarks for easing restrictions.
"We've seen what's happened in other states that have allowed politics or short-term thinking to drive decision-making. Many other states are now seeing significant increases in cases, hospitalizations, and intensive care bed usage and they're being forced to move backward and stay at home — that's not the story in Illinois," Pritzker said.
In Missouri, the state is combating growth in the Joplin area by boosting testing, isolating infected people, locating contacts of infected people and having those people quarantine for 14 days.
Tyson Foods, which has a plant in McDonald County, is operating at 60% capacity to accommodate a reduced workforce.
The National Guard also is in the region hosting drive-thru community testing events.
The federal Centers for Disease Control and Prevention is deploying a team to the area to evaluate the role of meat and poultry plants in the spread of COVID-19.
The recent boost in testing also has revealed outbreaks in some of the state's prisons.
That's up from last week, when the facility reported two staff and two inmates with the disease.
The growth in cases is much smaller at Department of Mental Health facilities, which reported just three new cases Thursday. Two employees and four residents have died of coronavirus since the pandemic began.
At the Missouri Department of Social Services, which operates juvenile detention centers, there have been 12 additional workers and residents with COVID-19 since June 15. Among the hardest hit facilities is the Hogan Street Youth Center in north St. Louis, which reported 22 cases among youth and 14 among employees.
Concerned about COVID-19?
Sign up now to get the most recent coronavirus headlines and other important local and national news sent to your email inbox daily.