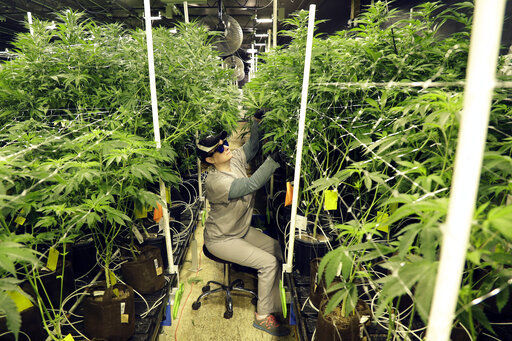 JEFFERSON CITY — Missouri officials have rejected a politically connected company's challenge of a contract to help run the state's fledgling medical marijuana program.
In a decision issued Monday, Gov. Mike Parson's administration said it was denying a protest by BioTrackTHC, which said the state should not have awarded a contract to a competitor in April because it could contain hidden costs.
At issue is a contract to register patients, license facilities and track marijuana from seed to sale.
BioTrackTHC suggested Metrc was able to submit a lower bid to the state because it would charge additional fees to growers and dispensaries.
In rejecting the protest, the state said its contract with Metrc does not allow the company to charge additional fees. The 14-page decision, written by Karen Boeger, director of the state's purchasing division, said no further action would be taken.
Although it lost its bid to overturn the state's decision for the estimated $5 million job, BioTrackTHC called the protest a win for the industry because Metrc will not be able to charge additional fees.
"We are pleased that the results of the protest reaffirm that additional variable costs to the licensees or the State will not be allowed," the company said in a statement Tuesday.
A spokesman added that the company does not intend to take the matter to court.
"We are satisfied and do not intend to pursue any further action regarding this contract," said Jeffrey Gonring.
As part of its bid to land the state contract, BioTrackTHC hired lobbyist Steve Tilley, a former speaker of the Missouri House. Tilley is co-sponsoring a fundraiser for Parson on Tuesday.
Voters approved Amendment 2 in November, making Missouri the 33rd state to legalize marijuana for medicinal use. Sales are to start early next year. Tax proceeds and licensing fees are supposed to go into a newly created veterans health care fund, which is expected to generate about $20 million per year.
BioTrack and Metrc are among the top operators vying to help states administer their marijuana programs. Metrc has contracts with at least 10 states, while BioTrack has seven.
In some states, different companies handle the various aspects of operating a medical marijuana program. But Missouri wants one company to do most of the information technology set-up for its licensing and tracking system. The contract with Metrc, if it survives the protest, will run for five years.
Missouri is required by law to approve at least 60 commercial growers,86 facilities that manufacture marijuana-infused products and 192 dispensary licenses — 24 dispensaries for each of Missouri's eight congressional districts.
The St. Louis area will probably have more than 48 dispensaries. Two congressional districts cover St. Louis and St. Louis County and parts of St. Charles, Jefferson and Franklin counties.