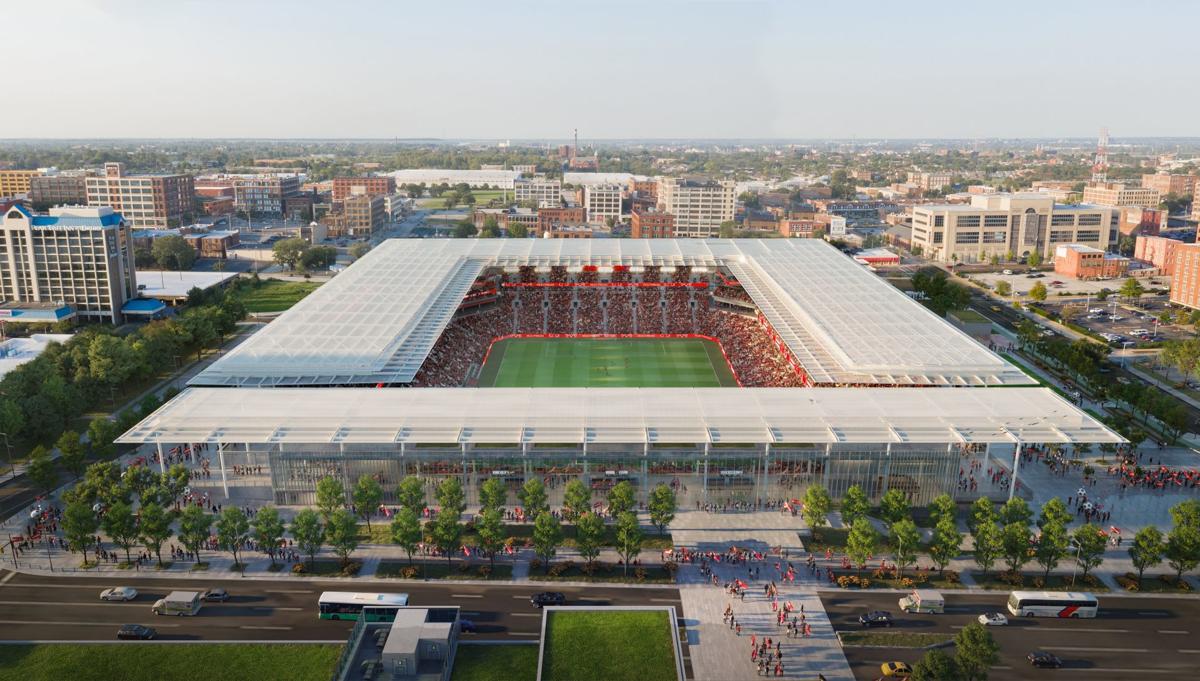 JEFFERSON CITY — State officials still want a private ownership group to build a Major League Soccer stadium in downtown St. Louis, but they aren't going to funnel $30 million in tax credits to help pay for it.
A day after the Post-Dispatch first reported that state aid for the 22,500-seat stadium was in jeopardy, state officials said Tuesday they would consider a smaller request for funding in January. That amount could be closer to $6 million.
"This is an exciting project. The ownership group should be commended for their leadership and initiative on this project and longstanding support for the St. Louis region. We understand they are disappointed with this decision. While we support the project, we do not believe that increasing program caps to authorize $30 million in tax credits for a stadium is the right decision for Missouri," said a statement issued by the Missouri Department of Economic Development.
It was not clear Tuesday what effect the decision will have on the ownership group, which is financing most of the $461 million project with private dollars. Representatives with the MLS4THELOU Ownership Group did not respond to multiple requests for comment.
The ownership group, led by the Taylor family of Clayton-based rental car giant Enterprise Holdings, wants to get the stadium built in time for the first MLS home game in March 2022.
In a statement, St. Louis Mayor Lyda Krewson said she and the city remain "incredibly excited" about the project.
"We don't believe the state's decision will interfere with our support of the MLS4TheLou ownership group and their commitment to this project. It's a more than $460 million private investment in Downtown West that will anchor a revitalized mixed-use district, create hundreds of construction and permanent jobs, and unite the City around this global sport. Bring on 2022!" the mayor's statement said.
Despite receiving positive reviews about the proposed stadium development north of Market Street and just west of Union Station, members of Republican Gov. Mike Parson's administration blocked the financing package floated by the city's economic development arm.
The move comes after past administrations have been criticized for suggesting the use of state dollars to build a soccer stadium.
In 2016, even before he had taken office, former Gov. Eric Greitens called a plan to spend $40 million in state credits on a stadium "welfare for millionaires." A different ownership group seeking that money pulled the request.
In April 2017, St. Louis voters rejected a referendum asking if they supported funneling $60 million in public funding to build a soccer stadium.
The latest package called for the Missouri Development Finance Board to approve $15 million in tax credits in December and another $15 million in January to generate funds to help prepare the site for construction.
A meeting to vote on the first round of money was set for Tuesday, but it was canceled after word of the administration's opposition surfaced.
The finance board cannot approve more than $10 million in credits without the consent of the directors of the departments of economic development and revenue and the Office of Administration.
Economic development chief Rob Dixon and Sarah Steelman, commissioner of the Office of Administration, were appointed by Greitens, who left office in 2018 under a cloud of scandal.
Revenue Director Ken Zellers was appointed by Parson.
"Last week, the project applicants were informed that cabinet officials would not authorize the tax credit cap increase," the administration statement said. "They were invited to return to MDFB in January where the board could hear and consider approving a smaller request for credits within its existing cap."
Rather than the $30 million, the administration is expected to support a $5.7 million infusion of state money if the ownership group asks.
"We look forward to future discussions on this and to finding other ways that we can be of help," the statement said.
The cancellation of the vote came after a number of finance board members gave positive reviews to the project at a Dec. 3 review.
"I think this project will have a tremendous impact," said board member Kelly Martin.
Board chairman Marie Carmichael said, "I think it's a very exciting project."
Get Election 2020 & Politics updates in your inbox!
Keep up on the latest in national and local politics as Election 2020 comes into focus.