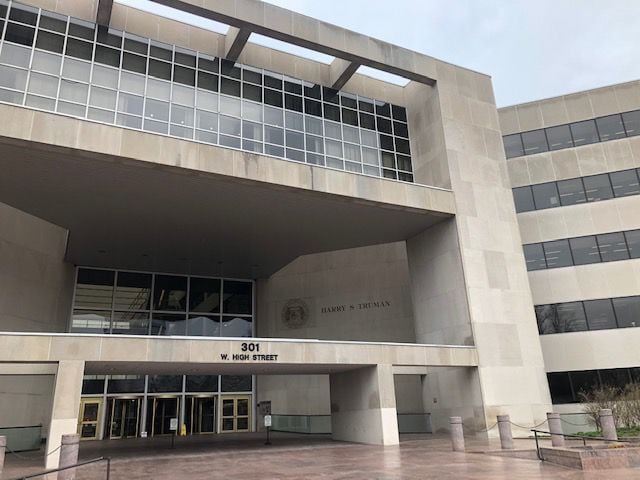 JEFFERSON CITY — Thousands of state government employees are on their own when it comes to determining if they have exposed their co-workers to COVID-19.
A memo from Gov. Mike Parson's administration signals that an earlier effort to outsource contact tracing of the deadly virus to private firms is not working as envisioned, meaning employees likely will not be contacted by county health departments or their vendors if they have been exposed to someone with the disease.
"Many local health departments are no longer conducting contact tracing in response to a positive COVID-19 test," Office of Administration Commissioner Sarah Steelman wrote in the memo obtained by the Post-Dispatch. "Public health authorities recommend that individuals who test positive for COVID-19 notify their close contacts about the test result."
The memo notes that a worker in the Jefferson State Office Building, which houses multiple state agencies in a building one block from the Capitol, had tested positive Dec. 1.
Contact tracing is used to quickly identify who might be spreading the coronavirus, allowing those who came in contact with the person to go into quarantine or self-isolation to stop the spread.
But, while other states aggressively hired tracers to help with the effort, Parson waited until October to line up a state-sanctioned list of a private companies that counties could hire on their own.
At the same time, counties have been overwhelmed by cases and health departments have not received enough federal stimulus money to hire the companies. In Cole County, home to Jefferson City, officials put the tracing effort in the hands of the infected about three weeks ago in the midst of a significant spike in cases.
For much of the first six months of the pandemic, Cole County hovered around the 50 case mark. But, within the last three months, the number has surged past 5,000 positive cases.
The lack of contact tracing comes as Parson has been criticized for not requiring the wearing of face masks, putting Missouri among a minority of states with no mandate. The governor, a Republican, also has not instituted statewide stay-at-home orders, saying those should be left to local governments.
Touted early in the pandemic as a critical tool to help slow the spread of COVID-19 by interviewing people who might have been exposed, the effort in Missouri isn't the only place where it is falling far short of expectations.
Along with the skyrocketing number of people who are testing positive, contact tracers often can't reach people because they do not have contact information.
And, even when they have contact information, people aren't answering when tracers call their phones.
Those that do answer frequently don't want to talk or are reluctant to pass along the names of their acquaintances.