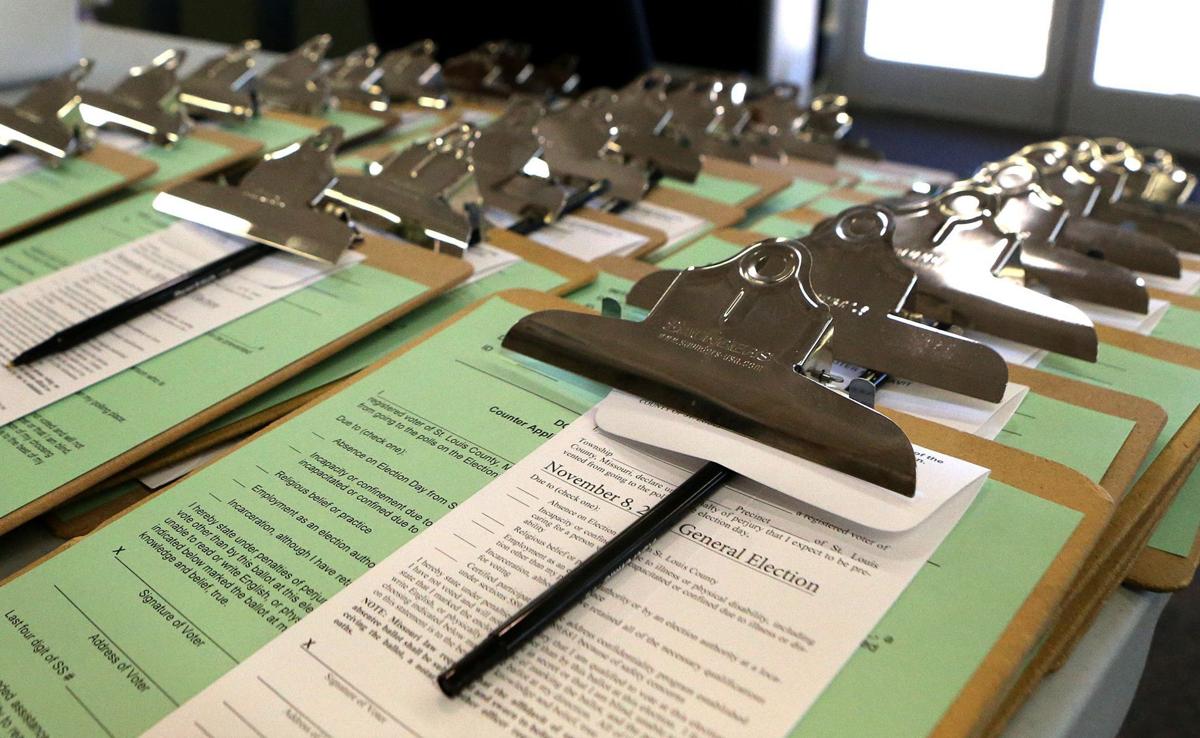 JEFFERSON CITY — Despite public outcry from corporate leaders and voting rights advocates, Republican lawmakers in both chambers of the Missouri Legislature continued their push Wednesday to add voting restrictions to state law.
The effort, they say, is necessary to protect elections. Opponents say the changes could disenfranchise voters and suppress turnout.
In the House, the Elections and Elected Officials Committee held a public hearing on a proposal to make it illegal to send out absentee ballot applications unless voters specifically request them.
Rep. Hardy Billington, R-Poplar Bluff, said he was sponsoring the plan to reduce confusion from people who receive unsolicited absentee applications, in some cases after they have already voted absentee or filed an application.
The committee discussed editing the bill to add a penalty and to clarify that Billington intended to include local election authorities among organizations that are prohibited from sending out unsolicited applications.
Rep. Kevin Windham, D-Hillsdale, said election authorities in his area decided to send out applications to anyone older than 65 during the coronavirus pandemic and he thought they should continue to have the local control to make those decisions.
Committee members also discussed whether ballots would count as "unsolicited" if a candidate campaigning door-to-door asked voters if they wanted to vote absentee and provided an application if they said yes.
The only public testimony on the bill was from Mo Del Villar, legislative associate for the American Civil Liberties Union of Missouri.
Del Villar said her organization opposes the legislation because it could make absentee voting less accessible for people who could benefit from it.
Committee members expressed concern absentee voting could be liable to fraud or coercion.
The committee also approved by a party-line vote of 7-2 a proposal by Rep. Curtis Trent, R-Springfield, clarifying only citizens older than 18 can vote in the state.
Opponents have argued the measure is redundant and meant to confuse voters or stoke anti-immigrant fears.
Del Villar told the committee during a public hearing on April 7 that the group strongly opposes Trent's proposal "largely because it is symbolic and highly unnecessary."
The Missouri Constitution says "all citizens of the United States" who are older than 18 and reside in the proper area are eligible to vote, with some exceptions. Trent's proposal would make a one-word change to say "only citizens of the United States" can vote.
Putting the change on the ballot "gives the impression that citizenship is not required to vote," Del Villar said, and could stoke fear about immigrants voting in Missouri elections when that isn't happening.
Some lawmakers on the committee argued local governments in other states have allowed certain noncitizens to vote in local elections and said they want to prevent Missouri cities from doing the same.
The language he added specifies "only citizens of the United States of America who are residents of the State of Missouri and who are properly registered to vote in the State of Missouri shall be considered legal voters."
During House debate on the legislation, Rep. Peter Merideth, D-St. Louis, argued it could confuse voters "by offering them something that's already true, that's already in our constitution, that they certainly won't want to vote against, in order to get them to vote for a bunch of other things that they might want to vote against."
The overall proposal, which was approved by the Missouri House in March and approved by a Senate committee Wednesday with a party-line vote of 5-2, also raises the standards for the number of signatures collected to put a constitutional amendment on the ballot, and the percentage of voters needed to approve it.
The Senate committee also approved legislation that would prevent judges from editing ballot language if it is misleading or inaccurate and a separate proposal to change the initiative petition process, including raising filing fees for initiative petitions.
A voting rights coalition held a rally at the Capitol on March 31 and opposed all three proposals during a public hearing the same day. They argued some of the measures moving through the Legislature disproportionately affect specific groups such as racial minorities and older Missourians.
Their advocacy is part of the nationwide response to efforts in many state legislatures to change voting laws after the 2020 election was marked by unfounded allegations of voter fraud.
Georgia corporations, including Coca-Cola and Delta Air Lines, have pushed against the state's controversial new voting law, and hundreds of high-ranking corporate leaders from major companies like Amazon, Google and Starbucks recently signed a letter criticizing discriminatory voting laws.
"We all should feel a responsibility to defend the right to vote and to oppose any discriminatory legislation on measures that restrict or prevent any eligible voter from having an equal and fair opportunity to cast a ballot," the statement said.