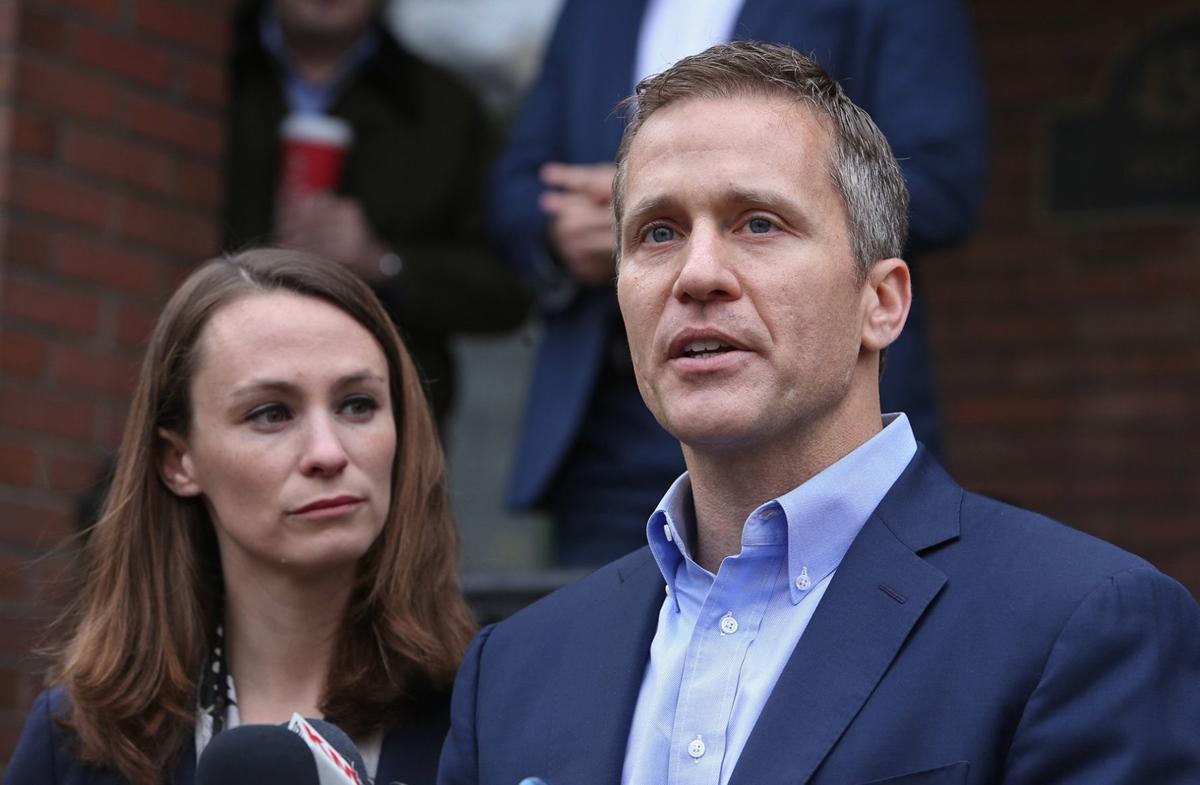 JEFFERSON CITY • Republicans inside the capital city on Tuesday debated whether Missouri Gov. Eric Greitens should resign after revelations of his extramarital affair and related allegations of possible blackmail surfaced last week.
The attorney, Albert Watkins, didn't specify that the FBI requested the tapes, but he said there was an "expression of interest" by the federa…
Five GOP lawmakers publicly called on Greitens to step aside or said the governor should consider doing so. Their statements came Tuesday, the first workday after the holiday weekend. Other Republicans said it was too early to call for his resignation or expressed hope that the distraction would not derail the party's legislative agenda.
House Speaker Todd Richardson, R-Poplar Bluff, stayed silent on Tuesday as he entered and exited a GOP caucus meeting, declining to take questions from reporters.
"The speaker has told us that everybody has to do what they think the right thing to do is," said Rep. Kathie Conway, the term-limited St. Charles Republican who said Greitens should "consider" resigning. "The speaker would never ask us to toe a line, and I don't even know what his opinion is."
Greitens' infidelity and the allegations of threats or blackmail have dominated media attention and hallway chatter this past week. KMOV (Channel 4) first reported last Wednesday night that Greitens had an extramarital affair as he prepared his run for governor; he has acknowledged the affair, but he denied related allegations that he took a compromising photo of the woman and threatened to release it if she ever spoke of their relations.
On Tuesday evening, Greitens posted another statement on social media, asking Missourians again for forgiveness.
"Much has now been written about this, and many of the assertions made have not been truthful and have proven extremely hurtful to Sheena, as well as to me," Greitens wrote on Facebook. "For us, the allegations that go so far beyond the facts have made this much more difficult. I made a mistake, I regret it, and Sheena and I have dealt with it between us."
Covering such a complex story raises many ethical questions for news organizations. Post-Dispatch political editor Christopher Ave and reporte…
House Minority Leader Gail McCann Beatty, D-Kansas City, said it was past time for Greitens to answer questions about the allegations directly.
"Although the governor's attorney says his client engaged in no wrongdoing, the people of Missouri need to hear that directly from the governor himself for it to have any credibility," she said. "By canceling his scheduled appearances, Greitens only delays the public reckoning that must eventually take place. The longer the governor attempts to hide from this scandal, the more the denials of his surrogates ring false."
The four House members who said Greitens should either resign or consider doing so represent a small fraction of the 112-member GOP House caucus. Though Republican lawmakers interviewed have said they are concerned about the allegations, calling for the governor to resign was a move, at least on Tuesday, that the vast majority of Republicans were unwilling to make.
"Our focus should be on doing the people's work," said Rep. Phil Christofanelli, R-St. Peters, who said calls for Greitens to resign were premature.
A staff attorney paid by taxpayers probed a lawyer about allegations involving Greitens, recording reveals.
Adding yet another layer to the controversy, the Post-Dispatch reported Monday that at least one of Greitens' taxpayer-paid employees was on an intelligence-gathering mission in the hours leading up to the television report. That generated ethical and legal questions about whether state-paid employees should work on an elected official's private business.
The Post-Dispatch report also appeared to factor into two GOP House members' statements on Tuesday.
"Last night's news of state employees being involved in attempting to control the scandal is further proof that this will not be going away anytime soon," said Rep. Nate Walker, R-Kirksville, who was one of Greitens' early backers. "It is my belief the governor should resign so that the state can move forward focusing on the issues that we all care about."
Rep. Marsha Haefner, R-south St. Louis County, mentioned that report and other controversies as reasons Greitens had to go. Attorney General Josh Hawley, a Republican, has already launched an investigation of the governor and his team's use of a text message-deleting app called Confide. Haefner also decried Greitens' reliance on "dark money" contributions during his tenure.
"I find no pleasure in saying this," Haefner said, "but I believe Governor Greitens is no longer fit to hold Missouri's highest office."
A fourth House Republican — term-limited Rep. Steve Cookson of Poplar Bluff — also issued a statement calling on Greitens to step aside.
"I'm calling for him to step down and resign as governor of the State of Missouri so that the work on the many issues he has expressed concern for can resume without these distractions," he said.
On the Senate floor, Sen. Rob Schaaf, R-St. Joseph, perhaps the most vocal Republican critic of Greitens, also said the governor should step down.
He could weather the affair revelation, observers say, but proof of blackmail would finish him. 
Rep. Kevin Engler, R-Farmington, said the focus in the GOP remains on approving legislative priorities. He expected the House to approve a lobbyist gift restriction proposal this week and another proposal dealing with sex trafficking — despite the ongoing controversy.
"We have to stay the course," he said after the GOP caucus meeting.
One notable Republican, Lt. Gov. Mike Parson, has stayed silent on the ongoing controversy. If Greitens left office, Parson would be sworn in to take his place.
On Tuesday, the House did give first-round approval to legislation that Republicans said would remove onerous regulations on training for hair braiders. Instead of 1,500 hours of training, said the sponsor, Rep. Shamed Dogan, R-Ballwin, hair braiders would only have to register with the state and take a self-test.
"It gets the government out of people's hair," Dogan said. "We're trying to bring hair braiders out of the shadows and into the regular economy."
From Greitens' initial statement to calls for his resignation, read the Post-Dispatch coverage of the governor's affair scandal.
Outside of the Capitol, former Missouri Republican Party Chairman Ed Martin on Tuesday added his voice to those calling for Greitens' resignation.
"Lying to the people of Missouri, lying to all of us ... He's not trustworthy ... At this point, there's just no way that Eric Greitens can continue," Martin, now a conservative commentator, said on his radio show on KXFN-AM 1380.
Former Missouri House Speaker Tim Jones, a Republican, implied on Twitter that the scandal was timed to derail the GOP effort at tax reform.
"If you had any political sense ... you would question the bizarre timing as to when this scandal was dropped," he wrote.
Meanwhile, a White House official told the Post-Dispatch that Greitens last spoke with his former adviser Nick Ayers, Vice President Mike Pence's chief of staff, in November. The official said there has been no contact between the two since news of the scandal broke last week.
Ayers is a close political associate of Greitens' campaign director and current political adviser, Austin Chambers.
Chuck Raasch, Kevin McDermott and Sky Chadde, all of the Post-Dispatch, contributed to this report.