JEFFERSON CITY — Republicans in the Missouri House resumed their ongoing campaign to shut down the state's lone abortion provider at a time when the procedure is already strictly limited in the state.
Six months after a similar change fell short during a special session, Rep. Nick Schroer outlined a proposal Wednesday to members of the Special Committee on Government Oversight that would deny public funds to any abortion provider.
The legislation also would end funding to Planned Parenthood for nonabortion services, such as wellness checkups, birth control and cancer screenings.
"It shall be unlawful for any public funds to be expended to any abortion facility, or to any affiliate or associate of such abortion facility," the legislation notes.
Schroer, a St. Charles County Republican, is among a number of GOP members of the House seeking seats in the state Senate in the 2022 election. Tightening laws against the procedure could bolster their anti-abortion records heading into potentially competitive primary elections in August.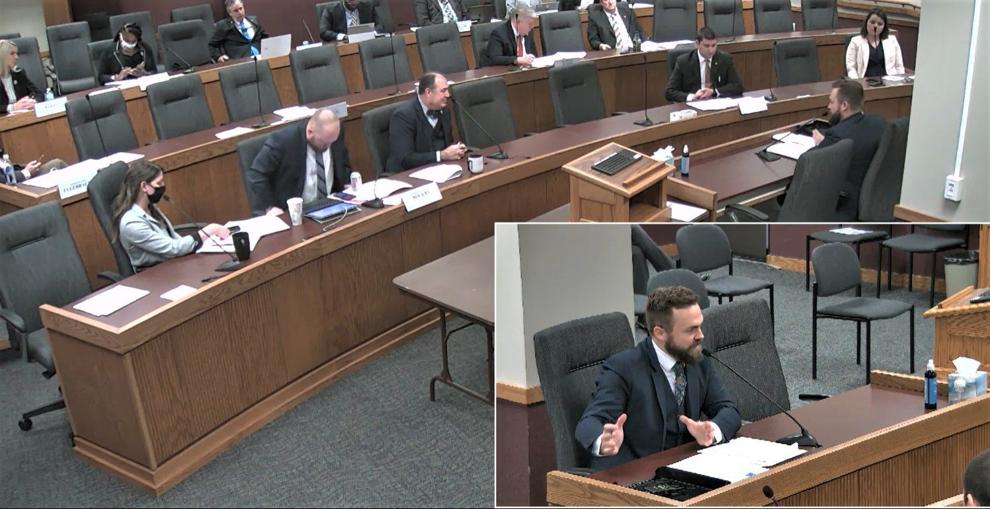 Coleman's proposal would prohibit the termination of a pregnancy once cardiac activity is detected in an embryo, usually around six weeks and before some women are aware they are pregnant.
Her proposal also would allow private citizens to sue clinics, doctors and anyone else who facilitates an abortion after the cardiac activity is detected.
The latest push is unfolding as the number of abortions in Missouri has dropped sharply after the passage of GOP-crafted laws like a 72-hour mandatory waiting period, which requires two appointments three days apart for those wanting an abortion.
Just two years after more than 1,300 abortions were performed in Missouri, there were 167 last year, with 46 of those at Planned Parenthood's facility on Forest Park Avenue in St. Louis. The rest were at Missouri hospitals.
Many women are instead opting to travel to Planned Parenthood's facility in Fairview Heights, in a state where abortion laws are less restrictive.
"Even though we've made major strides … there are still Missourians going over to Illinois," Schroer said, arguing in favor of his legislation.
Rep. Doug Clemens, D-St. Ann, said he's not sure why Republicans continue to push the issue, given the precipitous drop in the number of abortions in the state.
"We're doing preventive legislation?" Clemens asked.
Opponents have warned the change would put the state out of compliance with federal Medicaid regulations, potentially resulting in a loss of federal funding. Democrats also argue that cutting off funding could hurt low-income Missourians and women of color.
"On the record, I don't believe we are going to risk any funds," Schroer said.
Rep. Wes Rogers, D-Kansas City, said the changes sought by abortion opponents could result in reductions in the availability of preventive health care for his constituents.
"They use Planned Parenthood for health care," Rogers said. "There is going to be less health care in Kansas City if they lose this money."
Maggie Olivia, policy director for Pro Choice Missouri, said "political extremists are so obsessed with abortion" that they are targeting health services for poor women.
"Planned Parenthood is a critical component of this safety net," Olivia said.
Michelle Trupiano, executive director of the Missouri Family Health Council, said thousands of women would have to seek new health providers if the law went into effect.
And, with a pandemic underway, she said Medicaid patients would have to wait weeks to find a new practitioner.
"Our providers are stretched," Trupiano said. "We know there is a crisis in our health care field."
"Honestly, gentlemen, it scares the hell out of me," said House Minority Leader Crystal Quade, D-Springfield.
In June, during a special legislative session, Schroer pushed a similar plan out of a committee and on to the floor where it was approved on a 109-45 party line vote. It was not taken up in the Senate before the two chambers adjourned.
Susan Klein, executive director of Missouri Right to Life, urged lawmakers to support the latest version of the legislation.
"We believe we should try to make sure our tax dollars are not going to pay for abortions," Klein said.
Rep. Jered Taylor, R-Nixa, said he expects to schedule a committee vote on the bill next week. If approved, the measure would then head to the full House for further debate.
Originally posted at 3 p.m. Wednesday, Jan. 12.