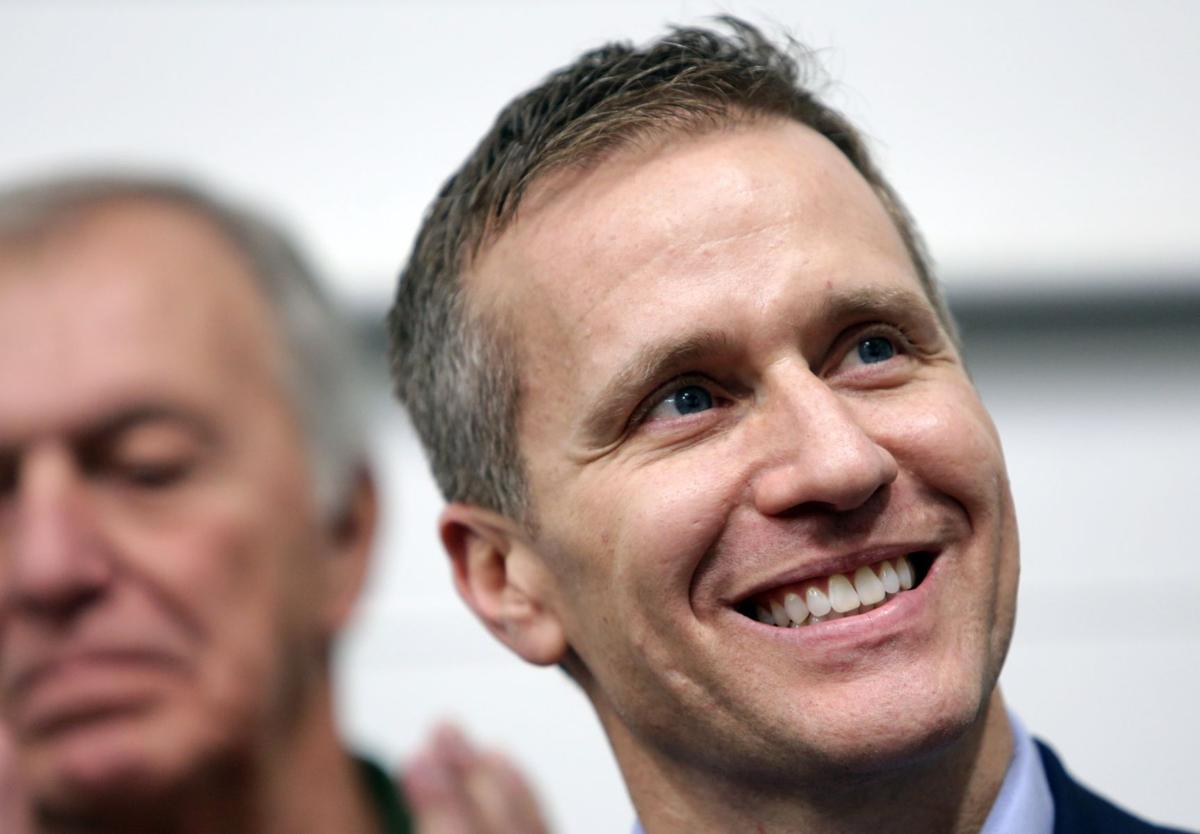 Nixa, Mo. • Missouri's new governor introduced a $27.6 billion budget plan Thursday that offers a slight boost in cash for public schools, but could boot as many as 21,000 elderly and disabled residents out of nursing home and home care programs.
The spending plan also cuts millions from higher education and public school transportation.
Unveiling his first budget blueprint at a preschool in Nixa, Republican Eric Greitens said he is "committed to making the tough decisions necessary to bring high-paying jobs to Missouri while spending our tax dollars more wisely."
The outline would spend $336 million more than the current budget, but it would not raise taxes and would not offer raises to state workers, who are the lowest-paid in the nation. It would cut 188 positions from the state workforce of about 54,700, which already is at a 20-year low after former Gov. Jay Nixon reduced 5,100 positions over the past eight years.
Although Greitens blames the federal Affordable Care Act for forcing spending reductions in the current and proposed budget, a summary shows he would spend about $130 million more in state funds in the department that oversees Medicaid funding.
Missouri lawmakers have declined to accept an expansion of Medicaid that would have been largely paid for by the federal government, with some costs to be borne by the state.
The reduction for in-home care and nursing home care would save an estimated $52 million. Under the proposal, about a third of the 60,000 people who receive the aid would no longer qualify because of tougher eligibility requirements.
The proposed reduction was alarming to Carol Hudspeth, executive director of the Missouri Alliance for Home Care.
"We're deeply concerned about the impact the changes will have on our elderly and disabled," Hudspeth told the Post-Dispatch on Thursday.
Medicaid providers also would see a 3 percent cut in their reimbursements from the state as part of a separate push to save money, said acting budget director Dan Haug.
Greitens, elected as an outsider, made no mention of those cuts during his speech. He used the backdrop of a school for his announcement instead of unveiling his budget in a traditional speech to a joint session of the Legislature.
He continued an election-time theme of blaming lawmakers in the capital city for many of the state's ills.
"The fact is, Missouri's budget is broken," Greitens said. "For decades, insiders, special interests, lobbyists and prior politicians have made a mess of our budget."
Senate President Pro Tem Ron Richard, R-Joplin, shrugged off the attacks. "We'll let rhetoric go where it goes. I'm pretty thick-skinned," Richard said.
Greitens said the location of his speech, south of Springfield, was chosen because of his belief that schools must not lose money despite a tight budget. The proposal slightly increases funding for K-12 education, but it cuts programs affecting the St. Louis area, including a $2.9 million urban teaching initiative.
State aid for school busing programs also is being slashed by $31 million, drawing the ire of local school boards.
"The continued cuts to school transportation funding often have to be made up at the local level, and that can have an impact on money available for the classroom," said Melissa Randol, executive director of the Missouri School Boards' Association. "State revenue continues to fall short of the level needed to fully fund our public schools."
The budget proposal also reduces core funding going to the state's two- and four-year colleges and universities by $90 million.
"That wasn't an easy decision," Greitens said of higher education reductions. "I'm confident this year they can tighten their belts just like the rest of us."
Paul Wagner, executive director of the Council on Public Higher Education, warned that the governor's budget could result in college tuition hikes.
"The cuts will slow our progress on keeping higher education as affordable as possible and as accessible to as many Missourians as possible. We look forward to working with the Governor and General Assembly to lessen or eliminate this cut so as to keep tuition increases and service reductions as low as possible," Wagner said in a statement.
Said Greitens: "I don't think that we need to raise tuition on our students. I don't think that our students should be made to pay for the mistakes of our past politicians and the promises they made."
Although the governor's speech was warmly received at the school, not everyone attending the event was supportive.
"I'm worried about comments the governor has made that sound like he wants Missourians to choose between providing our kids with adequate health care or education," said Lexi Amos, 34, whose 13-year-old son with a disability attended the Nixa school. "That's not a choice we should have to make."
State revenues this year have lagged behind estimates, primarily because of a slowdown in corporate income tax collections brought on by a change in law that altered how companies can pay their taxes.
Already, Greitens has reduced spending in the current fiscal year by $146 million to keep the budget in balance.
Greitens is backing a series of legislative initiatives that he believes will create more jobs in Missouri. They include a "right-to-work" law that critics say will weaken unions, as well as changes to the state's legal system that he hopes will ease litigation costs for businesses.
His proposal also would restore $2.5 million that was cut by Nixon last year from the state's public defender system. And it would pay the $12 million yearly debt payment for the Dome at America's Center, formerly the Edward Jones Dome.
Although the Department of Public Safety will see a $5.2 million decrease, Greitens did earmark funding for bullet-proof vests and nonlethal weapons such as Tasers. The lion's share of cuts in the department are coming from the director's office. The governor also allocated $250,000 to create a Blue Alert system that would establish a statewide notification system if an officer is attacked.
He also wants to spend $11 million to fight opioid addiction.
Greitens, who has been to Washington twice since being sworn in less than a month ago, is banking on help from President Donald Trump's administration for roads and other spending.
He's also hoping to reap some savings by investigating the state's tax credit programs.
"We are doing a complete and total review of every state tax credit program to see where that money is going," Greitens said.
The budget process now moves to the House and Senate for further debate. The Legislature must approve the budget by May 5.
"We have known for months now that this budget was going to be tight. But we are ready for the challenge and ready to get to work," said Sen. Dan Brown, R-Rolla, who chairs the Senate budget committee.
Kurt Erickson reported from Jefferson City.