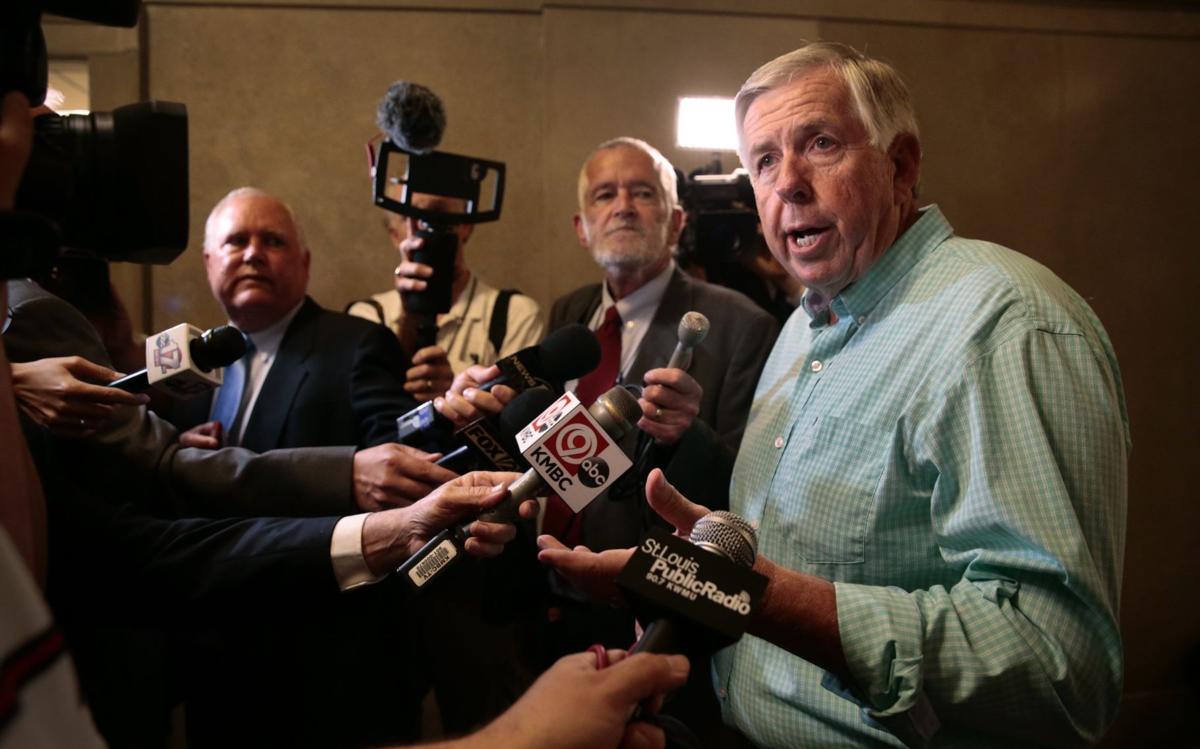 JEFFERSON CITY • St. Louis attorney Elad Gross shot off a 54-point open records request to Gov. Mike Parson's administration on Aug. 18 seeking documents that could offer clues into the dark money mysteries of Parson's predecessor, Eric Greitens.
Last week, Gross received the bill: $3,618.40.
"We have found 13,659 records that may be responsive to your request," Parson's general counsel, Christopher Limbaugh, wrote to Gross. "Before we begin preparing the information, please forward to this office a check in that amount."
Gross was a former assistant attorney general under former Attorney General Chris Koster, a Democrat, and has been described by Greitens' campaign attorney as a "Democratic operative." Parson, who like Greitens is a Republican, took office on June 1 when Greitens resigned after months of scandal.
On Monday morning, Gross wrote a letter back to Parson's office. 
Greitens, a former Navy Seal, founded The Mission Continues in 2007. His alleged use of a fundraising list from the charity is under investigation.
"Instead of providing those documents you already identified, you attached an invoice for $3,618.40," Gross wrote. "You also stated it would take at least 120 business days after receipt of the money to produce the records — which comes out to more than half a year."
In Gross' request, he asked that the governor's office waive any fees. The Sunshine Law, Gross wrote, says that fees may be reduced or waived if "that waiver or reduction of the fee is in the public interest because it is likely to contribute significantly to public understanding of the operations or activities of the public governmental body."
"I hope that the Governor agrees that law enforcement, consumer protection, campaign finance laws, government transparency, the potential need for legislative reform, and rooting out corruption are all in the public interest.
"I ask you and the Office of the Governor to reconsider the imposition of fees for my Sunshine Requests," he wrote. "The Sunshine Law was intended to make Missouri's government more transparent and responsive to Missourians, not to discourage the public's engagement with their government. That is why the fee-waiver provision is included."
The invoice Gross provided the Post-Dispatch from the governor's office describes an anticipated 90.46 hours of work at a rate of $40 per hour.
It was unclear Monday if the $40-per-hour rate is standard within the governor's office. The Post-Dispatch reviewed old invoices it had received from Greitens' administration when the newspaper sent the office unrelated records requests.
Greitens' office waived processing fees when research time was minimal, but also sent invoices with a $19-per-hour rate for larger requests. It was initially unclear Monday whether the governor's office gives journalists — who disseminate information to the public — a reduced rate.
Without addressing the cost discrepancy, Kelli Jones, spokeswoman for Parson, said in an email: "Our office treats all sunshine requests seriously and works diligently to ensure transparency. Every effort is made to accommodate all requests, keep costs reasonable, and provide timely responses.
"We routinely receive large requests, some containing tens of thousands of documents, which requires a significant amount of time and office resources to review and complete. We will continue abiding by Missouri law when responding and processing sunshine requests."
Gross also said he filed a complaint with the office of Missouri Attorney General Josh Hawley. He said that his request was made in the public interest, that the Parson administration had already identified more than 13,000 documents possibly responsive to Gross, that the office "may be charging excessive fees," and that the six-month processing time was unreasonable.
"I am considering how best to proceed, so please let me know whether you intend to act on this matter," Gross wrote to Hawley, a Republican running for U.S. Senate.
Gross has said that Hawley should be the person investigating the dark money activities of Greitens. In June, Gross sued Greitens' campaign and a dark-money group allied with the governor, A New Missouri, in order to obtain records from the two groups.
A court hearing in that case is scheduled for Oct. 4 in Cole County Circuit Court.
"I have no commercial interest in the material requested," Gross wrote to Parson's office. "In fact, the opposite is true. I have spent significant time and resources investigating corruption in our state's government, a function that should be completed by Missouri's Attorney General under Missouri's consumer protection laws."
Hawley has declined to investigate A New Missouri even though he has jurisdiction to investigate non-profits under state law. He has said that he has no jurisdiction because the non-profit was operated as a campaign account, not a charity.
Hawley has said that the Missouri Ethics Commission is investigating Greitens.
A spokeswoman with Hawley's office said Monday morning the office had not received Gross' complaint, and thus did not yet have a comment.