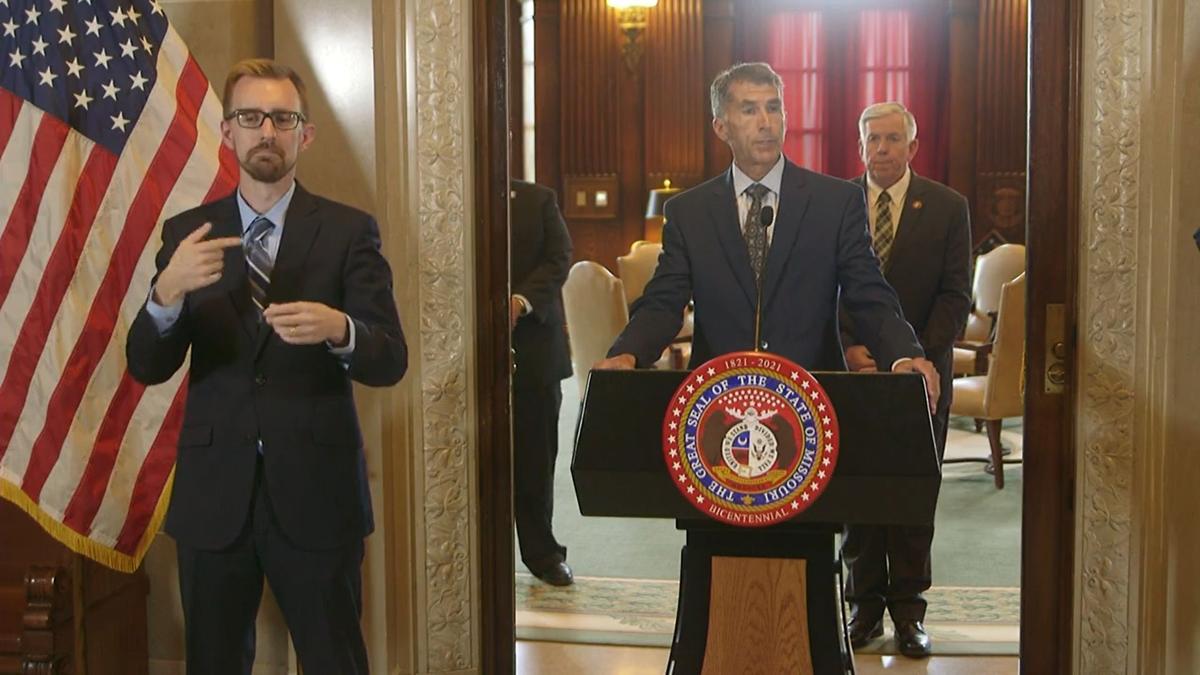 The new director of Missouri's health department says state legislation limiting orders by local health officials undermines trust in the public health system and is one of his biggest concerns as he takes the helm.
Donald Kauerauf, who began serving three weeks ago as the director of the Missouri Department of Health and Senior Services, answered questions Thursday in a virtual meeting with reporters. Questions were submitted in advance.
Kauerauf was asked if he was concerned that new laws curbing the authority of local health departments might exacerbate the spread of the more infectious delta variant of the coronavirus, which caused a summer surge of illness and hospitalizations.
"This is the one that haunts me, and this is the one I'm worried about," he said. "Public health is not politics. It is helping people."
The bill originally focused on local government transparency, but lawmakers expanded its scope to include restrictions on health orders and vaccine passports in the waning days of the spring legislative session.
The legislation allows a local health agency to issue public health orders — similar to the type issued during the pandemic — for no longer than 30 days. A county's governing body must act to extend the order by a simple majority.
If there is no declared state of emergency by the Missouri governor, the local governing board would have to approve extension of the order by a two-thirds vote after 21 days.
The bill also forbids governments from requiring "COVID-19 passports" — compelling someone to show proof of vaccination to access a transportation system or other public accommodation.
Parson's approval of the bill continued his administration's mixed messages throughout the pandemic.
The governor has refused to issue statewide mandates, deferring to local officials. Some counties have adopted local rules such as stay-at-home orders and masking requirements.
A study by Washington University published this month showed early social distancing policies in St. Louis and St. Louis County likely saved thousands of lives.
But the legislation puts limits on such orders.
"This legislation I am signing today requires local leaders to be more transparent in their reasoning and accountable for their decisions when it comes to public health orders," Parson, a Republican, said in a statement at the time.
Missouri Attorney General Eric Schmitt has called local health orders "tyranny" and challenged mask requirements set by local governments and school districts in court.
Kauerauf said the fighting along with "lack of respect and knowledge, darn right meanness toward each other in the public health field" in Missouri and across the country is damaging health officials' credibility.
When the pandemic is over, he said, health departments will renew their focus on other disease prevention efforts such as improving access to dental care, getting cancer screenings and educating schoolchildren about healthy habits.
"Public health is going to happen after COVID, and if we've lost that local respect of the system, how are we going to recover from that?" Kauerauf said.
"That is a tremendous concern, that should be a concern for all of ours, that loss of respect," he also said. "We cannot set a public health system back decades. ... We have to renew our trust and our spirit and go back to that trust we had prior to the COVID."
That will require a partnership and unified voice, Kauerauf said.